This Travel Journal submitted by David Boersema details his Antarctica small ship cruise with AdventureSmith Explorations, on the Quest for the Antarctic Circle Cruise aboard the 134-guest Expedition. Read his day-by-day account on this 14-day itinerary!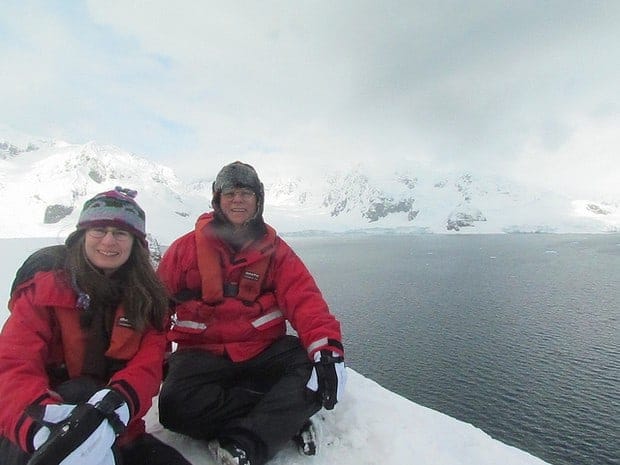 Day 1
We spent a pleasant day in Ushuaia, the southernmost city of the world, visiting a museum, picking up gifts for friends and family back home, and practicing our limited Spanish. Travel was easy: Ushuaia is small, walkable, and friendly, where the locals are used to working with tourists going to or just back from Antarctica.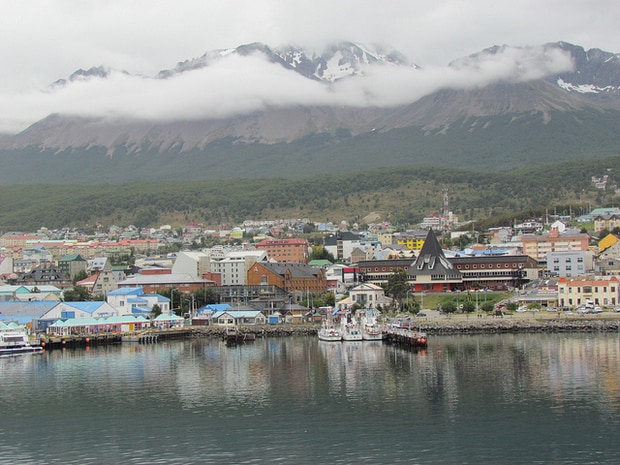 Days 2-3
During our first night on the ship, after dinner we leaned against the railing, listening to the lapping water and watching the mountains and lights of Ushuaia recede. We felt at peace yet slightly anxious, as if in the presence of something exotic and perhaps slightly dangerous: we were going to Antarctica.
On the second day at sea we spotted our first iceberg and our first whale, and late in the day we reach the South Shetland Islands – our first glimpse of the frozen continent!
Later we went to the Polar Bear Lounge and listened to the ship musician, providing a fun and comfortable "night out." Our ship, the Expedition, was actually pleasantly familiar, for we journeyed aboard it to Svalbard in the Arctic, five years before. It was neat and clean, our cabin was cozy, and the staff was unfailingly friendly. The Drake Passage, notorious for rough seas, was kind: On a scale of 1 to 10, the crew told us it was a 1. We thought these two days might be long, but they were busy. We went out on deck and spotted albatrosses and other seabirds. We listened to talks on topics that ranged from whales to safely getting in and out of a zodiac raft. On the second day at sea we spotted our first iceberg and our first whale, and late in the day we reach the South Shetland Islands – our first glimpse of the frozen continent!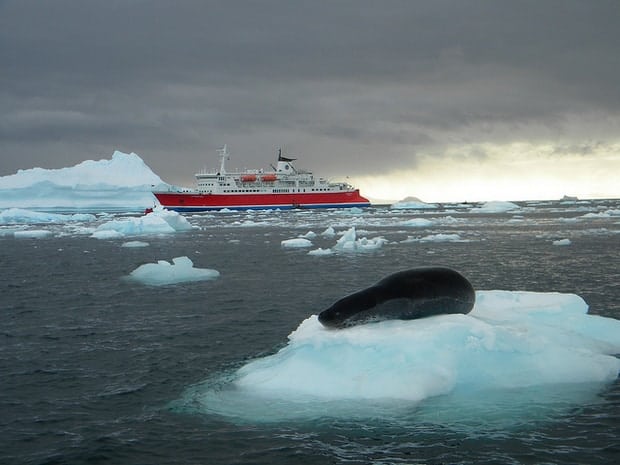 Day 4
Our first day ashore took us to Cuverville Island. It was beautiful here: rugged snow-covered mountains, icebergs with a pure blue sheen. On our first landing, we were delighted to see hundreds of Gentoo penguins, lying down on their bellies, standing motionless, waddling here and there. They were a delight to watch – comically endearing on land, swift and sleek under water, rather like dolphins when they leap out of the water and submerge, only to leap out again. Several times penguins approached us, coming within five or six feet, then toddled away. We could hear the soft damp sound of their feet as they walked across the snow and rocks, sometimes slipping a little, just like a human might. This morning we also saw more humpback whales, not far from the bow of the ship, a mother and her calf keeping us company for a half hour.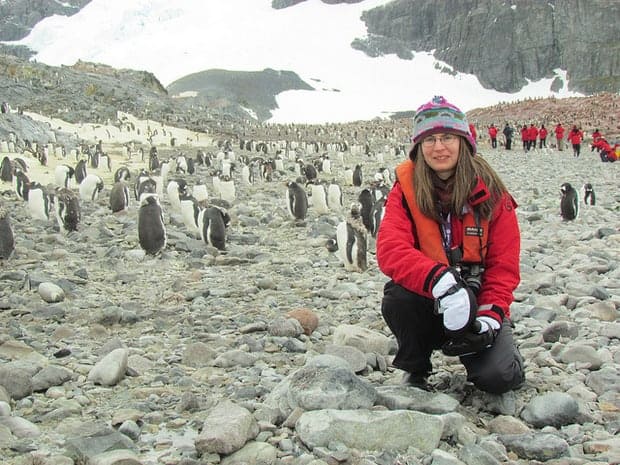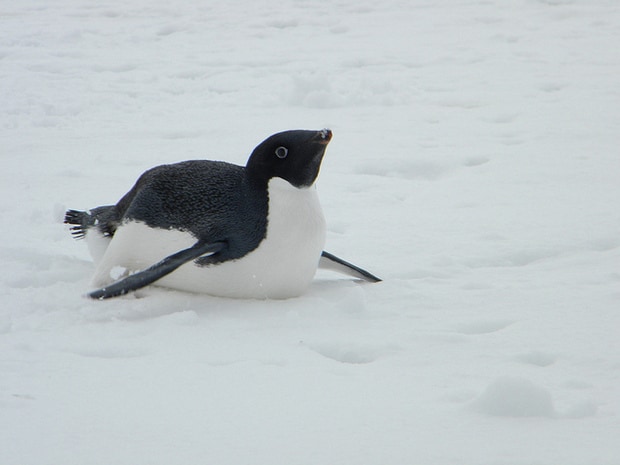 Later in the day we sailed to Neko Harbor, where we set foot on the continent proper. Here we saw hundreds more penguins, including an Adelie penguin. We also climbed a hill, and following the example of one of the expedition leaders, sat down and slid all the way back down. Later one of the guides, standing near shore, said he could hear shrieks inland, and then realized with a smile that they were shrieks of joy.
Day 5
At Paradise Bay we visited an Argentinian research station, Almirante Brown. Penguins milled around the station, and here we spotted our first Chinstrap penguin. After admiring and enjoying the penguins for a while, we climbed to the top of a hill, where the view was spectacular, and once again playfully slid all the way down.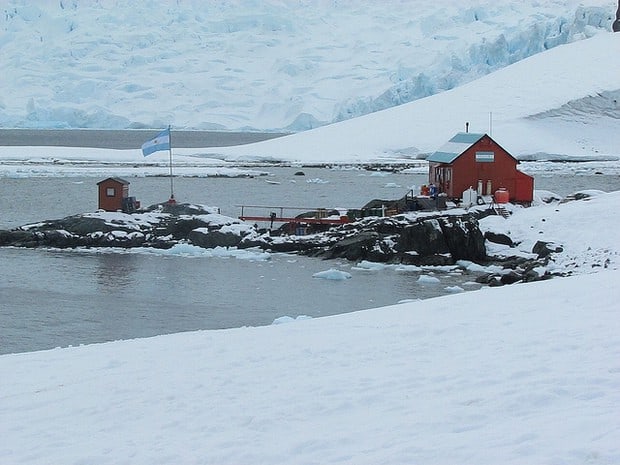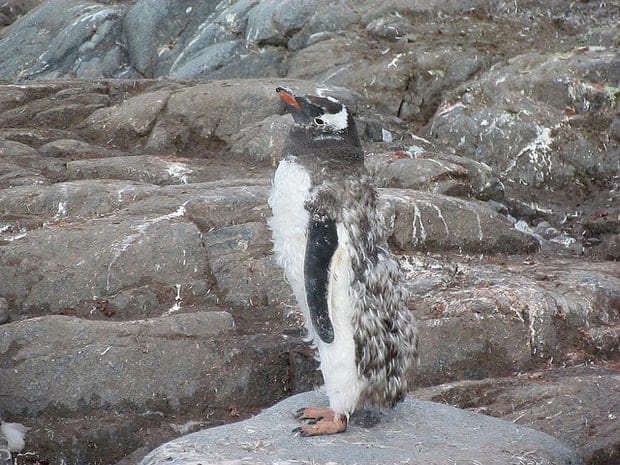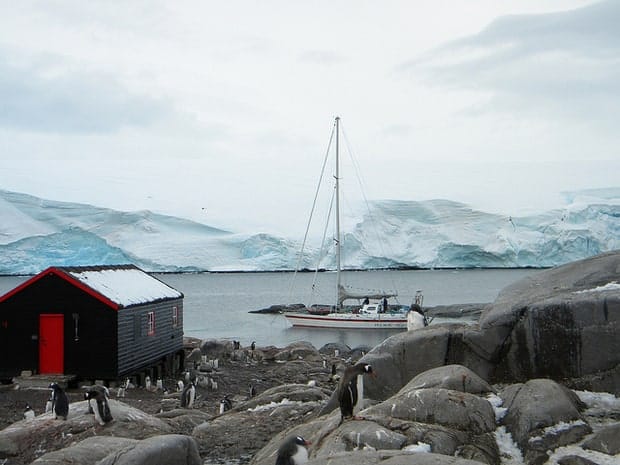 Later in the day we visited Port Lockroy, a historic British base, which had a post office, museum, and gift shop. Around the base, molting penguins stood quite still while the penguin chicks sometimes waddled all over, sometimes chasing their parents while begging for food. The parents literally ran away (as much as penguins can) and our guides said this is the first time the chicks actually exercise and develop the muscle they will need when on their own. When a fuzzy gray chick ambled toward Kari, she impulsively knelt and stretched out a hand toward it, extending a forefinger. The chick didn't pause: it went straight toward her and as she held her breath, it very gently closed its beak on her finger. Then it decided she was not very interesting after all and waddled off with the same unhurried gait.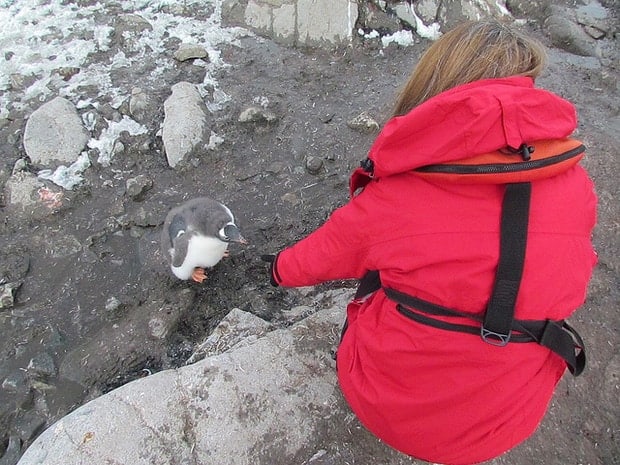 Day 6
Our quest for the Antarctic Circle was fulfilled! At 9:00 a.m. we crossed the Circle, having gone further south than most Antarctic expeditions. The Expedition leaders celebrated with a champagne toast in the Discovery Lounge. As if on cue, soon after the crossing and upon entering Johnston Passage, the Antarctic demonstrated why it is the Antarctica: the wind picked up, it snowed, the sea roughened, and we battled gale-force conditions at the south end of Adelaide Island.
Day 7
On Day 7 we sailed further south than the Expedition had all season, crossing 670 south in Marguerite Bay with snow flurries and cloudy skies. It really did feel like we were at the end of the world!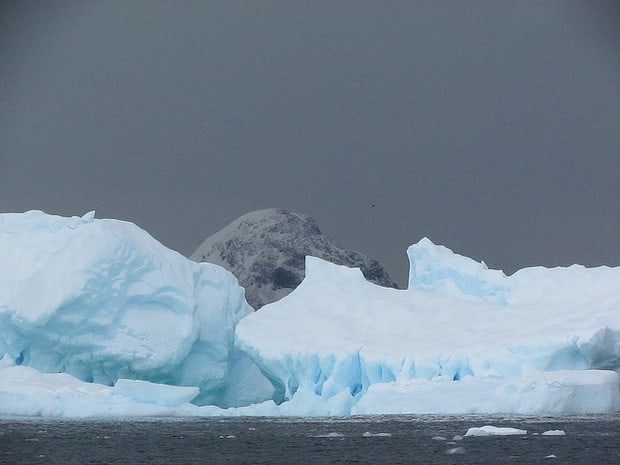 Days 8-9
We turned northward. It wasn't safe to make a shore landing. In the Discovery Lounge, we listened to talks on penguins, seals, the geology of Antarctica, including sea ice, and the race to the South Pole. We read in the Library, sipped tea while visiting with other passengers in the Discovery Lounge, and watched the incredible landscape slip by: spouting whales, penguins porpoising in the waves, a lone fur seal, massive icebergs, and mountains shrouded in fog. By day 9, we experienced blizzard conditions (full-gale winds and poor visibility) and sought shelter from wind, snow, and ice.
Day 10
When the weather broke, and we could go out on shore once more, it was well worth the wait. The crew maneuvered the Expedition into historic Port Charcot. On shore, we passed penguins, fur seals, and signs of a long-past exploratory expedition. The wind picked up to 50 knots, so that we staggered sometimes beneath its force, and for safety's sake we were called back to the ship early. In the evening we were entertained by the Expedition's crew band.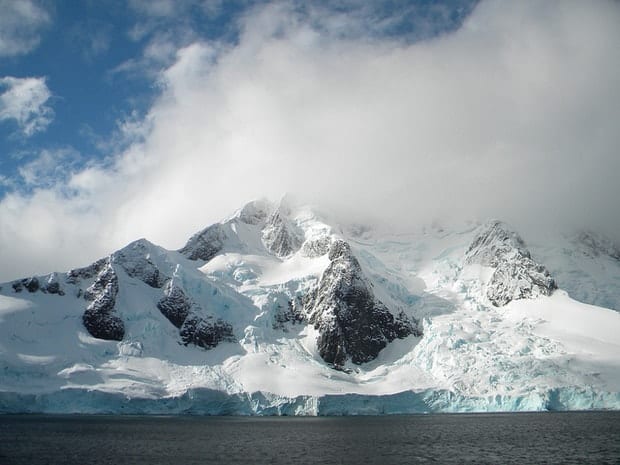 Day 11
The highlight of today, our last day in the continent, was a Zodiac cruise through the ice in Cierva Cove. It was gorgeous. The Zodiac pushed through early sea ice and between icebergs and broken off bits of icebergs, and it was fun to watch the Zodiac drivers navigate the ice, blazing slow, careful trails. Mountains rose from the land around us.
We passed blue icebergs, translucent in places, beautifully sculpted by sea and wind.
We passed blue icebergs, translucent in places, beautifully sculpted by sea and wind. Some icebergs had ice columns, pillars at their base, like densely packed columns of the Parthenon. We came quite close to a elephant seal, lying on an ice floe, and saw not one but two leopard seals, who watched us with apparent unconcern, as they lay separately on ice floes. At one point we floated about six feet from a massive leopard seal, so close we could hear it take the occasional breath.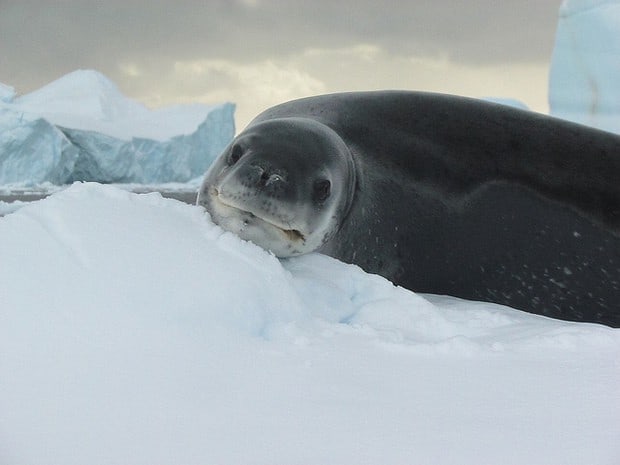 The light was changing, and it was nearing dusk when we headed slowly back toward the ship, stopping for a while to watch two humpback whales. Within 25 or 30 feet of them, our Zodiac driver cut the engine, and we watched the whales, their dark dorsal fins, their broad backs, their occasional spouting. Something about being in the presence of such animals in their own environment, and their allowing us to do so, was very moving. It was a thrilling end to our Antarctic operations.
Days 12-13
Before turning back to cross the Drake Passage for Argentina and then home, the expedition leaders had a closing ceremony. They played a video and photomontage they created of the trip. They did an excellent job – it was accurate, funny, gorgeous, and creative. Watching, we thought: Wow, what a great trip to Antarctica! And indeed it was.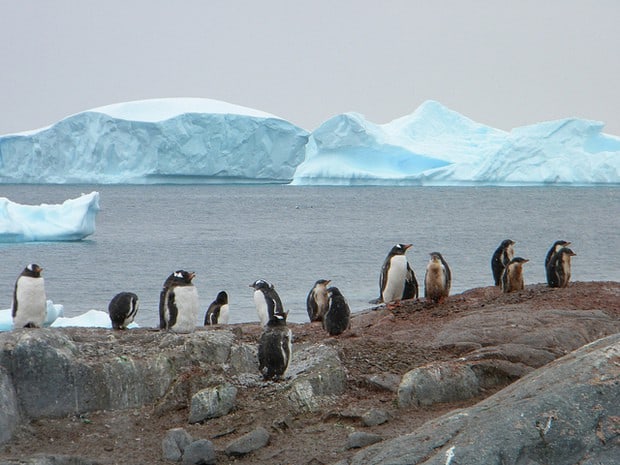 Day 14
We arrived back in Ushuaia and disembarked on a wonderful voyage with memories to last a lifetime and share with family and friends.
This Travel Journal submitted by David Boersema details his Quest for the Antarctic Circle Cruise with AdventureSmith Explorations. Read all Antarctica Small Ship Cruise Reviews and worldwide cruise reviews for more insights from our alumni travelers and experts, or contact one of our Adventure Specialists to learn more about these small ship cruises and wilderness adventures: 1-877-620-2875