This Travel Journal submitted by Cameron Young details her Antarctica small ship cruise with AdventureSmith Explorations on the Polar Circle Cruise aboard Ortelius. Below she shares her cruise review and highlights. A special thank you to our partners, Oceanwide Expeditions.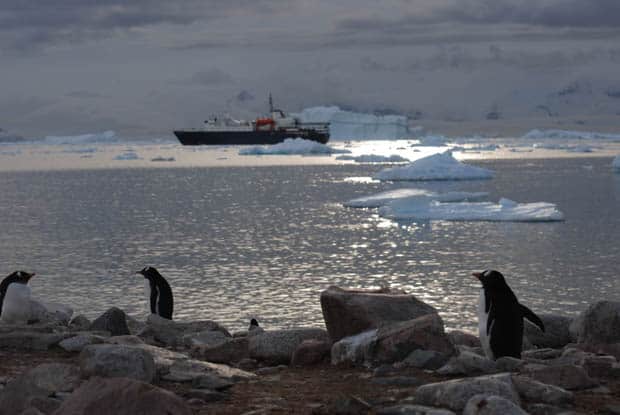 I love a grand adventure and Antarctica is the grandest. It took 3 days of travel to arrive in Ushuaia, Argentina, a beautiful port town affectionately referred to as the end of the world, which has been accommodating travelers to Antarctica from the very beginning of Antarctic explorations. We planned to spend several days enjoying Ushuaia before embarking on the Ortelius for a 12-day Polar Circle voyage to Antarctica. This little town has it all: hospitality, great food and wine, abundant hikes, glaciers and even penguins. You can also access Tierra del Fuego National Park where we appreciated hiking on firm ground, knowing we were about to board our vessel for 12 days at sea.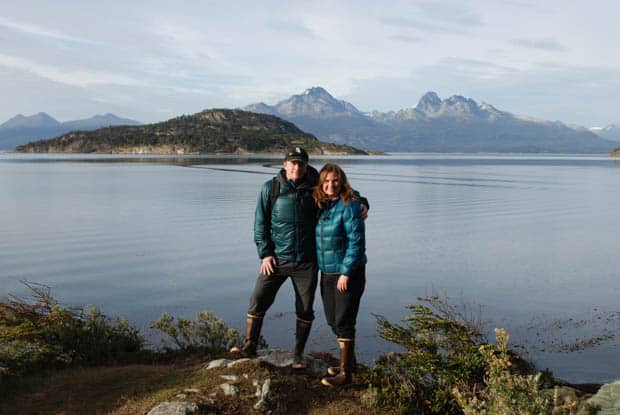 An excursion to Martillo Island, gave us our first, thrilling experience with penguins.
An excursion to Martillo Island, gave us our first, thrilling experience with penguins and an opportunity to break out our handy, newly purchased penguin identification guide! The island is not far from Ushuaia and there we saw three types of penguins: Magellanic (named for the explorer, Ferdinand Magellan), gentoo and a surprise, single king penguin. Although king penguins have typically not been known to have a rookery here, in recent years, several males have been hanging out on Martillo for extended periods of time. He was magnificent! The brilliant sun-yellow at the top of his chest seemed to pronounce his royalty, "Behold! Here I am in all my glory and I know I'm spectacular." With each step he took, as he preened and called out to other penguins, the contrast of grey and black feathers along with the bright-orange orbs on his cheeks and neck moved like a symphonic kaleidoscope of patterns and shapes. I couldn't stop taking photos; he was that beautiful.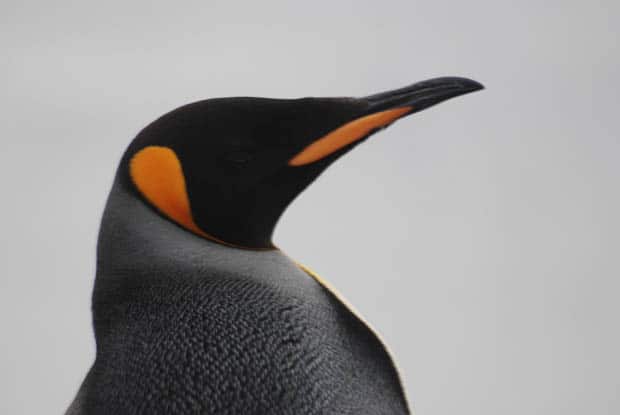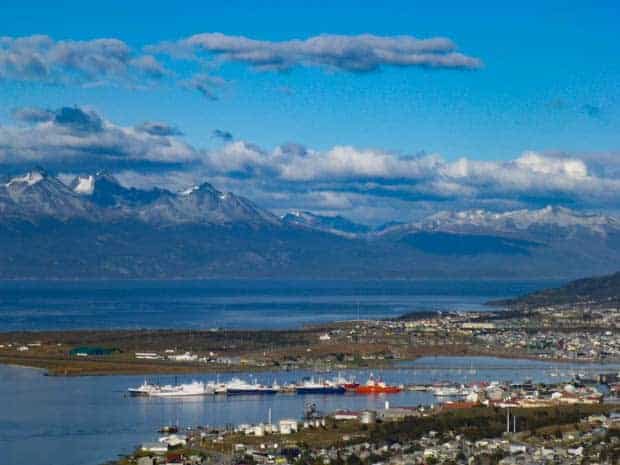 The next afternoon, my husband, Dan, and I boarded the Ortelius and prepared for our launching. Oh, Ushuaia! I just learned how to pronounce your name (OOSH-WHY-UH), new friend, and now I'm leaving you behind, predictably, like all the other Antarctic explorers. We head out for a 12-day Polar Circle expedition cruise, and this beautiful town slowly disappears from sight as we sail down the Beagle Channel. That's right, THE Beagle Channel, named for Darwin's boat. I get chills thinking I'm in the same place as Darwin, viewing the same mountains and passage to open water. Fortunately for me, the Ortelius is a fully equipped vessel with state-of-the-art navigation and safety equipment, expedition leaders, scientists, historians, cabin crew and chef. Our private room is comfortable and cozy and we're served dinner in the dining room with tablecloths and wine. Our table is abuzz with conversation as guests from all over the world meet and share their enthusiasm for adventure and, for many, this once in a lifetime experience to Antarctica.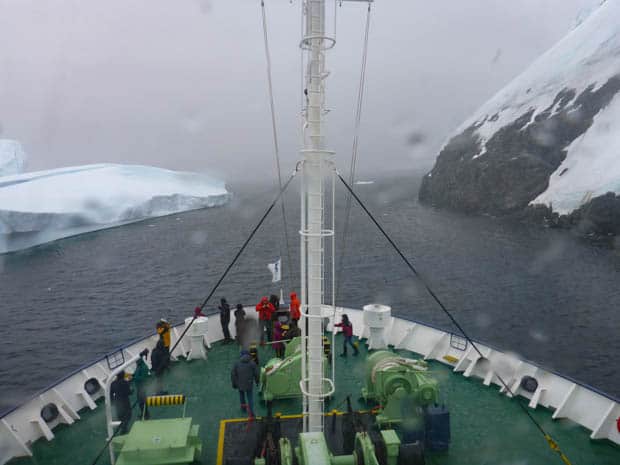 I won't lie; I was nervous about the Drake Passage. It's famous for its big storms and it takes 2 ½ days to reach the Antarctic Peninsula. I came prepared, took my ginger pills and did just fine. While at sea, we stayed busy with several daily lectures and getting to know the boat, crew and new friends on board. We heard about the history of Antarctic exploration, learned to identify different types of albatross (this actually came in handy!) and received helpful tips from the staff photographer. And then we saw it. Antarctica! We had arrived and there, before us, was the frozen continent, where the ice is so thick it wasn't until 1936 that there was definitive evidence that the peninsula was attached to the continent. The next few days were spent exploring the inland waters of the peninsula. Each day different as weather changed and thwarted our plans or icebergs blocked a landing site. All just part of the adventure, but the expedition team was amazing and always had a backup plan for us.
The penguins were everything I'd dreamed of: beautiful, funny, quirky and curious. If you sat down and were still, they would walk right up to you.
The first time going ashore and setting foot on the continent was a thrill! We rode in zodiacs, and as I swiveled my body to step off the inflatable, I watched my feet intently as I felt land beneath me. I've now set foot on a place where few others have been. And there were hundreds of penguins to witness my arrival! We saw several different types throughout the voyage: Adélie, chinstrap and gentoo. They were everything I'd dreamed of: beautiful, funny, quirky and curious. If you sat down and were still, they would walk right up to you and you could stare eyeball to eyeball with an Antarctic penguin! We saw mamas feeding babies, mature adults molting, some glissading on their bellies on fields of snow and landing in the water, others simply standing, seemingly enjoying the view. They didn't seem to mind us at all and went about their business as we walked around and observed, photographed, marveled. To be that close, within a foot or two of penguins in the wild… absolutely delightful!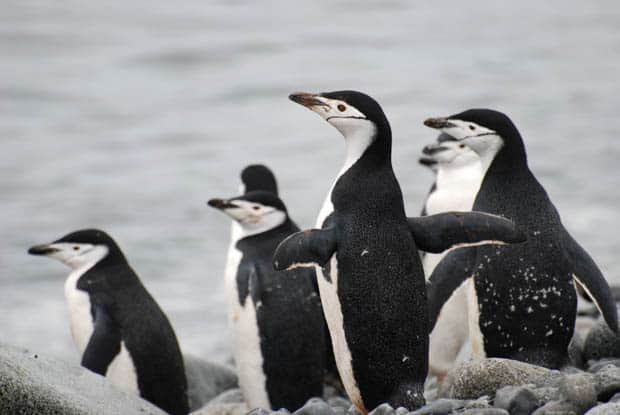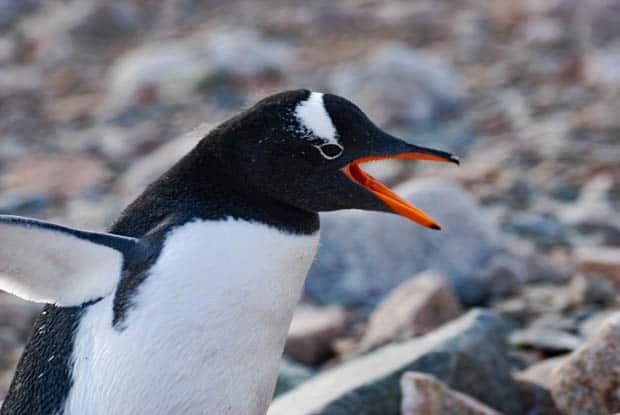 Antarctica is vast. I knew that when we planned this trip. I'd seen the pictures, watched movies and documentaries and read several books about Antarctic explorers. And then you're there, on a 300-foot boat exploring the intricacies of the Antarctic Peninsula and it takes your breath away. I was unprepared for the crispness and clarity of the air, the feeling that you could get lost staring into the absorbing depth of the navy-blue rolling sea waves, the snow so sparkling white you can imagine its tingling touch on the mountain tops and there is no one else around. No one. For many, many miles. I felt the wild abandon of magnitude. Free and vulnerable and humble in the presence of the crystallized components of life: air, water, light, land.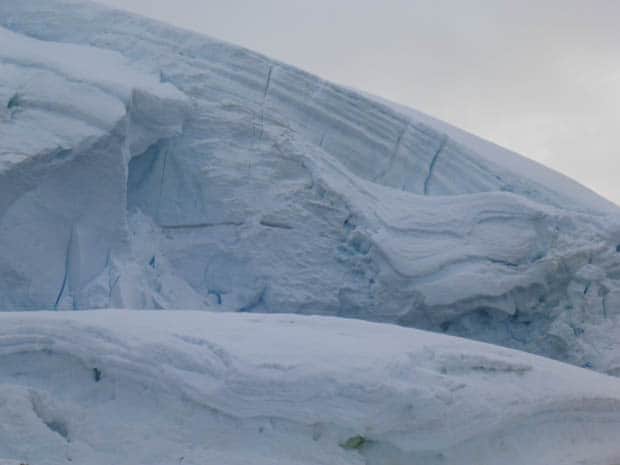 Standing on the bow of Ortelius, absorbing, ingesting all I could of this place, I began to feel overwhelmed by the timelessness of what I was seeing, bearing witness to a place so grand I wondered about the appropriateness of genuflecting in reverence. Then, out of the water, popped a raft of penguins—and I mean popped, like popcorn. They dove and swam like a group of black and white torpedoes, randomly launching themselves out of the water and diving back in so quickly it was difficult to follow their path. I've seen dolphins porpoising as they play in the wake of a boat, but I had no idea penguins were able to swim similarly, even with their rather squat, rounded bodies. I laughed out loud because it was so unexpected and looked like a tremendous amount of fun. A jolting reminder to me not to get too caught up in the grandiosity of what I was seeing, but enjoy each joyous moment.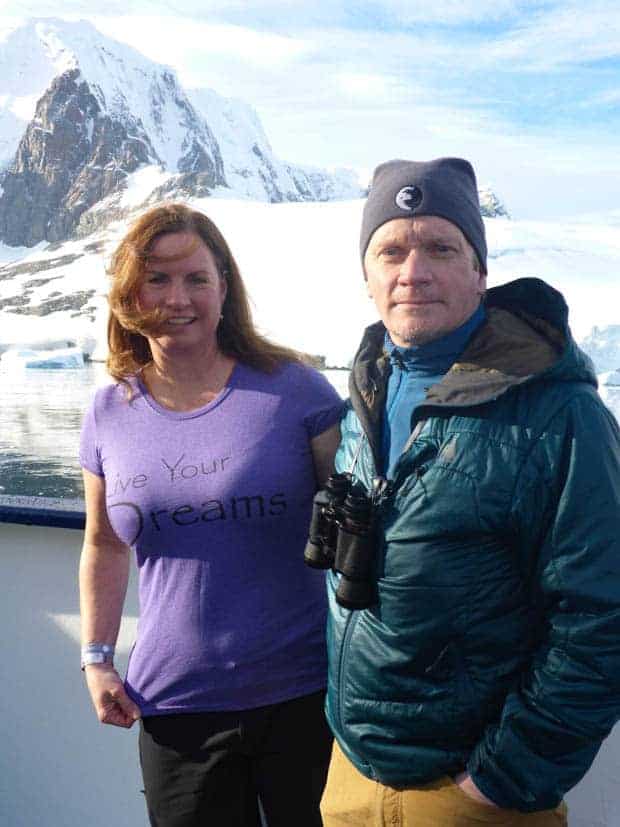 Shackleton's granddaughter once that said that her grandfather was much happier in Antarctica than anywhere else; perhaps this is why.
Later, I learned that penguins sometimes swim like this when being chased by an orca or leopard seal. There I was, esoterically contemplating the magnitude of this place, when directly underneath me, a life-or-death situation was occurring: the food chain in action. Along with beauty comes the raw basic fact of survival in an unforgiving environment. When you're in the middle of the food chain, as those penguins were, there's no time for philosophy, you just swim for your life. I realized that's actually part of the beauty of Antarctica. There's no room for critical analysis, no performance review or grade on a test, no mind games being played in office politics. You simply survive or you don't, and if you don't, you become part of the whole. Simple, brutal and beautiful. I read that Sir Ernest Shackleton's granddaughter once that said that her grandfather was much happier in Antarctica than anywhere else and perhaps this is why.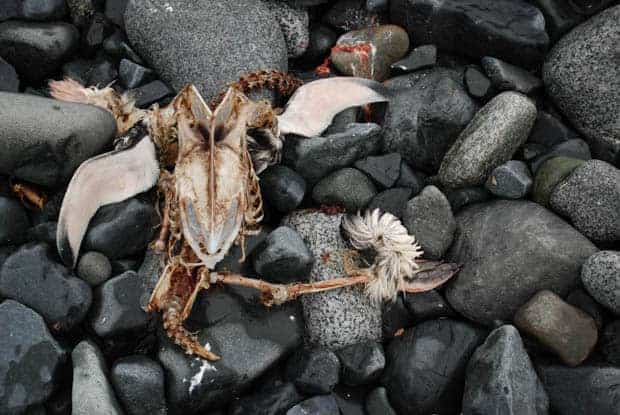 The most surprising thing about Antarctica is the light. Constantly changing and illuminating each aspect of the environment as if Mother Nature was using her own spotlight as her voice to draw your attention to her finest works of art. You can almost hear her voice, with excited, youthful exuberance, "Look here, did you see my work in the Lemaire Channel? Spectacular! Did you notice the lines and shape of my iceberg? Here, let me show you with a shaft of evening light. Don't forget to look behind you; the reflection of the mountains in the water is divine. Did you see that mountain range in the distance? I'll help you out by lowering the cloud cover and creating a horizontal band of light so you can see how fine my work is, contrasted between the ocean and sky. Keep looking… I have more to show you and you won't want to miss it!" Make sure to keep your footing as you turn 360 degrees to admire her artistry in every direction. Keep your camera near at all times and be ready for amazement.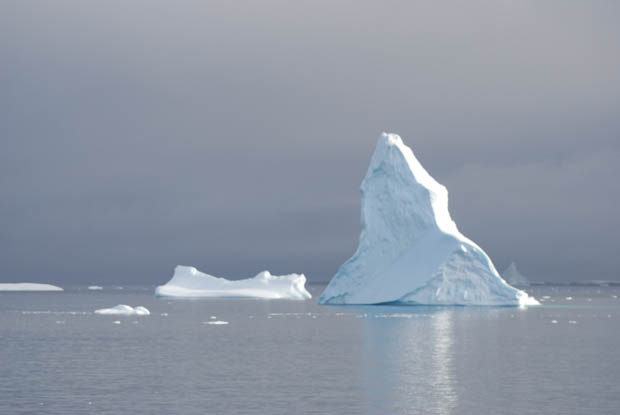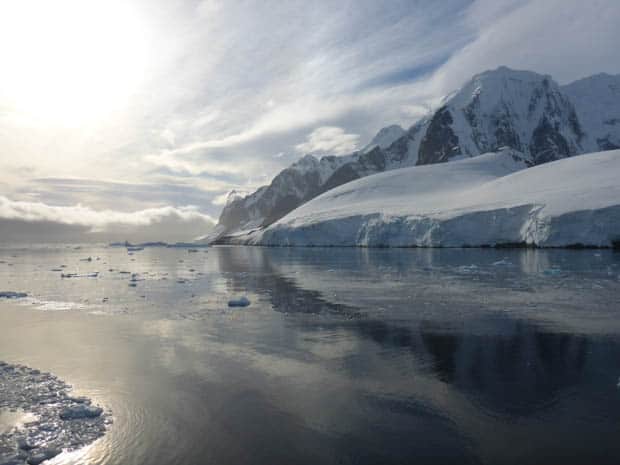 One of my favorite aspects of our Antarctica trip was kayaking and how quiet we could be paddling along and observing wildlife from the water. On one of our expedition days we were able to kayak into a small bay by Cuverville Island. Behind an iceberg we discovered two humpback whales, sleeping just on the surface of the water. There are moments in time that move you so deeply that your body and mind join to say, "Yes, this moment, this place, I want to experience with every cell of my being and then hold it close to lean on when times get rough, as a reminder, a confirmation that there is beauty and basic goodness in the world."
Behind an iceberg we discovered two humpback whales, sleeping just on the surface of the water.
Floating silently on the water in a kayak, with sleeping humpback whales a few yards away, listening to them breathe, their breath the only sound, was such a moment. Listening to someone breathing is an incredibly intimate experience, typically occurring when holding a baby or sleeping next to a lover. To be close enough to a humpback to listen to their breath while sleeping is an unexpected intimacy, an honor to have spent time next to this creature at rest. I found my own heart rate, my breath, slowing, finding its primal rhythm, because I, too, felt relaxed in this place. I'd love to sit for hours next to them, lean back in my kayak, and sleep a deep, peaceful sleep.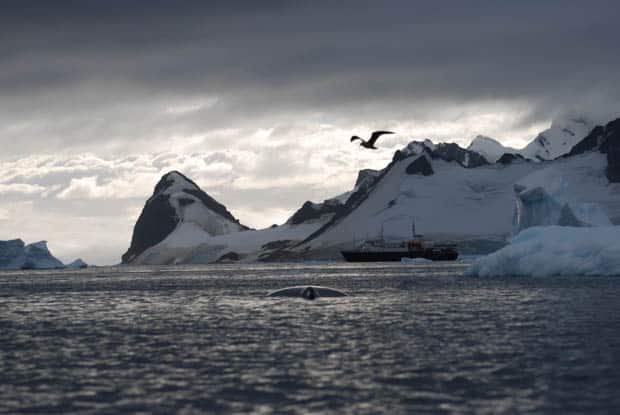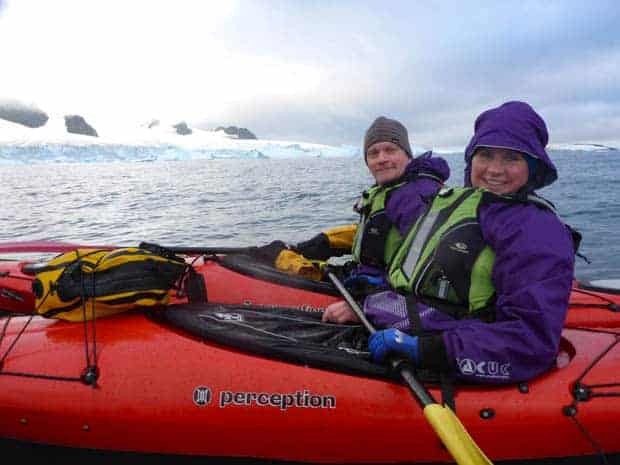 Back on board Ortelius, it was hard to believe there was more to come. We were nearing the Polar Circle, our turn-around point. I admit, I didn't understand the significance of this point until the captain and crew made it a celebration. The Ortelius was one of three expeditions that had made it that far this year. That means that only about 300 people (research vessels notwithstanding) went past the Polar Circle this year. When you consider the number of years expedition cruises have been sailing to this point and the few people on board each vessel, there are perhaps only a few thousand people on the planet who have been this far south. That's an extraordinary feat and certainly something to celebrate! The captain allowed guests on the bridge, blew the horn when we passed the Polar Circle, and we all cheered.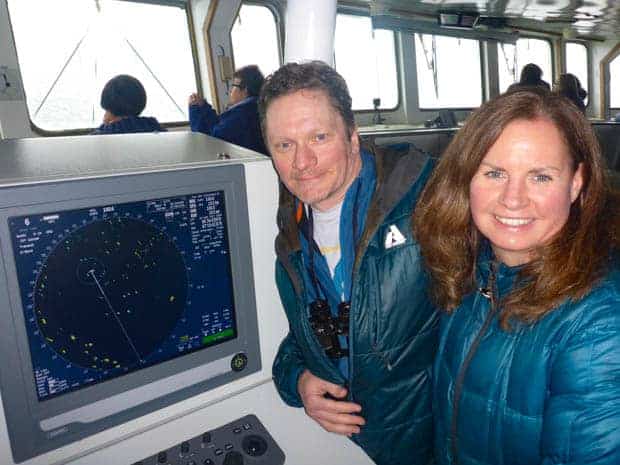 After we headed back north, we had one more day of exploration, then we were at sea and headed home. There were more informative lectures, time to review photos and exchange addresses with new friends. On our last night in the Drake Passage, the water was calm, the skies clear, the air warmer as we neared Ushuaia. Before heading for bed, Dan and I and our friends Peggy and Jeremy decided to climb up to the deck behind the bridge and look at the stars. There's no pollution here, no smog or lights from the city to interfere with our view, and we weren't disappointed. Billions upon billions of stars were visible as the four of us sat and stared upward, silently, at the beauty of space.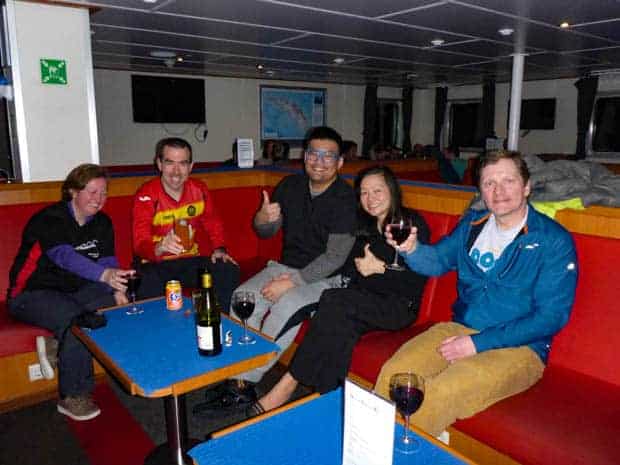 We knew the next morning would bring packing, goodbyes and travel towards our homes and families but we weren't quite ready for our Antarctic experience to end. The images of the past 12 days swirled in my head: afternoon light showing the water particulates of the breath of a whale, a giant red-orange jellyfish swimming past my kayak, baby penguins imploring their mamas to regurgitate their latest catch of fish, an albatross soaring on the wind, a shaft of light on an iceberg. Antarctica has changed us, invited us to be a part of it for a short time, to look inside the royal-blue crevasse of a glacier, and enticed us to keep looking, into the deep history of the beginnings of time. We are filled with gratitude for our shared experience of this place. Antarctica has no expectations or makes no demands of us, but by witnessing its very existence, its beauty has seeped into our pores and we re-enter our lives with a clearer, stronger life force.
This Travel Journal submitted by Cameron Young details her Polar Circle Cruise with AdventureSmith Explorations. Read all Antarctica Cruise Reviews and worldwide cruise reviews for more insights from our alumni travelers and experts, or contact one of our Adventure Specialists to learn more about these small ship cruises and wilderness adventures: 1-877-620-2875