If you are planning travel to Galapagos or mainland Ecuador we have compiled everything you need to know about Ecuador and Galapagos travel restrictions and COVID in the Galapagos Islands. Learn more about what's new in the islands for Galapagos 2023 & 2024 cruises.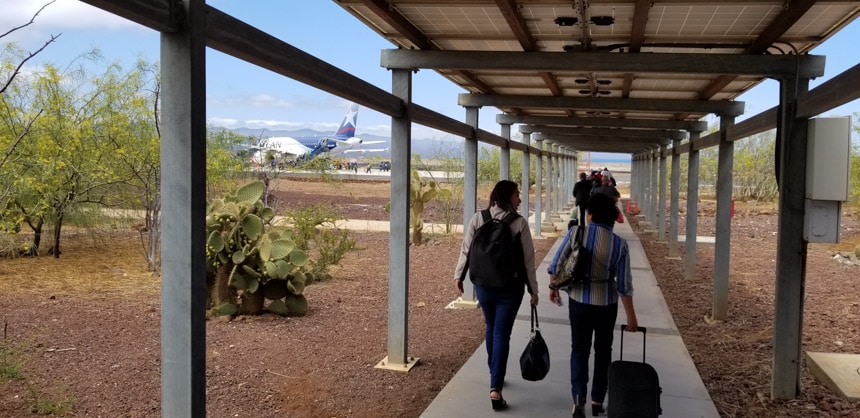 STAY UP-TO-DATE
Keep on top of
Galapagos travel updates.
IN THIS POST – Ecuador & Galapagos Travel Restrictions:
1. Can You Visit the Galapagos Islands?
2. Ecuador Travel Restrictions
3. Galapagos Entry Requirements
4. Cruise & Tour Requirements
6. Ecuador Takes COVID Seriously
7. Private Charter Options
8. Galapagos Are Perfect Destination to Restart Travel
9. Your Travel Will Have Positive Impact
Important Note: All Galapagos travel restrictions have been lifted. Since October 20, 2022, visitors to Ecuador and the Galapagos Islands are no longer required to present a certification of vaccination for COVID-19 or a negative test result. As of February 18, 2023, a declaration of traveler health and insurance is no longer required. Special rules apply for entry to the Galapagos Islands. Keep reading for details.
1. Can You Visit the Galapagos Islands?
Yes, the Galapagos Islands and Ecuador are open to tourists. Cruises and tours are operating.
Ecuador is open to travel and officially resumed international flights on June 1, 2020. Entry is open to citizens of the United States, Canada, Europe and most other countries. The Galapagos Islands opened to foreign visitors on July 13, 2020, with nearly all ships and yachts now returned to service. Virtually all tourism in Ecuador is available. Ecuador lifted vaccination and testing requirements on October 20, 2022.
Plan your Ecuador travel, Galapagos travel, find a Galapagos cruise or learn how to get to Galapagos and the best time to visit Galapagos.
View All Galapagos Trips & Cruises
See the full list of itineraries on land and by ship.
2. Ecuador Travel Restrictions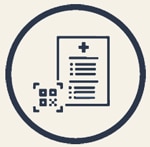 In the age of COVID, specific Ecuador travel requirements were implemented. These requirements may change without notice. Ecuador reviews its entry requirements every two weeks. Ultimately it is the traveler's responsibility to understand and meet Ecuador's COVID travel restrictions and requirements.
Ecuador Travel Requirements
As of February 18, 2023, the Ecuadorian government has removed the remaining Ecuador travel restrictions. Only travelers arriving with symptoms (high temperature, cough, general malaise, loss of smell or taste, or skin rash) must fill out the following:
Health Status Declaration Form
The declaration is available on the Ministry of Public Health Website. For travelers unable to submit this digitally, a physical form may be submitted, download it here. Travelers who fill out the digital form are not required to present a physical form.
COVID in Ecuador
We have seen with the COVID Delta and Omicron variants, Ecuador is willing to strengthen or loosen entry requirements based on the current situation. Travelers should be flexible and expect changes to entry requirements.
3. Galapagos Travel Restrictions
Effective October 20, 2022 Ecuador also eliminated its COVID-19 entry requirements for the Galapagos Islands. Due to their isolation and limited medical facilities, the island province may implement its own Galapagos travel restrictions in addition to any Ecuador entry requirements.
Galapagos Islands Entry Requirements
Travelers flying from mainland Ecuador to the Galapagos Islands are subject to the following entry requirements. The provincial government updated Galapagos entry requirements on October 20, 2022.
Galapagos Transit Control Card
AdventureSmith can assist with this in advance.
Galapagos National Park entrance fee
AdventureSmith can assist with this in advance.
4. Galapagos COVID Requirements for Cruise & Tour Travelers
Some Galapagos small ship cruise and Galapagos land tour operators have announced their own vaccination and/or COVID testing requirements. With the constantly changing nature of the ongoing pandemic, there are likely to be additional changes to these operator-based requirements. The Galapagos experts at AdventureSmith Explorations strive to keep our clients well informed of the testing and vaccination requirements associated with their particular adventure.
Ecuador & Galapagos COVID Requirements for Guides & Crew
Note that tourism professionals in Ecuador and the Galapagos, as frontline workers, were given priority vaccination early in the pandemic. All local staff utilized by AdventureSmith Explorations are vaccinated against COVID-19. This includes drivers, guides, hotel staff, ships crew and other hospitality personnel interacting with travelers. All crew are tested regularly.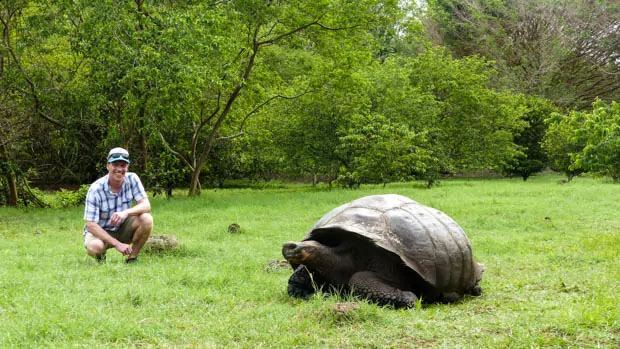 CONNECT WITH A
GALAPAGOS SPECIALIST
You've got questions.
We've got answers.
5. Bio Security Protocols in Ecuador & Galapagos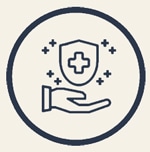 There are new biosecurity protocols throughout Ecuador and the Galapagos Islands. Hotels, yachts, transportation, restaurants and airports have all updated procedures to keep both visitors and locals safe and healthy.
Transportation Protocols
Private airport transfers for AdventureSmith guests are accompanied by an English-speaking guide and vehicles are subject to extensive sanitation before and after each transfer. Additionally, more crowded transfers, such as from the Galapagos airport to your boat, will use larger vehicles that allow for social distancing.
COVID-19 Protocols at Ecuador & Galapagos Hotels
Mid- to high-end hotels used by AdventureSmith have new procedures in place. Enlarged registration areas allow for social distancing, methods for contactless payment are in place, enhanced disinfection and cleaning procedures have been implemented and personal hygiene kits with a mask and sanitizer are available. For instance, Mashpi Lodge has implemented a walk-in ozone sanitizer tunnel, plus sanitization methods based on UV filters and other ozone cleaning systems.
Breakfast buffets have been replaced with plated meals served quickly, tables are spaced for increased distancing with tables and chairs disinfected before and after each use. Room service is typically available 24 hours a day. Hotel staff may enter rooms less frequently and porters may not handle luggage unless requested.
Protocols at Galapagos Airports
Upon arrival in the Galapagos, travelers will walk across a sanitizing foot bath and all luggage, including carry-on and checked baggage, will be sprayed with a disinfectant.
COVID-19 Protocols on Galapagos Ships & Trips
Biosecurity policies may vary slightly by each ship, but you can expect numerous protocols—both obvious and behind the scenes—designed to keep travelers and crew in good health. All crew, guides and hospitality staff are fully vaccinated and tested regularly.
Like hotels, ships will encourage social distancing. Increased sanitation procedures have been implemented throughout the ship including cabins, dining room, common areas and the galley, with special attention to high-touch areas. Dining room tables and hours are adjusted to increase social distancing. Buffets have been eliminated in favor of plated meals with the usual considerations for dietary restrictions. Snacks and appetizers are served individually.
Natural Social Distancing
Excursions are outdoors, in the wilderness, where social distancing is easy and you will rarely encounter other travelers. Small groups are called separately to disembark for excursions and each panga will transport a limited number of passengers. Seats are disinfected between excursions. Keep sanitizer handy because it is useful to take the hand of a crew member when entering or exiting the panga.
Snorkeling equipment and wetsuits are still provided or rented to all guests at the beginning of the cruise and you will hold it until the end. All equipment undergoes a special sanitizing process. Bring your own if you are more comfortable. We have always recommended travelers bring their own mask and snorkel to ensure the best fit.
Advice Before You Leave Home
For two weeks prior to your departure, and during travel to your destination, we recommend you follow common sense protocols regarding masking and social distancing to avoid contact with COVID-19. Take reasonable measures to reduce the risk of exposure and follow all CDC guidelines for international travel. Even for trips and destinations where a COVID-19 test is not required, we recommend you test 72 hours prior to departure and do not travel if you test positive. Wear masks in airports and aboard airplanes. Be careful in bars, restaurants and other crowded places that are higher risk. Arriving for your trip healthy will provide peace of mind and help you to enjoy your trip.
6. Ecuador Takes COVID-19 Seriously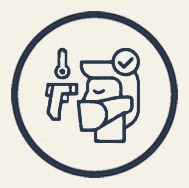 Ecuador was in the news early in the pandemic and was caught off guard as cases spiked in May 2020. They implemented a very strict lockdown and protocols which became a model for other countries throughout the pandemic.
Today, restrictions have been eased considerably but the country still takes COVID-19 and community health seriously. The Ministry of Health continually monitors the epidemiological situation including vaccination plan and application of booster doses. They meet every two weeks to make recommendations based on the latest data.
7. Private Charter Options
Evan as Galapagos travel restrictions have eased we have seen a tremendous increase in interest for Galapagos yacht charters. Yachts range in size from 12 to 32 guests and a full boat charter offers many advantages over an independently booked cruise. The most obvious advantage during the time of COVID-19 is that you will know and trust all the travelers aboard and can create your own travel bubble. Other advantages include lower prices, exclusivity, customization and the joy of experiencing the islands with an intimate group of family and friends. Contact our experts to begin planning your Galapagos charter cruise.
8. Galapagos—The Perfect Destination for Travelers Concerned About COVID-19
There are several reasons why the Galapagos Islands are a great place for travelers concerned about COVID19:
Naturally Social Distanced
An archipelago of about 18 major islands located 600 miles off the coast of Ecuador, the Galapagos have been socially distanced for millions of years. Once you arrive it is a vast wilderness with less than 3% of its 3,000 square miles inhabited by people. Your time is spent in nature, not in town. Strict regulations implemented by the national park determine shore landing sites so groups rarely interact, preserving both the wilderness experience and social distance. Shore landing groups are limited to a maximum of 16 guests and some cruises limit capacity even further.
Exceptional Wildlife
Guides and locals report that visiting the Galapagos now is like visiting 30 years ago, before the travel boom began. The hallmark of any Galapagos small ship cruise is access to animals that evolved with no fear of humans. The pandemic has paused tourism and Galapagos wildlife has responded by taking over trails and towns. For a short time, this will make already spectacular wildlife interactions even more exceptional.
Only Small Ships
The size of small ships is relative, but in the Galapagos even the largest ships are limited to a maximum of 100 guests. The small ship model, with only 12 to 100 guests, is statistically safer than large ship cruising.
9. Your Galapagos Travel Will Have A Positive Impact
The lack of tourism since the pandemic began has had a significant financial impact on the economy and individuals in Ecuador and the Galapagos Islands. The vast majority of residents in the Galapagos directly or indirectly rely on tourism for their livelihoods. Your travel can have a direct impact on crew, guides, support staff and those who provide provisions. For the National Park to continue monitoring the Galapagos Marine Reserve, sponsoring various scientific research projects, eradicating invasive species and restoring the populations of endangered fauna, they need the resources provided by tourism.
Our partners on the ground have initiated philanthropic efforts to help locals during this difficult time. The International Galapagos Tour Operators Association has launched a fundraising program to help Galapagos guides. Our partners at Ecoventura are raising funds to save education in the Galapagos.
Travel Equals Protection
During the pandemic lockdown, news reports surfaced of a vast armada of nearly 300 Chinese fishing vessels violating Ecuadorian sovereignty by entering Ecuador's Exclusive Economic Zone multiple times. This massive illegal fishing threatens the Galapagos Islands and the rare endemic species that call the Galapagos Marine Reserve—a UNESCO world heritage site—home. National Park rangers aboard every Galapagos cruise, and the funding that tourism provides to the National Park, keep this type of illegal activity at bay.
Ultimately it is the resumption of the travel economy that will restore normalcy to the Galapagos, so the best thing you can do is go to the Galapagos now. Then share your experiences with others. Let folks know that Ecuador and the Galapagos Islands are open and safe for the trip of a lifetime.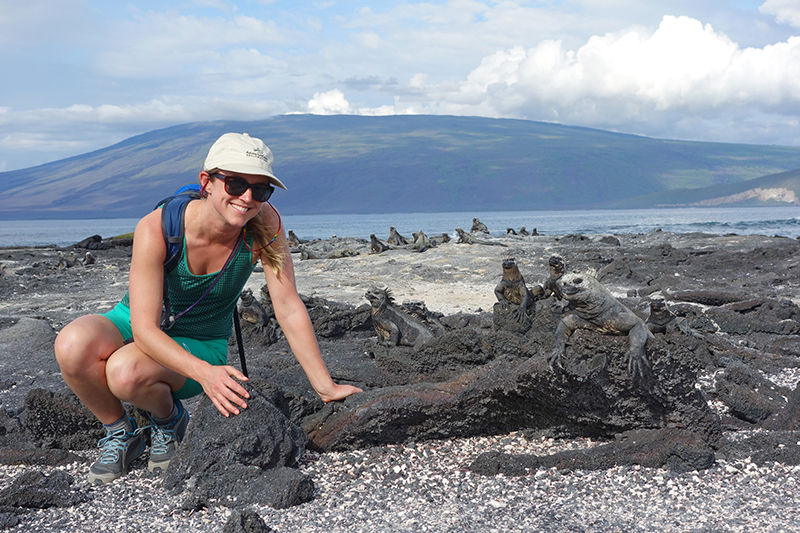 CONNECT WITH A
GALAPAGOS EXPERT
1-on-1 consultation.
Start planning today.
MORE GALAPAGOS RESOURCES:
Galapagos Trips
Galapagos Luxury Travel
Galapagos with Kids
Galapagos Diving
Galapagos Cruises
Galapagos Charters
How to Choose the Best Galapagos Cruise
Galapagos Island Hopping or Cruise?
Galapagos Land Based Tours
Best Time to Visit Galapagos
How to Get to Galapagos
Galapagos Islands Animals
Galapagos Trip Reviews
Galapagos Travel Guide
Galapagos Cruise Deals
If you have a question or are looking for advice, please use the comments below. Our experts will answer your questions to make this guide to Galapagos travel restrictions even better. If you are ready to book your travel to Galapagos please contact us.