When considering travel to Costa Rica, should one consider a small ship cruise, a land-based tour or a combination of both? Either style of travel has its merits so it really comes down to personal preference. In this Costa Rica cruise & tour guide, we outline the differences and similarities of exploring Costa Rica by land, sea or a custom trip with both. Read on for expert advice on Costa Rica resorts, hotels, eco lodges, small ships and guides, and the different types of travel within this naturalist's wonderland of lowland rainforests, misty mountain cloud forests and active volcanoes.
Costa Rica Small Ship Cruises
In recent years a number of small ships have been added to Costa Rica, offering another option for exploring this natural paradise. Large cruise ships have long visited Costa Rica, but these are limited to major ports and day trips from these ports. Small ships are able to explore off the ship, away from port, offering access to regions of Costa Rica that are not accessible to even the most intrepid travelers.
Many Costa Rica small ship cruises also include visits to Panama and transit from Panama to Costa Rica or reverse. This makes sense since the coastlines of Panama and Costa Rica are connected and share similar environments. But this also means that you will spend less time in Costa Rica than on a land tour.
The hallmark of a small ship cruise in Costa Rica is the ability to explore off the ship, away from port.
The hallmark of a small ship cruise in Costa Rica is the ability to explore off the ship, away from port. Small ships are able to cruise close to shore, anchoring in quiet coves and using inflatable landing craft to ferry guests ashore to relax on the beach or explore the rainforest up close. Many small ships carry kayaks, paddleboards and snorkel equipment to make the most of your coastal exploration. Activities such as rainforest hikes, snorkeling and kayaking are often led by expert naturalist guides to enhance your understanding and appreciation of the nature and wildlife you encounter. These same guides offer evening programs to entertain and enhance your knowledge of Costa Rica's nature and culture.

Consider the Latin America Sojourn: Costa Rica, Panama & Cartagena cruise for a wide variety of active adventures right from the ship. Or join Expedition leaders from National Geographic aboard a purpose-built expedition ship for a Costa-Rica-focused Wild Costa Rica Escape: Guanacaste Cruise or connect to Panama with their Costa Rica & the Panama Canal cruise.
Costa Rica Tours by Land & Lodges
Costa Rica tours and land-based adventures are the traditional way to explore Costa Rica and have worked well for millions of travelers. Land-based tours offer flexibility and a wide range of styles and accommodations to fit any budget—some of the world's first and finest eco lodges are located in Costa Rica. AdventureSmith offers a number of land-based tours that are built around small groups, independent travelers and customized itineraries. Each has advantages and will appeal to different travel styles.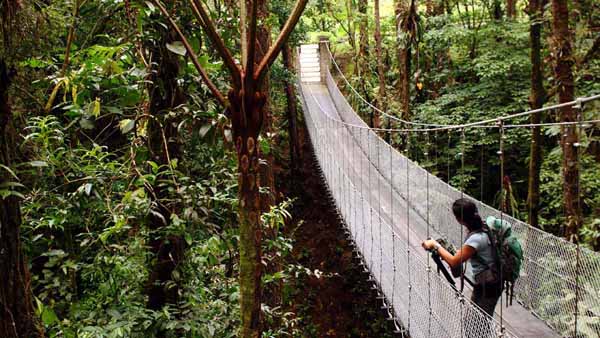 Costa Rica Small Group Guided Tours
Traveling with a small group of 8-16 guests on a pre-defined itinerary is appealing to people who are seeking quality guides at an affordable price. These itineraries have been time tested and highlight Costa Rica's top destinations. Many also enjoy the company of traveling with like-minded travelers where the group members often start as strangers but end as close friends.
Costa Rica Independent Tours
We strongly believe that a professional guide is integral to the Costa Rica travel experience. While this is true in a rainforest setting or other environment where the guide's expertise will enhance your understanding of the region, some guests don't need a guide to get from point A to point B.
Independent tours book everything in advance but allow guests to travel autonomously.
Independent tours book all the transfers, accommodations and activities in advance but allow guests to travel autonomously from one place to another, utilizing local guides in each region. Independent tours such as Pacific Costa Rica offer couples and independent travelers a more intimate option without the distractions of a small group. They often can be customized to include the experiences and accommodations desired by each client.
Custom Guided Tours in Costa Rica
For more than a decade, we have seen a dramatic increase in the demand for custom tours. Travelers are often attracted to small group tours but perhaps the dates don't work, or they want to upgrade accommodations or change the itinerary. Our Costa Rica experts work with each client to create the perfect tour based on their interests, ability and budget. Custom tours can vary from simple and affordable to extravagant and luxurious. They can be as active or as relaxed as you wish. Custom tours typically include a guide throughout the itinerary but can also be arranged with independent transfers (see above) combined with local guides in each region.
Costa Rica Family Tours
Family tours in Costa Rica are extremely popular. Traveling with children is quite different, and special care should be taken to accommodate the needs of kids abroad. The Costa Rica Family Adventure offers shorter travel times, kid-friendly lodges and activities suited to younger travelers. Learn more about family cruises to destinations worldwide.
Costa Rica Cruise vs. Land Tour
Key considerations can help guide you in deciding between a Costa Rica small ship cruise or land tour in Costa Rica. You may wish to unpack once on a ship or you may enjoy the novelty of moving between different accommodations. Some travelers appreciate opportunities to travel by various modes on land, while others keep it simple by dedicating themselves to a Costa Rica small ship. The desired level of luxury is important to think about. And it's smart to also recognize whether you want more authentic fare from local restaurants on land, or prefer the international staples offered by the galley staff of a ship.
Travel Logistics
Aboard a small ship cruise you will unpack only once before spending a week exploring a wide variety of destinations and habitats. Land tours are often more rugged, packing and unpacking at each new location and lodge. Travel by road or by air takes up precious vacation time. In Costa Rica, all roads lead to San Jose, so land tours are often forced to return to the center of the country before moving on to the next region. Domestic flights in Costa Rica can sometimes replace long days of travel, but the same restrictions apply with all flights returning to San Jose before connecting with another destination.
Accommodations
Small ships offer comfortable but not luxurious accommodations. Rooms have private baths and air conditioning. Ships offer plenty of common areas and deck space to engage with other guests or have a quiet moment alone to watch the sunset. When exploring from small ships you are often accessing regions away from roads and civilization so the only other travelers you encounter are those from your ship.
Small ships are comfortable (not luxurious) while accommodations on land-based tours vary widely.
Accommodations can vary widely in style and amenities on land-based tours. Of course the status of your hotels and lodges will largely define the price of a tour. Accommodations range from simple retreats with no air conditioning and shared bathrooms to luxurious lodges and extravagant resorts with A/C, swimming pools and upscale amenities. AdventureSmith land tours in Costa Rica strive to utilize accommodations that are rooted in the environment and provide unique access to the region's diversity. While exploring from lodges you will, of course, encounter other guests from the lodge. But in popular national parks and reserves you will also encounter other travelers visiting from nearby towns.
Meals
Meals aboard small ships and on land-based tours are excellent. Food is such an important part of the travel experience but is often only given an afterthought during the booking process. Both ships and lodges strive to use the finest local ingredients, and chefs are proud to creatively represent the region's diversity through their culinary creations. Meals are included aboard all small ships and most packaged tours, but may cost extra on independent tours.
Both ships and lodges strive to creatively represent the region's diversity.
Aboard small ships, you will dine in a casual family-style setting with other passengers. Choices are typically limited to a meat, fish or poultry and vegetarian option. Breakfast and lunch are often buffets, while dinners are plated. On land tours meals are served in hotel or local restaurants, offering a wider variety of choices. Restaurants also offer travelers a chance to interact with locals and perhaps a chance to practice your Spanish. Costa Rica is a destination that is not well known for its cuisine and while this is changing, especially at some of the top lodges, you may find that the cuisine aboard small ships offers a more international flair.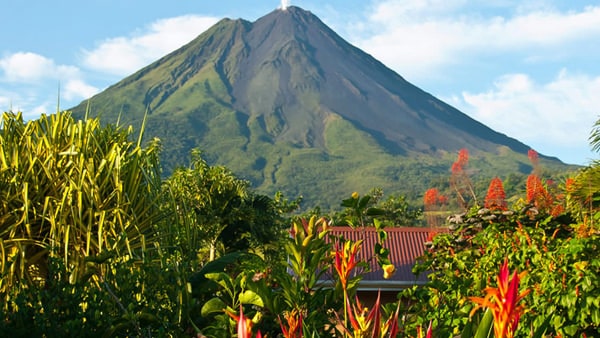 Costa Rica Cruise & Land Tours
Still having trouble deciding if you want to visit Costa Rica by land or sea? We suggest you try both. Combine your small ship cruise with a land tour for the ultimate Costa Rica vacation. The Tropical Volcano & Cloud Forest Adventure is specifically designed to complement small ship cruises that begin or end in Costa Rica. AdventureSmith can also work with you to combine a Costa Rica expedition cruise with a land tour to ensure you experience the best of both options.
A Word About Guides
At AdventureSmith, we hand select our offerings so that the quality of guides is excellent aboard both small ship and land tours. As we're a company founded by guides, this is an important consideration for us and we strongly feel that the quality of your guide will have a major influence on the success of your vacation. Both land tours and small ship cruises employ top guides who are experts at creating connections between Costa Rica's environment and visitors. We strongly feel that a guide is an essential part of any successful trip and that traveling in Costa Rica without one is a big mistake. I once spent hours on Manuel Antonio's Sloth Trail looking for the elusive creatures. When I returned with my guide he spotted several in the first five minutes.
I once spent hours on Manuel Antonio's Sloth Trail looking for the elusive creatures. When I returned with my guide he spotted several in the first five minutes.
There is one small ship cruise that rises above the rest when it comes to the quality of guides and onboard programs. Lindblad Expeditions employs a wide range of experts from National Geographic, each with their own specialty and area of focus. You will find a rotating cast of experts culled from top universities including researchers, authors, photographers and explorers. Lindblad's Costa Rica & the Panama Canal Cruise appeals to travelers willing to pay a premium for an intellectual and educational experience with National Geographic in Costa Rica.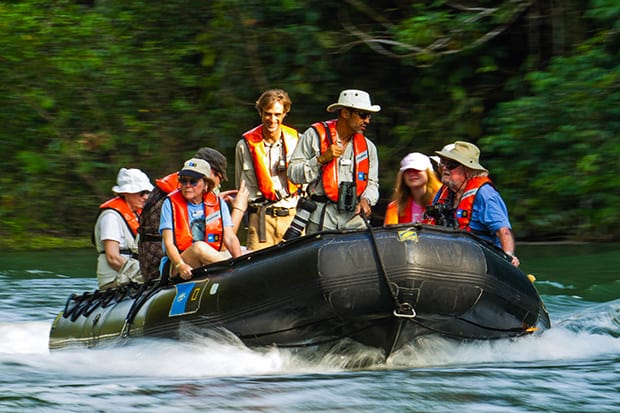 Discover more about AdventureSmith Explorations' Costa Rica vacations for more information, and contact our experts any time to further customize how to choose your Costa Rica cruise.
This Costa Rica small ship cruise guide was originally published in 2014 and is updated periodically by our experts. Our most recent update occurred April 2020. For more articles, advice and inspiration visit our comprehensive small ship cruise guide.