This Travel Journal submitted by Marjorie Kirsch details her Galapagos Small Ship Cruise with AdventureSmith Explorations, on the Evolution Galapagos Cruise. Read more about Marjorie's time aboard Evolution and the 8-day itinerary.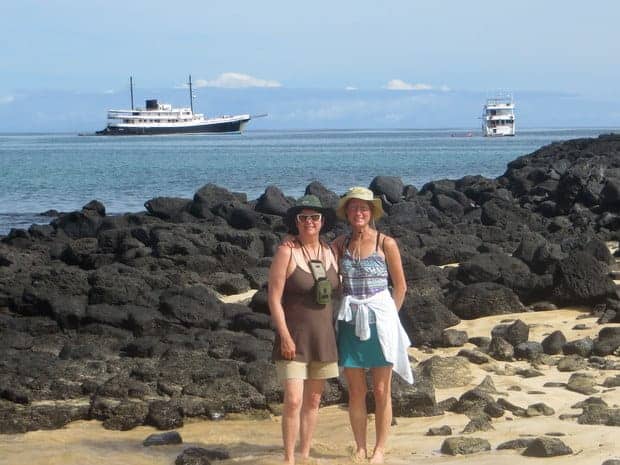 We won! We couldn't believe it. We won the Galapagos Cruise Giveaway contest celebrating Adventuresmith's 10th anniversary. And what an incredible prize – 8 days, 7 nights cruising the isles on the luxurious Evolution—unbelievable!!!

Our lovely ship had 16 air-conditioned cabins, 29 nature-loving passengers, 2 naturalist guides and a fun, friendly crew. I am a bit of a recluse, and I was a bit worried about being cramped on a small vessel for a week but was pleasantly surprised by all the different spaces available to relax, with or without others. There were four outdoor decks (one with a bar and one with a hot tub) and two large indoor common areas for dining, lounging and presentations.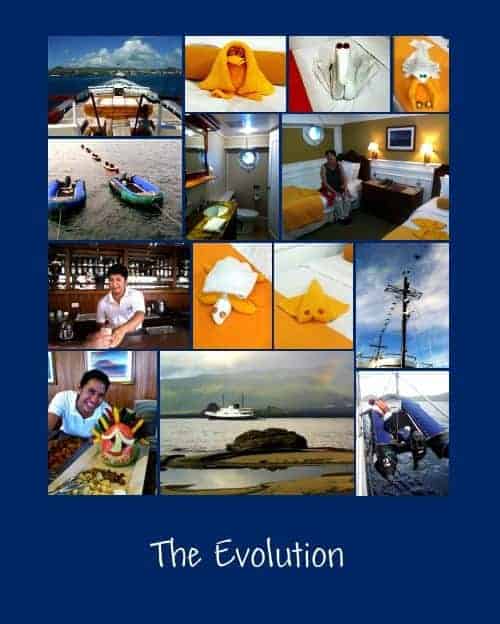 Our cabin was spacious with twin beds, a chest of drawers, a desk, two closets and a large (well – large for a ship) bathroom with a good-sized shower. Each cabin appeared to be different so you may want to ask about the details when making your choice. The housekeeping staff made frequent rounds and often left towel critters on our beds (with chocolate eyes).
We went snorkeling once or twice a day and hiking once or twice a day with only time for a meal and a nap in between. We were very pleasantly busy.
Speaking of food… mmmm… a daily breakfast buffet with fresh fruit and an omelet bar, three-course meals for lunch and dinner, cool tropical juices each time we came back from an adventure… mmmm… tasty, healthy delights. We went snorkeling once or twice a day and hiking once or twice a day with only time for a meal and a nap in between. We were very pleasantly busy—lots of outings but at a relaxed pace. The guides allowed us plenty of time to bask in our incredible surroundings—on land and underwater.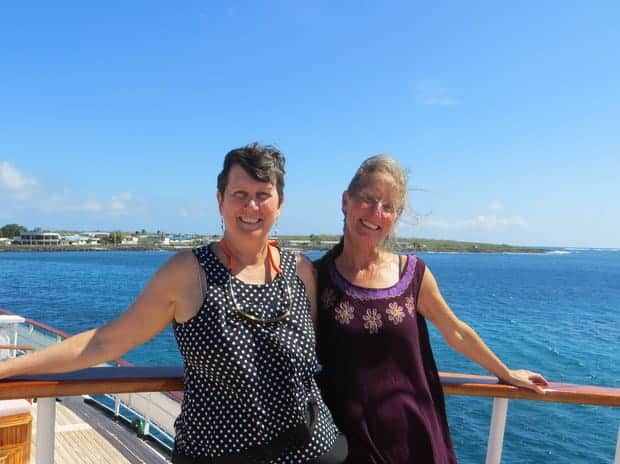 The water was clear and refreshing with colorful fish, rays, turtles, sharks and the acrobatic sea lions. It was not easy to focus the camera on the sea lions who swam beside us because they rarely quit moving. We wore short wetsuits to help us float and to keep the sun off our backs. We didn't really need them for warmth at the end of April. Masks, snorkels and wet suits were assigned on the first day, and we used the same ones for the week.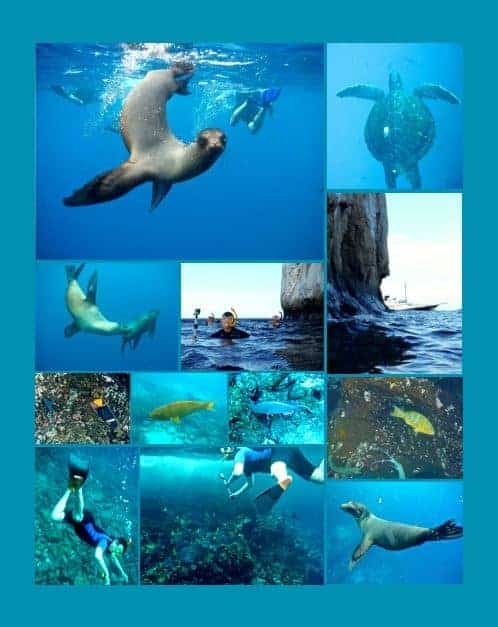 The sea lions are everybody's favorite. The young one's are curious and would chase my friend's Go Pro or nip (not bite) at my knees.
The sea lions are everybody's favorite. The young one's are curious and would chase my friend's Go Pro or nip (not bite) at my knees. They certainly know how to have fun—somersaulting, diving, wrestling, playing… and then a nap. The bulls were protective and not as happy to see us. We kept our distance from them except when one member of our group sat down on a rock, not knowing that a large bull was right behind it. The bull immediately barked out a very loud and stern warning. It had the desired effect; the startled man moved briskly away. We were told that a bull will bite if their warning goes unheeded.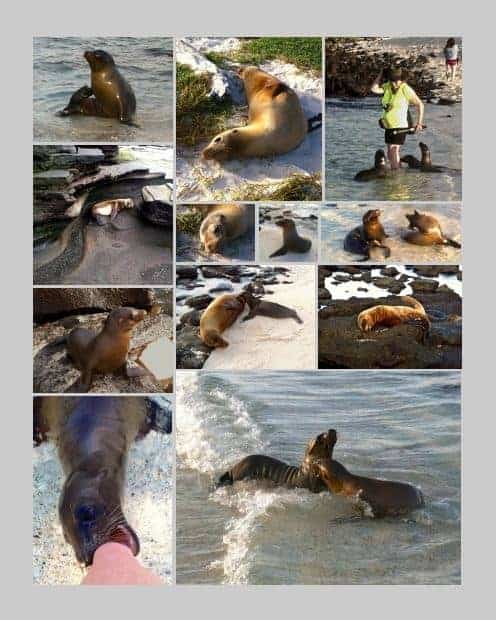 I generally prefer to wander around on my own when traveling, but I understand the need for guides in the Galapagos. Most of the islands are not populated with people and are still pristine. The national park allows only a handful of people on an island at one time and always with a guide. This has helped to lessen the impact of tourism. Our knowledgeable guides imparted much interesting information but also allowed us plenty of time just to be there.

The land iguanas pretty much ignored us as they basked in the sun. We watched as one rolled a piece of cactus along the ground to remove the spines before chowing down. Marine iguanas line the rocky shoreline. I almost stepped on one because they blend in so well with the rocks.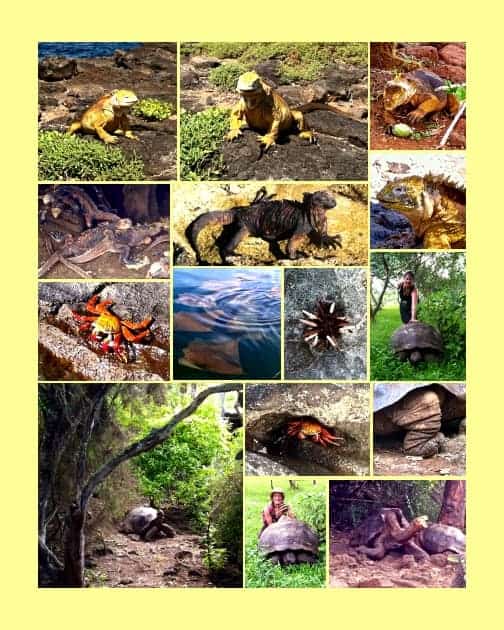 Giant tortoises can be found roaming around farms, munching on fallen fruit. They didn't seem to mind our presence as long as we stayed away from their guava. We observed them in the wild on the populated island of Santa Cruz where we also visited the Charles Darwin Research Station. One of the projects there is a breeding program that repatriates young tortoises to their home islands when they are about 4 years old. Human activities in the past such as harvesting tortoises and the introduction of invasive species (rats, goats) had depleted the numbers. Lonesome George was the last remaining tortoise of his species from Pinta Island. He was protected at the Darwin Research Station for 40 years until he died in 2012 of natural causes. A mate of the same species was never found and he did not produce offspring when paired with females from other islands. The sign near his pen states "whatever happens to this single animal, let him always remind us that the fate of all living things on Earth is in human hands."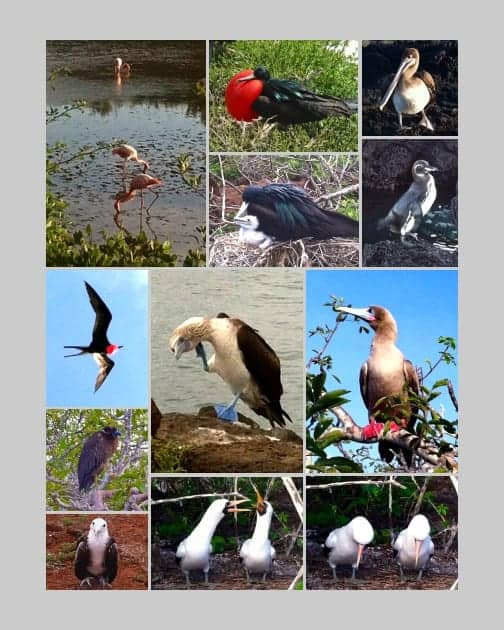 Blue-footed, red-footed and Nazca boobies were not shy about entertaining us with their silliness. Male frigate birds courted potential mates with their impressive red sacs. We were lucky to see a Galapagos penguin and many, many, many other fascinating birds. Like the other critters in the Galapagos, most were not particularly concerned about our presence.

Most of the islands that we visited did not have much in the way of shade trees so make sure you bring plenty of sunscreen, lightweight long-sleeved shirts, hats, etc. to protect you from the equatorial sun. We live in Florida and are used to the intense sun, but it is a whole different order of magnitude at the equator. I quickly gained a great respect for it.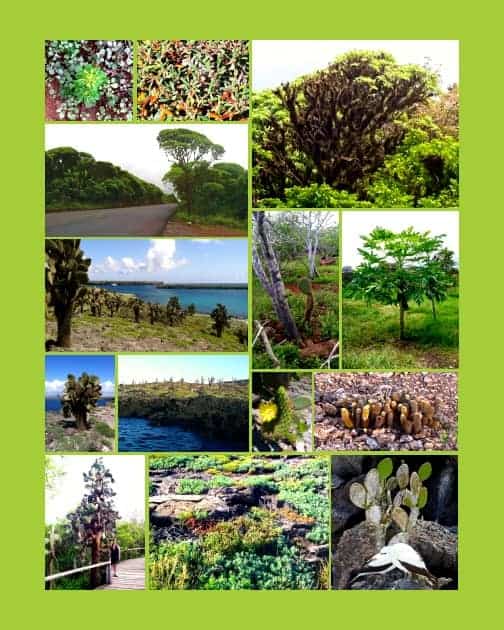 The lowlands had cacti and colorful succulents. The humid highlands on the island of Santa Cruz had rich farmland and trees that look like broccoli (scalesia). Dyer's moss covers many of the trees (see black fuzzy branches above). It has been used to make a mauve dye for the textile industry.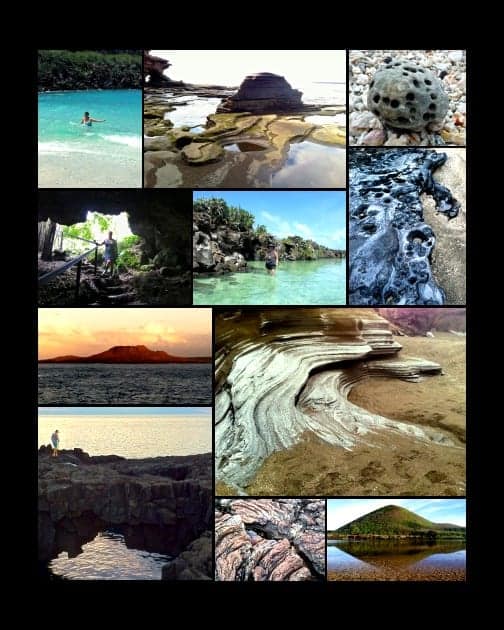 The Galapagos are volcanic islands with an array of beautiful and bizarre landscapes. We walked through a lava tube on Santa Cruz and marveled at the shiny white rocks on other islands. The beach sand ranged from white to almost black. Floreana boasts sparkly greenish sand with tiny olivine crystals. I may have taken as many pictures of the rocks as I did the wildlife.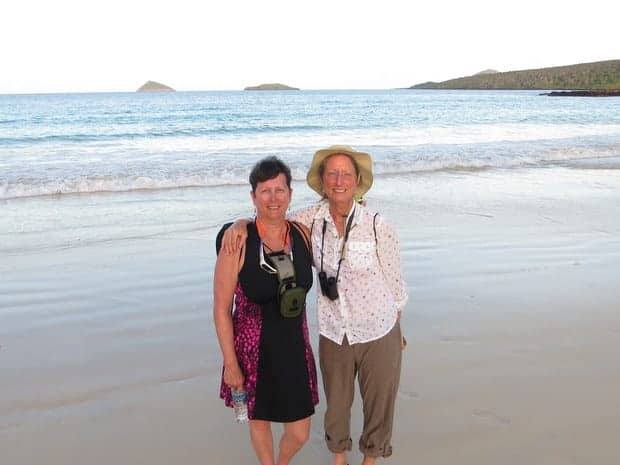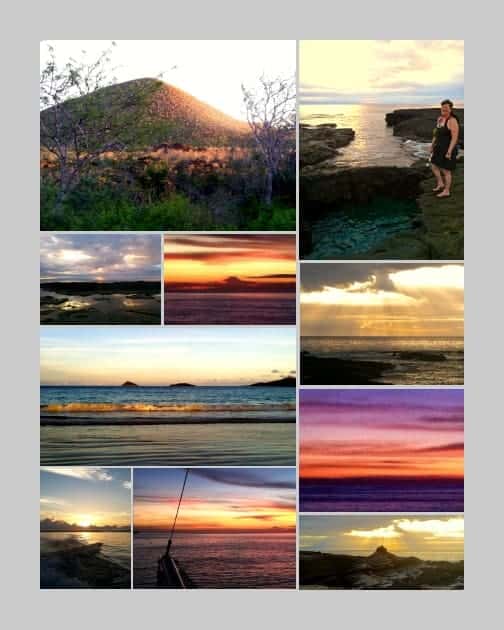 It is hard to beat the sunsets on a ship—a fine way to end a fine day, followed by gently rocking to sleep.
MORE GALAPAGOS RESOURCES:
Galapagos Cruises
Galapagos Cruise Deals
Galapagos Islands Yacht Charters
Galapagos Luxury Cruises
Galapagos Family Cruises
Galapagos Diving
How to Choose the Best Galapagos Cruise
Galapagos Island Hopping or Cruise?
Best Time to Visit Galapagos
How to Get to Galapagos
Galapagos Islands Animals
Galapagos Trips
Galapagos Tours
Galapagos Cruise Reviews
Galapagos Travel Guide
This Travel Journal submitted by Marjorie Kirsch details her Evolution Galapagos Cruise with AdventureSmith Explorations. Contact one of our Adventure Specialists to learn more about these small ship cruises and wilderness adventures: 1-877-620-2875