This Travel Journal submitted by Katherine Faley details her Galapagos small ship cruise aboard the Santa Cruz II with AdventureSmith Explorations.
There are so many places in the world that I've wanted to go to, but none have been on my mind for as long as my desire to go to the Galapagos Islands. I had this beach towel as a child that had the Galapagos sea lion on it, serving as a placeholder until I could get to the real thing. The perfect harmony that the animals live in, and the mere proximity that one can get to the animals is just such a special experience – there's just nowhere else on Earth quite like the Galapagos! Finally, at the beginning of this year, my husband and I decided this was the year we would finally make it to the Galapagos!

We decided to split our time between a cruise (so we could see certain islands that are not able to be visited on a day trip from land) and staying on land (so we could explore at our own pace). When it comes to traveling, I am a super planner; I know the restaurants I want to eat at, the streets I want to walk along, the landmarks I must visit, and I even map out, by hand, every place I want to go. I did a lot of research on each island in the Galapagos and determined the islands I wanted to visit most in order to find the perfect cruise for us. So imagine the huge letdown I faced when we were informed that our cruise was canceled less than a month before we were to leave for South America. I almost entered a state of depression!
Thank goodness for AdventureSmith!
For as much as I am into planning, I don't know what I would have done without someone to guide me through getting a new cruise and dealing with all of the behind the scenes stuff. Thank you Nick! I don't know what I would have done without you! We were able to get on another cruise – still 4 nights and it still had Rabida and Bartolome, the top two islands that I absolutely had to go to! Perhaps this was a blessing in disguise because our trip was absolutely amazing and might have even been changed for the better. Or maybe everywhere in the Galapagos is just that awesome!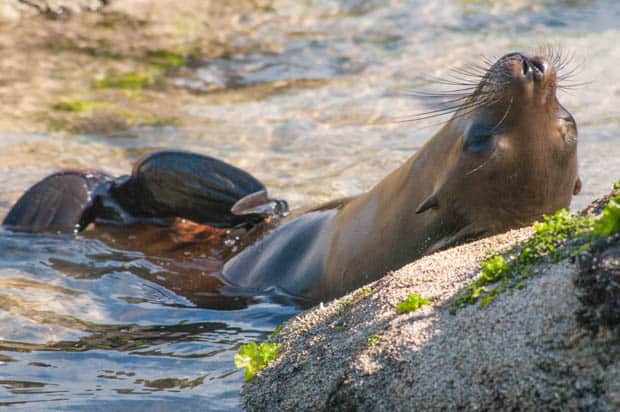 Day 1:
After a day in Quito, we set out to the airport to begin our journey to the Galapagos. Though I didn't get my normal window seat on the plane, I still tried to keep an eye out for a sliver of land to signal that we were nearing the islands. As we started our descent and landed in Baltra, I think I may have even had a couple of tears in my eyes because I was overwhelmed with excitement; I finally made it to the magical place of my childhood dreams! There's nothing too exciting about Baltra, but we did get to see a land iguana, which we wouldn't get the opportunity to see on any of the other islands we were visiting. We then headed over to the cruise ship, the Santa Cruz II. We were originally booked on a 16 person ship because we like that more intimate experience, but the Santa Cruz was a 90 person ship. It turns out these people were really great at organizing a large group of people, and the ship was designed well so that it never felt overcrowded. Our room was nice, with a big window and a shower with endless hot water!

After lunch and our first briefing on activities, we ventured out to our first destination, Las Bachas Beach on Santa Cruz. For such a large boat, our group for the island outings was only about 12 people. Our guide was full of knowledge and clearly really cared about his job. Though we didn't get to snorkel this first day, we encountered marine iguanas, flamingos, lava lizards, pelicans, sally lightfoot crabs, and even a shark. Most impressive was that we even saw all three types of boobies! Though they were flying around and not actually hanging out on the island, it was pretty rare to see all three at this beach. Back on the boat, we had an amazing multi-course dinner. I'm pretty sure the food was a few steps up from what we would have had on our original boat. The chef really put some thought into not only the ingredients, but also the presentations of the plates. So tasty! We were pumped that we didn't have to chose between an appetizer and a soup; we got both! And then we went off to bed to get some sleep before an exciting next day!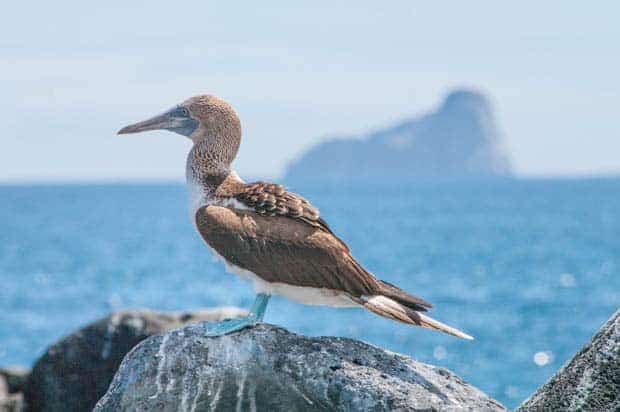 Day 2:
And the snorkeling begins!! After a panga ride (small boat for getting from the ship to the islands) around Buccaneer Cove on Santiago, we got ready for our first snorkeling adventure! By the way, the water is freezing and a wet suit is definitely recommended! The shorties on the boat were sufficient and greatly appreciated! We had brought our own masks since we'd be swimming everyday, both on the cruise and on land. Snorkeling is so fun, and the Galapagos is THE place to do it. Near the end of the swim, we encountered a playful sea lion. This little guy was fast, but oh so cute. Unfortunately, our time was up and we had to get out of the water. Luckily, this was only our first day of snorkeling, so there would be many more opportunities to swim with these guys.

I learned that a different ceviche was featured at each lunch, which was buffet style. Today's was octopus, so I had 5 bowls of it. Why, might you ask? Because I could! And octopus is my favorite! Yeah, I was living in luxury on this cruise!

In the afternoon, we snorkeled off of the beach at Puerto Egas, also on Santiago. As we were landing on the beach, the guide specifically said to avoid "that guy", as he pointed at a bull sea lion. So of course, we're snorkeling and that bull sea lion swims right near us, sending a shiver down my spine, but all was well. We also encountered a sea turtle hanging around the rocks.
It's just so cool to watch all of these animals right up close.
After the snorkel, we went for a coastal walk on the island and met up with some fur seals and sea lions. The sea lions are my favorite; they are just so darn cute! Even though we've got sea lions in the US, they are so very different. In the Galapagos, you can get so close. We definitely maintained the appropriate distance from them, but man was it hard to resist running up and giving them all a nice big ol' hug! And then we discovered a week old sea lion pup nursing with its mom. OMG, cuteness overload!! Even the little sounds of sucking that it made were beyond adorable! I could've stayed watching that little guy for hours! Of course, that's the downside of being on a set schedule with a group (but that's why we also did a land portion of the trip). The thing I was looking forward to most on the trip was the baby sea lions, so to see this guy made my day!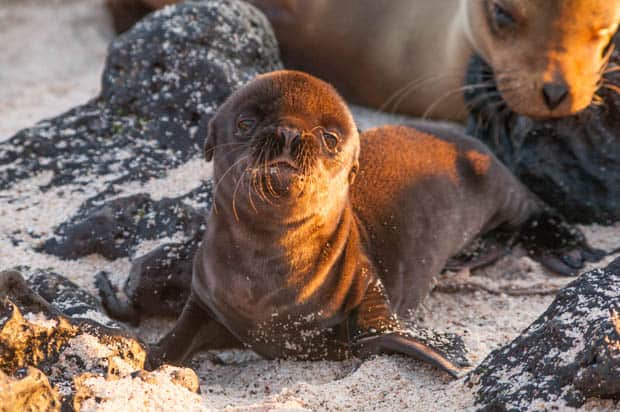 Day 3:
This day was what I was looking forward to most. I really wanted to go to Rabida because of the red sand beaches. It seemed like the most unique looking scenery in all of the Galapagos. It did not disappoint! The gorgeous red color of the sand mixed with the blues of the water, the greens of the cacti, and the mountains of the island were just breathtaking and completely unlike anything I'd ever seen. Add in another week-old sea lion pup and I was just so in love. I loved photographing the pup with the contrast of the red background! And then we went snorkeling, another one of our bests on the trip. We swam with sharks! How crazy is that?!?! I was torn on whether I actually wanted to do this, but when I didn't pass out from fear while in the water, I realized it was really cool and I just wanted to see more!

We then encountered a sea lion feasting on a grouper. It would bite at it and rip pieces off; the fish would then spiral out of his grip, and he'd swim after it. So fascinating to watch! The sea lion must have felt a little threatened that we might take his fish because he swam quickly up to our guide with an open mouth, just nearly biting him twice. And it only got crazier! Let me start by saying that I had asked our guide previously about shark attacks on humans. He said that it's pretty rare, but the last attack was because a guy went into the water just as a bunch of sea lion pups were running out of the water. Yeah, there was a shark, and the shark thought the person was one of the sea lions and bit him (though, the shark soon realized that the man was not in fact a sea lion and basically spit him back out again). So then cut back to us snorkeling, and all of a sudden, I see a shark speeding right at me while there's a sea lion right behind me. All I could think was 'please don't let this shark think I'm a sea lion'! Anyway, the shark just wanted to steal the grouper from the sea lion; thank goodness he wasn't coming for me! It was so cool to watch the sea lion get mad at the shark for attempting to steal his lunch and then chase after the shark to let it be known that it was the sea lion's fish and only the sea lion's fish!
I love watching how animals interact with one another; you're gonna see tons of sea lions in the Galapagos, and you might even see numerous sharks, but how often do you get to see a sea lion chasing a shark?!? So cool!
And onto Bartolome, the other island at the top of my list due to its stunning views combined with a high likelihood of seeing penguins. First, we snorkeled off of the beach. Our goal was of course to find the penguins. We had to swim out a bit and turn the corner around the big rock for the best chance of seeing them, and we had only a limited amount of time in the water. Time was almost up as we were swimming back to the beach and we still hadn't seen a penguin. But then luckily, we saw one dart past us! We also got to see a couple more penguins during a panga ride afterwards. The two penguins were…well…they were having some adult time. I don't think they were pleased that we interrupted them so they got up and went into their little penguin cave to have some privacy. We then made a dry landing to climb the steps up to an amazing vista! Definitely worth the climb!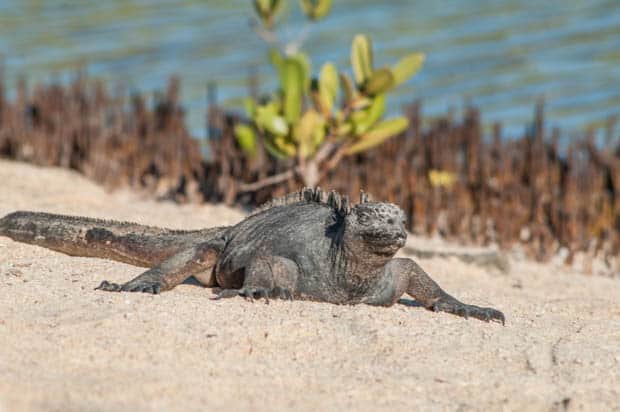 Day 4:
Overnight, we actually crossed the equator in order to reach our next destination, Genovesa, or what some people call 'Bird Island' (seriously, the movie, 'The Birds' could have been filmed here). The island is basically a flat cliff filled with red footed boobies, nazca boobies, and frigatebirds. The boobies were literally everywhere! And there were lots of babies too. I finally got to see the male frigatebird with his red pouch inflated to attract a mate – I think that is so fascinating and unique! We also watched a male nazca booby trying to attract a mate. The males try to woo the ladies by finding an impressive looking twig that could be used to make a nest. Well this guy goes looking for twigs, picks up a decent one, then drops it, only to pick up a small part of a leaf! How wimpy, but quite humorous for all of us watching! The female was not impressed, though, she still didn't walk away. We also saw the Galapagos owl soaring around us alll!

In the afternoon, we walked around the beach and saw tons more boobies, frigates, and swallow tailed gulls, the last of which has such awesome eyes; it almost looks like someone sewed a red line around the eyes. We also saw a manta ray and numerous sting rays while snorkeling. It turned out that Geneovesa was my husband's favorite island in the Galapagos and it was not on our original itinerary so this was a very pleasant and greatly appreciated surprise!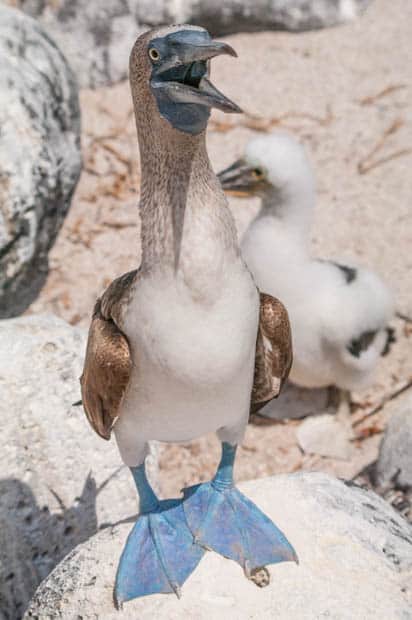 Day 5:
And our last morning on the cruise. I have to say, I was quite impressed with the Santa Cruz II. I normally don't like being on a guided tour of any sort and for being on a cruise for 4 nights in a place where you literally can't go anywhere without a guide, I actually really enjoyed the cruise. We met some great people, the schedule was well organized with super useful briefings, and the guides really know their stuff! It truly makes me want to do another small cruise in the future! We ended the cruise on San Cristobal, the island on which we based our land trip. As our last excursion with the cruise, we went to a tortoise breeding center, where we saw tortoises of all ages, from tiny babies to as old as 100+ years! After we bused back to town, we sadly picked up our luggage as we departed from the rest of gang. As disappointing as it was to leave the community that we had learned to love on the Santa Cruz II, we only had more exciting Galapagos adventures to look forward to !

We then checked in to our hotel, had lunch, met up with a new friend that we had met on the cruise (who was the only other person staying on land after the cruise and coincidentally, happened to be staying right across the street from us), tried desperately to find a wet suit rental that was open at lunchtime (finally found what might have been the only one open), and headed to La Loberia, a beach within walking distance to downtown. There was only one other couple on the beach when we arrived. Here, we saw a ton of sea turtles. We lost track of how many we swam with (though there is a good chance that we encountered the same ones on multiple occasions). It was really cool just constantly spotting one turtle after the next. If sea turtles are high on your list of animals to see, this is definitely the beach to come to!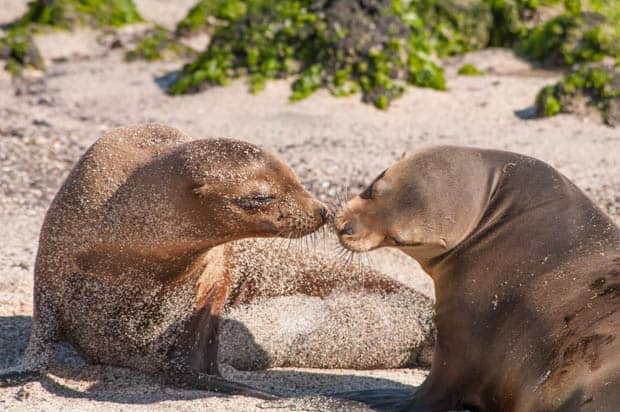 And of course there were sea lions! Right after we exited the water, a bull sea lion popped up in the water and barked at another couple of people trying to enter the water (the slippery rocks made it impossible to enter the water in most other places). We also saw a young pup jump on the rocks from the water and head toward the beach. I was bummed that we missed swimming with that little guy, but the bull's presence assured me that it was better to be out of the water. On the way out, the pup stopped for a swim in a tide pool, making it look like he had his own little kiddie pool. He eventually made it to the beach, making this terrible sound that the pups make when they are hungry (almost like they are burping and farting at the same time). It's so crazy how these adorable little beings make such an awful sound. And since there are so many pups of all ages, you hear this at any beach filled with sea lions. We watched as the pup waddled up to the female sea lions sleeping on the beach in the hopes that he would find his mother. It's kinda crazy how the other females had zero interest in helping the pup find his mom. You'd think they'd want to help so that the pup would stop making that obnoxious "hangry" (hungry-angry) sound! The pup eventually tired himself out and took a snooze.

We then took a hike along the beach over the rocks. We were literally the only people doing this hike. At one point, I almost had a heart attack because all of a sudden there was a giant marine iguana, like really giant, right in the middle of the rock path; I just feared it attacking me. Previously, we had not seen any iguanas even half of the size of the ones on this hike. The hike was so peaceful (aside from the dinosaur iguanas)! You really felt like you were on an island in the middle of nowhere, like nature was untouched. Since we were on our own, it was really just us and the Galapagos! The great thing about this beach and being on our own was that we didn't have to rush back and I could watch the sea lions for as long as I wanted!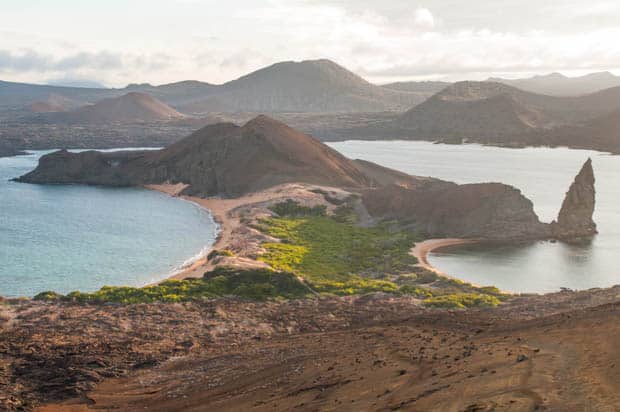 Day 6:
Today, we set off on a hike up to Cerro Tijeretas, or Frigatebird Hill. We started at the Interpretation Center, which gave us a walk-through of the history of the islands. And then we continued on the path and up to the hill. I was hoping to see a bunch of frigates since the hill was named after them, but unfortunately, we only saw a couple flying far away. We then went snorkeling in the water below, where we saw a couple of fleeting sea lions. We then continued on to Punta Carola, a beach with a little lighthouse. We actually got to see a marine iguana swimming here, which was pretty cool. The flies were particularly bad on this beach so we continued on to Playa Mann, which was soon to become my favorite spot.

We found here a newborn sea lion pup, making even the week-olds seem old! Turns out this little guy was only 1 day old, with his umbilical cord still attached!! We found out his age because we talked with someone who had seen the afterbirth the day before. This little guy was probably the cutest thing I've ever seen in my whole life! He was so little, so dark in color, and his little sounds were so different than all of the other pups; you could really tell that this pup was brand new to this world. I must have taken hundreds upon hundreds of photos of this pup! You can get pretty close to the sea lions, but you've got to leave a little extra room between you and a momma with her newborn! She is super protective! This was such a wonderful experience, and since we were staying on land, and this beach was close to downtown, I knew we'd be back here again the next day.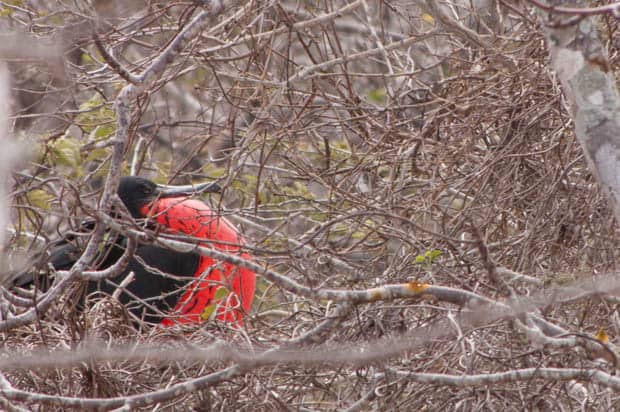 Day 7:
On our last full day in the Galapagos we wanted to do a day trip off of San Cristobal. We opted for Isla Lobos, meaning the island of sea lions, and was a 30 minute boat ride away. Funny enough, our guide for this trip was actually also a guide for the Santa Cruz II; later that day, he was going off to join back up with the ship. I really wanted another opportunity for a good swim with sea lions and I had read that Isla Lobos was a good place for that. This was also a good place to see blue footed boobies. We had seen blue footed boobies throughout the islands, but only one here or there. For perhaps the most iconic species of the Galapagos, our sightings were pretty lacking. Boy was I glad we went with Isla Lobos! It was like a mini Genovesa but with blue footed boobies. There were lots of babies, and I just loved looking at the various blues of the adult boobies' feet. Blue feet are just so unique! We also saw several more male frigates with their pouches out.
I've never been more in love with birds than in the Galapagos!
And then we got to snorkel. We were swimming for quite some time and no sea lion in sight, which was frustrating because we had seen a couple playing in the water when we landed. Our last snorkeling excursion was nearing the end and then a pup finally came swimming up to the group. And this pup was here to stay! We were basically playing peekaboo with the pup while swimming around the rocks. The pup and I took turns blowing bubbles at each other. He'd swim in circles all around us, and just when you thought he had gone, two seconds later he was right back. This pup might have been more curious than we were. He wanted to stick around and play with us. If we had been on our own, we would have stayed until the sea lion got bored, but sadly, the boat was calling us back. But those 15 minutes were some of the best! We then stopped at one beach before heading back to town.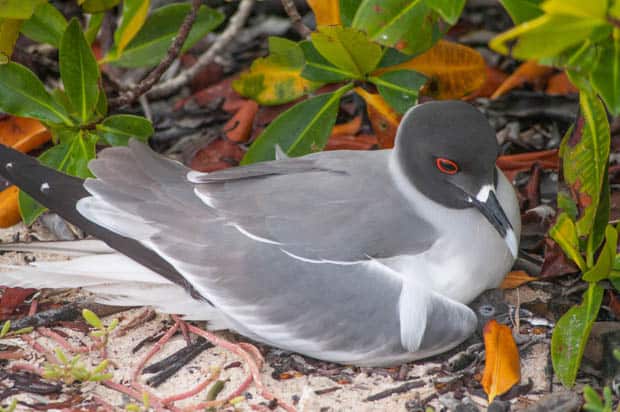 After our trip, we still had about a half day left, so we went back to Playa Mann so we could hang out with the newborn again. Normally, a beach vacation just involving sand and the ocean is great, but add in a bunch of adorable sea lions and it becomes amazing. After all of the go-go-go of our trip, it was time to just plop down on the beach and relax. Now, you are supposed to leave a certain distance between you and the sea lions, but when you are just lying on the beach and a sea lion approaches you, you can just stay put! As the sea lions came out of the water, they made their way up the beach and stopped by our towels to check us out. They are super curious creatures. They seemed to really be into our feet; a couple of the sea lions rubbed their noses on my husband's toes, and one tickled my toes with her whiskers. So precious! As we laid on the beach, we just watched the sea lions go about their daily lives. We watched a bird bother the newborn's momma, and she was not havin it! She went absolutely crazy on that bird. We watched 4 sea lions snuggling up in a hole dug in the sand and a bull chase off another bull, who had invaded the territory; a mad sea lion is a lot faster than you'd think! And of course we watched the now 2 day old pup attempt to walk about, attempt to nurse, and even just sleep. We stayed on the beach til after the sunset, which was so colorful with its deep oranges and pinks. It was the perfect ending to such a life-changing trip!

The Galapagos was truly breathtaking and so incredibly special! When our original cruise was canceled, I was so worried that I was missing out on something, but it turns out everywhere in the Galapagos is amazing! The cruise and land combo was the perfect plan; it was an ideal mix of everything that we wanted. The following morning, we sadly set out on our flight. Now all I want is to go back!!!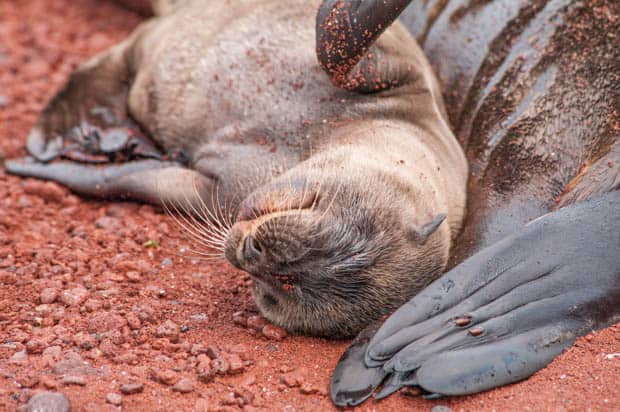 MORE GALAPAGOS RESOURCES:
Galapagos Cruises
Galapagos Cruise Deals
Galapagos Islands Yacht Charters
Galapagos Luxury Cruises
Galapagos Family Cruises
Galapagos Diving
How to Choose the Best Galapagos Cruise
Galapagos Island Hopping or Cruise?
Best Time to Visit Galapagos
How to Get to Galapagos
Galapagos Islands Animals
Galapagos Trips
Galapagos Tours
Galapagos Cruise Reviews
Galapagos Travel Guide
This Travel Journal submitted by Katherine Faley details her Galapagos small ship cruise aboard the Santa Cruz II with AdventureSmith Explorations. Contact one of our Adventure Specialists to learn more about these small ship cruises and wilderness adventures: 1-877-620-2875