AdventureSmith Explorations Adventure Specialist Andrew Browning reviews his Prince William Sound Discovery small ship Alaska cruise aboard the 12-guest Discovery.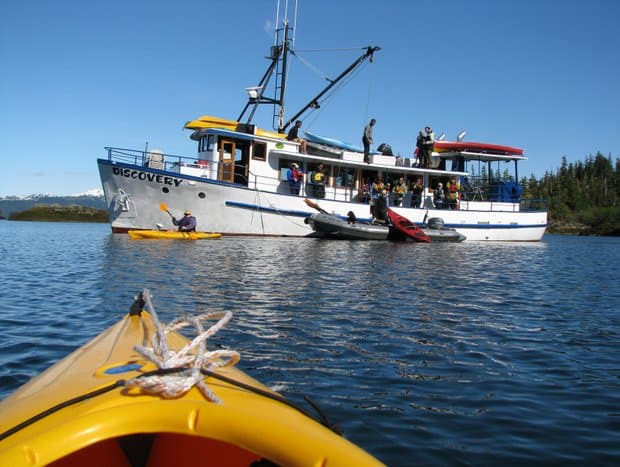 From the famous Captain Cook and Harriman expeditions to present day travelers; Prince William Sound is an explorer's dreamscape. The Chugach Mountains, countless tidewater glaciers, and Alaskan wildlife make Prince William Sound a vast marine wilderness perfect for exploration by small ship or yacht.

From my airplane window seat I could already see the dramatic change in landscape as we flew north from Seattle. Even from the plane I could see the abrupt change in elevation from sea level to the tops of the mountains. Upon arrival in Anchorage, I proceeded by an easy taxi ride downtown to the charming Copper Whale Inn bed and breakfast overlooking Cook Inlet. After checking in I set out to see the town knowing that I had plenty of daylight left during the long summer days. The people in Anchorage were very friendly and the casual dinner at Humpy's, a local favorite, was delicious. Afterwards I headed back for a walk along the picturesque coast trail to the Copper Whale Inn.

The next day I departed early for Whittier. I had arranged a private transfer while the rest of my group got to sleep in and take the included 10:00am group transfer. The road to Whittier parallels the Alaska Railroad's Coast Classic route and is one of the most scenic that I have traveled. You wind your way between roadside mountains that are home to Mountain Goats and Turnagain Arm; a shallow fjord which is a haven for Beluga whale watching in Alaska. My driver was knowledgeable and I learned a lot about Alaska's nature, the earthquake of 1964, the unique Whittier tunnel, and the World War II base that was built in secluded Whittier.

Before boarding the Discovery I had made arrangements to inspect another small ship in the region. The Spirit of Columbia; a beautiful 143ft small ship carrying only 78 passengers designed for up close exploration of Alaska's coastal wilderness. She has spacious cabins each with two twin beds, a private bathroom and ample storage. The ships layout of 4 decks provides plenty of living space including a large dining room, ocean view salon, bar, a library and large decks to find privacy and watch wildlife. The team of naturalists aboard give nightly lectures and narrate wilderness knowledge as the ship encounters bears, whales, eagles and more. Aside from a port stop in Cordova this cruise does not offer any hiking, although they may occasionally drop the zodiacs for up close exploration by small craft. She operates 3 and 4 night Glaciers of Prince William Sound cruises. For travelers with desire to experience coastal Alaska up close with a more relaxed itinerary, the Spirit of Columbia is a great option. As an expert in small ship cruising this was the type of vessel and cruise I had grown accustomed to.

Upon arrival at the Discovery I realized I was not embarking on your typical small ship cruise. The Discovery is a 65 foot classic working yacht that carries only 12 people. The smaller size and 12 passenger capacity of the Discovery working yacht provides a more active exploration experience than any small ship.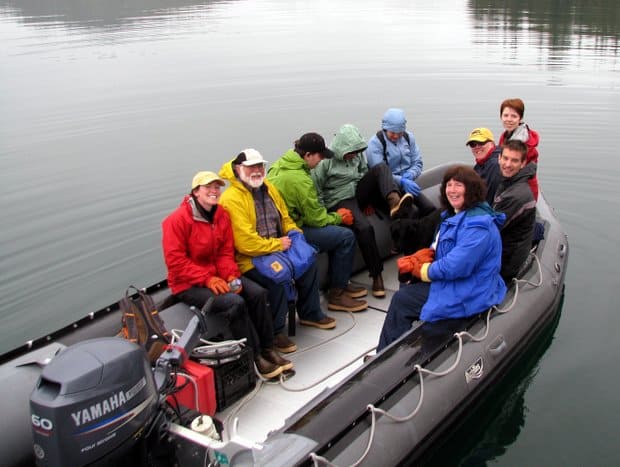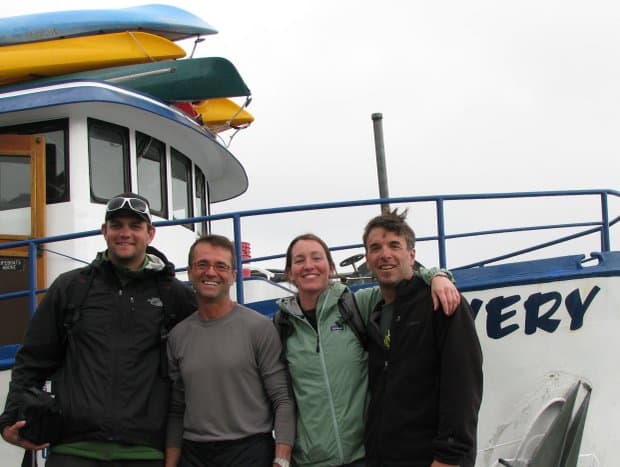 I was immediately greeted by Captain Dean Rand, Gourmet Chef Matt and guide Heather. They helped me aboard and showed me to my cabin with two bunks and no bathroom. The 6 cabins aboard the Discovery share two bathrooms each with a shower, toilet and sink. Shortly after, Samantha the lead guide arrived with the rest of the passengers. We got settled into our cabins and after a safety orientation we were off to explore Prince William Sound.

We had been cruising for about 10 minutes when Captain Dean pointed out a nesting colony of thousands of Kittiwake sea birds. As we approached the Kittiwakes began flying franticly near the side of their cliffside colony. We thought that the vessel had startled them but then we noticed a larger bird was the source of the commotion. A Peregrine Falcon was hunting them. We watched in awe as thousands of kittiwakes flew above us as the Peregrine Falcon soared and dove to capture his prey. The falcon caught a straggler in his talons and landed on the cliff to eat. This experience of nature was quickly followed by sightings of mountain goats with young and a lone bull Sea Lion lounging on the shore. Captain Dean navigated through Passage Canal and out into Prince William Sound setting a course for our first hike and glacier viewing. Along the way the crew served the first of many batches of afternoon cookies.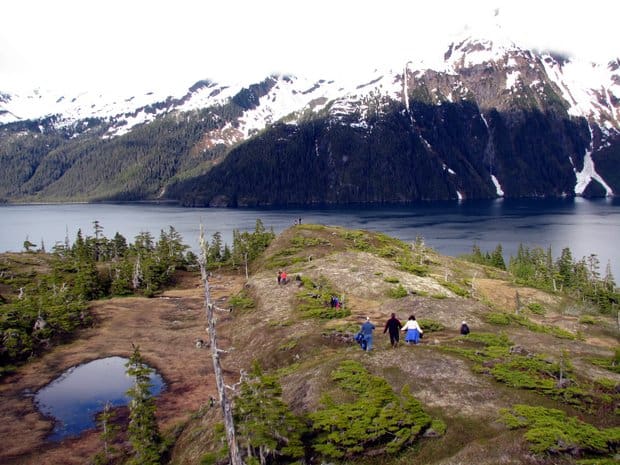 Arriving later that day at Point Doran we hiked up a small ridge to an overlook where we could see 3 tidewater glaciers and the discovery anchored below. Guides Samantha and Heather provided insights into Alaska's flora and fauna along the way. Captain Dean got on the radio to notify us that Matt had dinner ready for us and we sailed on to view Barry's glacier up close while we enjoyed the fresh meal. With 30 years of experience exploring Alaska by small ship, Captain Dean knows all of the secluded bays and inlets. At day's end Dean dropped the anchor in a secluded cove near a cascading waterfall for the night. A great feature of this cruise is that the itinerary is very flexible. This enables the Captain and crew to take advantage of weather, wildlife, and unplanned discoveries.

On day two, after our morning kayaking excursion we were cruising toward Knight Island when we heard the spouts of humpback whales. The whales were feeding and we observed them surfacing and diving as Captain Dean carefully maneuvered the boat to get a good look without disturbing these incredible animals. Hearing the whales exhaling and the group anticipation of seeing them dive was one of my cruise highlights. While we were watching the humpback whales feed, a pod of Dall's porpoises approached and began swimming playfully around the front of the Discovery. Dall's porpoises are beautiful creatures colored dark grey with a long white spot on their sides making them look like small Orcas. In this scenic waterway we witnessed the rare site of humpback whales and Dall's porpoises feeding on the same food source at the same time. We were awed as we viewed the porpoises surfacing frequently while the humpbacks spouted and dove with their large tails in the air.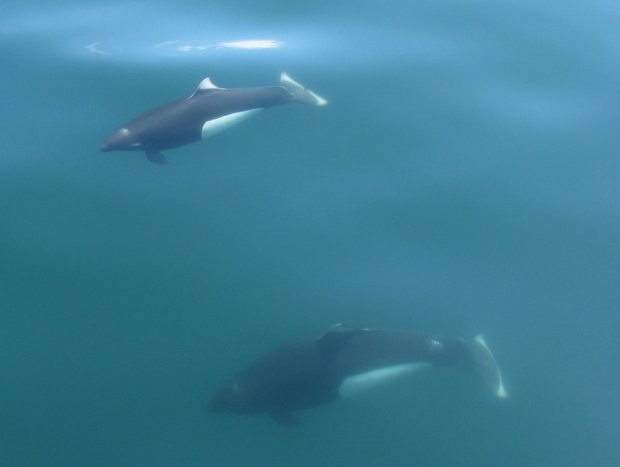 Over the course of the next few days we experienced an active adventure cruise like no other in Alaska. A personal highlight for me was the daily sea kayaking. The calm water in protected bays was perfect for exploring by sea kayak along cliffs, under waterfalls, and in the shadows of fishing bald eagles. We took breaks on secluded beaches where our guide Samantha enlightened us on the native and American history of the area. In addition to sea kayaking the guides were eager to lead daily hikes throughout the cruise. Along running creeks, through temperate rainforest, and above waterfalls we ventured. The final hike brought us to a beautiful mountain lake where I took one of my best photos of the trip.

While we viewed many impressive tidewater glaciers throughout Prince William Sound I loved our time spent at massive Chenega Glacier. The icy blue color and the mile wide size of this glacier are just beautiful to behold. It was thrilling to wait for the next huge piece of ice to break off and splash into the sea. It is also strange to think that no one will ever see the glacier the same way because the ice is constantly moving and breaking.

Including myself there were several photography enthusiasts on the cruise. The photographic opportunities were amazing. We got some great shots of calving tidewater glaciers, humpback whales, Dall's Porpoises, Harbor Seals, black bears, sea otters, river otters, bald eagles, tufted puffins, and plenty of scenic photos. It's amazing what you can capture with even a simple digital camera.

Each evening after an active day of exploration we would return to the comfort of the Discovery. After a hot shower we would all retire to the intimate salon and dining area or perch our chairs on the deck for an evening drink. Dinners were varied and delicious highlighting Alaska's incredible seafood. One night in particular Matt prepared a delicious halibut dinner made fresh from the halibut we caught off the stern while fishing earlier that day. Breakfast was hearty and healthy, lunches were light and warm and desert was always something special. The Discovery has a very casual atmosphere and Matt invited us to help ourselves in the modern galley when he was out kayaking or not around. This informal, family style atmosphere aboard the Discovery is a major difference with small ship cruising.

It turns out that my Prince William Sound Discovery Cruise was not your typical Alaska small ship cruise. On this style of cruise the flexible itinerary and Alaskan crew makes each trip unique. Choosing my favorite parts is difficult. It is likely the simple, unexpected experiences like being in the wheel house looking for wildlife through binoculars and talking with Captain Dean as he steered us through this magnificent area.

A traveler seeking an Alaska experience with a local Alaskan crew and plenty of time to actively explore will enjoy our Prince William Sound Active Discovery Cruise. If you have dreamed of exploring coastal Alaska give me a call, I am happy to share my expertise and to discuss the many exciting opportunities that exist there.
MORE ALASKA RESOURCES:
Alaska Small Ship Cruises
Alaska Yacht Charters
Luxury Alaska Cruises
Alaska Cruise Guide
Alaska Cruise Deals
Small Ship Alaska Cruise Reviews
Best Alaska Cruises for Families
Small Alaskan Cruise Lines
Glacier Bay Cruises
Alaska Inside Passage Cruises
Alaska Whale Watching Cruises
Alaska Trips
Alaska Tours
Visiting Denali National Park
Alaska National Park Tours
Best Time to Visit Alaska
This Alaska small ship cruise review was written by an AdventureSmith Explorations crew member. The Discovery is on our curated list of Alaska yacht charters and is perfect for a full boat charter. Read all Cruise Reviews for more trip reports, or contact one of our Adventure Specialists to learn more: 1-800-728-2875.