AdventureSmith Founder and President Todd Smith details his Alaska's Eastern Passages cruise aboard the historic 11-guest Catalyst after they embarked on a journey in the age of COVID-19. Are cruises to Alaska safe? Learn about my personal experience, Alaska travel logistics, insight into the Catalyst bubble strategy and more. Please note the state of Alaska travel logistics mentioned below were in effect in August of 2020, please contact us for further details and updates on Alaska travel at the present time.
2020 was undoubtedly a challenge for Alaska tourism and the cruising industry. In March and April, we thought we would be cruising by May or June. Eager travelers postponed trips to later in the summer until it became clear there would be major changes to Alaska travel plans. Cruise ships carrying more than 250 guests were banned by the CDC's "No Sail Order," but there was hope that our niche of small ship cruises would be spared—and might even flourish as travelers sought smaller, safer options. But we continued to see widespread cancellations, suspensions and even false starts. Many travelers asked "Is it safe to cruise to Alaska?"
Very quietly though, throughout the chaos of summer, one boat successfully operated small ship Alaska cruises in the age of COVID-19. The historic 11-guest Catalyst, operated by Pacific Catalyst II, began sailing in mid-June and successfully ran five cruises hosting about 30 guests over the course of the season. As AdventureSmith is an industry expert and worldwide leader in expedition cruises, it was important for us to be among the first in the field—to experience travel in the age of COVID-19 and bring this firsthand experience to our clients and prospective travelers. I boarded the last departure of the year on August 30, 2020, and saw Alaska as never before, without any other cruise ships.
As a veteran expedition leader with hundreds of cruises under my belt, I had never experienced such solitude and wilderness. While wilderness is the hallmark of any Alaska small ship expedition cruise, especially aboard a boutique cruise offered by a ship like the Catalyst, this year we truly had Alaska to ourselves. My experience is an insight into what the future of cruising holds and can act as a primer for travelers seeking to embark on an Alaska small ship cruise next summer, in 2021.
The Logistics of Arriving to Alaska Amid COVID-19
Flying to Alaska from California was easy. The airports were uncrowded, making social distancing easy. Everyone wore masks and Alaska Airlines kept an open row on the planes (visit Alaska Airlines for the latest updates).

The State of Alaska is taking the pandemic seriously and had stringent entry and travel requirements at the time of my voyage. All non-residents like me had to arrive with a negative coronavirus PCR (polymerase chain reaction) test no older than 72 hours (3 days). Learn more about PCR tests on the FDA website.

While some travelers can acquire a PCR test within three days in their community, I could not and instead used the Vault Health option recommended by the State of Alaska. Visit the State of Alaska Safe Travels website to learn of the requirements and test options if booking any Alaska travel now.

I ordered the test and it arrived in plenty of time. On the Wednesday before my Saturday departure, I took the test and returned it via FedEx to the lab. On Thursday, I received a confirmation email that my test had been received and I was invited to create an account. On Friday, I logged in to my account to obtain my negative results. With these in hand I completed the State of Alaska declaration form, uploading my negative results.

Upon arrival in Juneau, I was routed to a kiosk where a crew reviewed the declaration form and negative test I had uploaded previously. The process was easy and seamless. Travelers who had not completed their declaration form were routed to a separate kiosk where crew helped them complete the documentation and proceed. The whole process only took a few extra minutes, and I was on my way to the Great Land.
Solitude & Safety in Juneau Pre-Cruise
Since I was overnighting in Juneau, I had to continue to be cognizant of isolation. For a week before travel I was extra cautious to ensure a negative test and for the peace of mind that I would be healthy upon departure. During transit I maintained strict social distancing, wore a mask, wiped surfaces with sanitizing wipes and liberally applied hand sanitizer. Upon arrival, the taxi driver wore a mask and assured me he had sanitized. The hotel check-in had plexiglass screens and sanitizer. I opted for outdoor dining and with zero crowds in Juneau it was easy to enjoy a walk to the new waterfront park without risk. The next morning, I got breakfast to-go and made my way to the Catalyst.
Boarding the Yacht & Our Bubble of Trust
Descending the gangway, the 75-foot Catalyst looked lonely among the massive empty docks where as many as five giant cruise ships might normally harbor. I wondered what it would be like on board. Masked up, I was warmly greeted by Captain Paul, who was also wearing a mask, and shown to my cabin. Our group of 8 travelers gathered comfortably in the salon. Normally the Catalyst has a capacity of 11 but was kept to a maximum of 8 amid COVID-19. We were introduced to the rest of the crew, Naturalist Sara, Engineer Shane and Chef Michael. In addition to the typical orientation about safety, ship operations and itinerary, they directly address the "elephant in the room"—COVID-19.
A few things had changed but would not impact our experience. With several trips under their belt, the Catalyst crew had protocols and guidelines that had evolved since June. The galley, normally open to viewing and participation, was closed to guests. Surfaces were sanitized regularly. Hand sanitizer was available at every turn. Guests were welcome to wear masks, but not required.
There is no way to truly social distance aboard a small yacht such as the Catalyst. After a quick informal discussion among the 8 guests we agreed that this small group of likeminded and experienced travelers were all responsible in their preparation and quarantine prior to arrival. We trusted that with everyone's negative test and precautions, the boat was virus free and we could relax without masks and social distancing. We checked with the crew and they agreed. We were free to interact however we felt comfortable. Within 15 minutes everyone was mask free. For the first time in months we could interact without worry. It was not just a vacation to Alaska, but a vacation from COVID-19.
What Alaska Was Like Without Other Cruise Ships
Over the course of the next 7 days, the Alaska I remember unfolded in unexpected ways. There were the seasonal and yearly changes, such as a glacier's retreat, the subtle shift of wildlife and fall colors peeking through the verdant rainforest that one expects upon a return trip to a familiar location.
The lack of other boats and cruise ships was the most noticeable change. Typically, locations such as the glacier-filled Endicott Arm, Yosemite-like Ford's Terror, the bear viewing platform at Pack Creek, a sea lion haulout at the Brothers Island or favorite humpback whale-watching zones would normally have other yachts and small ships nearby. Not to say it is ever crowded, but the captain and crew might communicate with other boats to time their routes, thus ensuring a wilderness experience for everyone. This time, apart from a few other charter cruises and local fishing vessels, we were the only boat for hundreds of miles and free to wander at will. Especially notable was the lack of large cruise ships, regularly seen plying mid channel down larger waterways.
The wildlife was also astounding. The harbor seal pups, born just this year and hauled out on icebergs, looked inquisitively at what was perhaps their first humans. At a salmon stream outlet on Admiralty Island we counted no fewer than 18 brown bears in one location. Another day we were surrounded by hundreds of humpback whales, one of which became very curious with the Catalyst. It passed just feet under the boat, spy-hopped and looked at us inquisitively as if to ask, where have you been? I cannot claim that the lack of tourists caused these behaviors but being among the first to visit wildlands after an extensive break has its advantages.
Was It Really a Vacation from COVID-19?
Throughout the voyage, my fellow guests, the crew and I discussed the situation extensively. Of course, the pandemic is on everyone's mind and a topic of almost any conversation. Everyone felt very comfortable on board and agreed that the small yacht model was a desirable alternative. We felt safe and appreciated a break from the constant distancing, lockdowns, masks and precautionary measures we now take for granted at home. But this bubble travel model is not for everyone.
The CDC continues to advise Americans against travel: "Travel increases your chance of getting and spreading COVID-19," their website read on Oct. 14, 2020. If you are in a high-risk category or have a high-risk family member, or if you are a type A personality that needs guarantees, you might not be comfortable on board a trip like this. It also requires the trust and diligence of strangers. You need to trust that the other travelers on board and the crew have taken their precautions as seriously as you have. And ultimately there is risk, as in most travel experiences, that things will go awry.
Pacific Catalyst II took precautions in their Alaska operations with the safety of guests and crew being paramount, and had emergency plans in place, including a protocol for quarantine and return to port if someone became ill on board. They are fully licensed by the State of Alaska and the U.S. Coast Guard to operate safely. In addition, all guests had to sign a Coronavirus Acknowledgement of Risk and Conduct Agreement at the time of booking. So, while I often recall this voyage as a "vacation from COVID-19," I say that not without acknowledgement and respect for the pandemic and lives lost. I chose to cruise as a duty to my company and clients—combined with my low-risk factors and lifelong quest for exploring the unknown. I trust today's modern traveler to decide if, and when, they are ready to explore and to navigate the risks and benefits of doing so.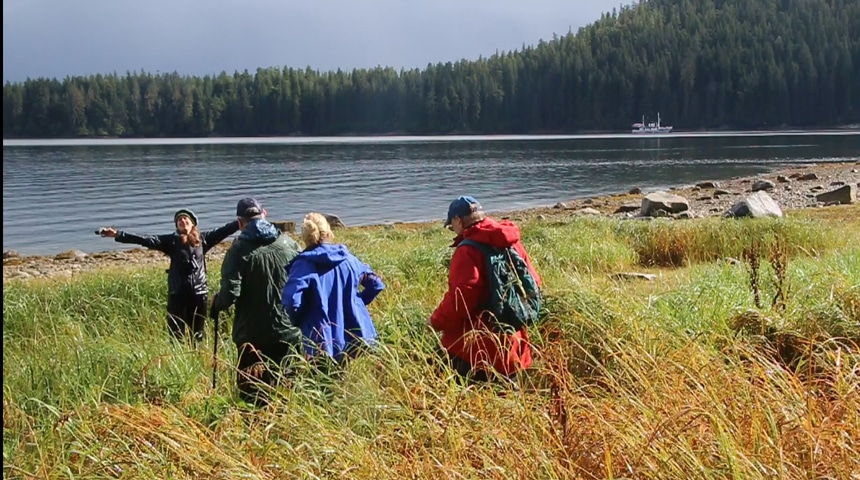 My Advice If You Are Looking to Travel to Alaska
Alaska is an excellent option for U.S. travelers looking to get away. It is close to home, it has robust entry requirements and stringent travel protocols designed to keep visitors and locals safe. It has wide-open spaces where travelers can spread out. This wilderness also serves to provide what we need most after months of lockdown: a strong connection with nature and the outside world. Alaska's wilderness and solitude have always been a primary motivator for travelers, but now more than ever Alaska is the vacation from COVID-19 we need.
I am certain that testing and protocols will continue to improve as worldwide travel opens and things will only continue to become safer. The small ship model in Alaska, with only 8 to 100 guests is statistically safer than many other modes of travel. So, if you are an intrepid traveler in a low-risk category,there are once-in-a-generation opportunities to experience unspoiled nature and wildlife.
Although ships are filling fast because most travelers who booked in 2020 have been moved to 2021, this is a unique moment in travel where ships and yachts that normally sell out as much as a year in advance are available. Now is the time to consider your plans for 2021. Alaska misses us.
For more photos and videos from my Alaska cruise see my Alaska's Eastern Passages Facebook album. For more firsthand insight from this cruise read my Expert Aboard Catalyst Yacht Review and Expert Review of Slow Travel in Alaska.
MORE ALASKA RESOURCES:
Alaska Small Ship Cruises
Alaska Yacht Charters
Luxury Alaska Cruises
Alaska Cruise Guide
Alaska Cruise Deals
Small Ship Alaska Cruise Reviews
Best Alaska Cruises for Families
Small Alaskan Cruise Lines
Glacier Bay Cruises
Alaska Inside Passage Cruises
Alaska Whale Watching Cruises
Alaska Trips
Alaska Tours
Visiting Denali National Park
Alaska National Park Tours
Best Time to Visit Alaska