AdventureSmith Explorations' Nick Mitchell reviews his Glacier Bay & Island Adventure cruise aboard the 49-guest Baranof Dream. Please note: The primary ship operating the mentioned itinerary can change from year to year, so the ship Nick cruised on may no longer be sailing this exact route.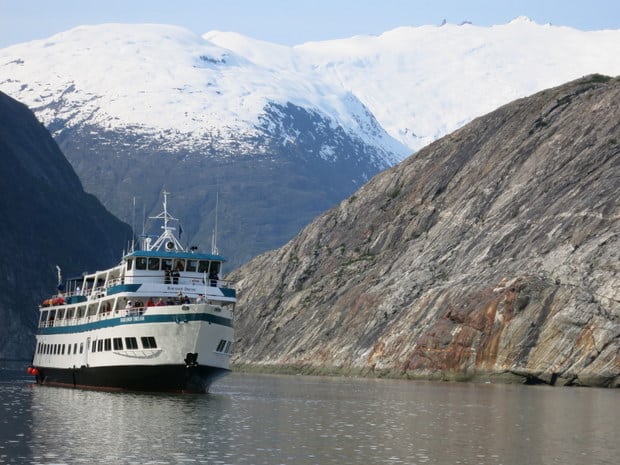 The food was delicious on the Baranof Dream. I should know. I ate a lot of it. While out for a jog back home in Tahoe, California, trying to get my belt buckle back to that pre-cruise notch, I paused for a moment and looked out through the rain and across the lake. I scanned the flat water hoping for a whale spout or orca fin. I was back home, but my mind was still whale watching in Alaska. I think I can speak for all my fellow Glacier Bay & Island Adventure travelers when I say this trip fell into the "trip of a lifetime" category with ease. I ran home thinking about how I would write my first review for AdventureSmith Explorations. How will I fit it all in?
We all became experts in when a whale was going to dive, all of us pointing out when its back arched and it was about to go down deep.
It would have to be a highlights reel. The weather, which cannot be controlled, was perfect from start to finish. The sea was, at times, like a mill pond. Snow-covered peaks surrounded us at all times. I recall seeing only a handful of other boats while we were away from ports, and I loved the feeling of seclusion looking out over such vast land and seascapes. Steph, our enthusiastic and experienced scientific expedition leader, kept a list of wildlife sightings on the wall by the bar that included a coastal brown bear, puffins, seal lions, mountain goats, sea otters, a porcupine (!) and too many humpback whales to keep track of. We all became experts in when a whale was going to dive, all of us pointing out when its back arched and it was about to go down deep. As its tail fin, or fluke, stood upright and sank slowly underwater, we would all cheer. On our last day we saw them breaching in the distance, and one obliged us with some pectoral fin slapping. We saw pods of orca on three separate occasions.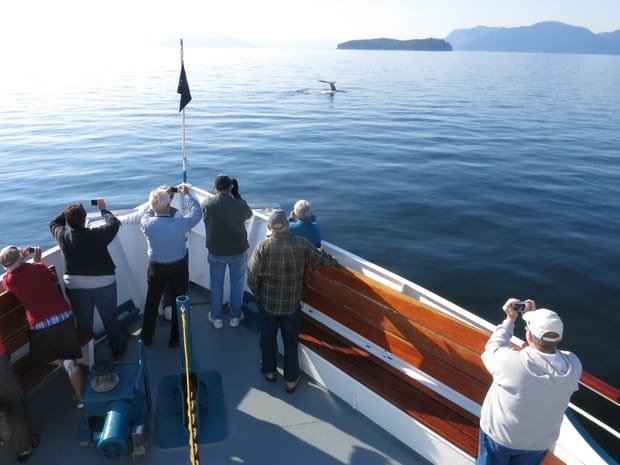 In Glacier Bay we could see Mount Fairweather's 15,325-foot peak above us as we made our way to the Margerie and Grand Pacific glaciers. We got to take a sunset walk in the rain forest at Bartlett Cove and hike on a trail through muskeg. Our experienced Alaskan captain negotiated ice chunks, or bergy bits, that served as sun beds for harbor seals, in the narrow Tracy Arm Fjord and brought us close to the calving Sawyer Glaciers. We took turns to go out on a skiff and get even closer. He even put the bow of the boat into one of the waterfalls that came down the granite walls towering above us.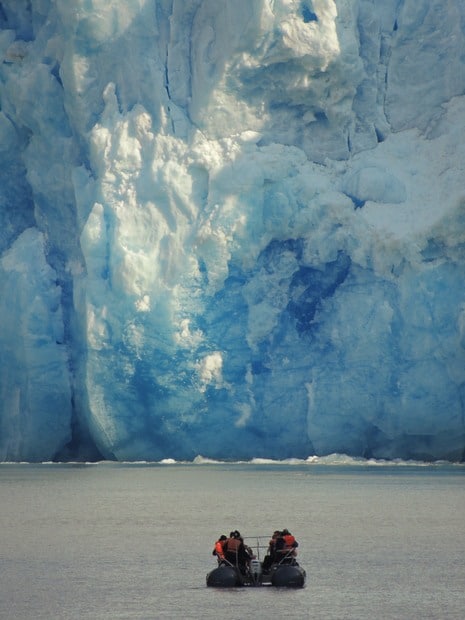 At Windham Bay, those who wanted to enjoyed a peaceful kayak. A family of four, among others, was cheered on by onlookers, as they jumped into in the cold water together. Our cultural expedition leader, Lee, entertained us with stories from Tlingit folklore, anecdotes of encounters with bears and Robert Service poetry. We took in some Alaskan history in Sitka and watched Tlingit and Norwegian dancing in Juneau and Petersburg. We even had the chance to dance with the people of Kake.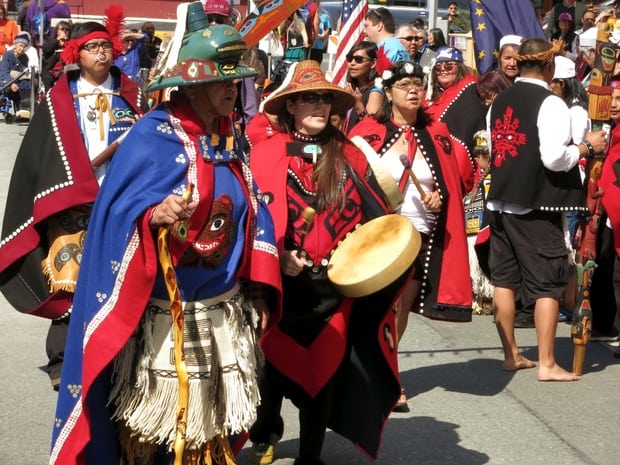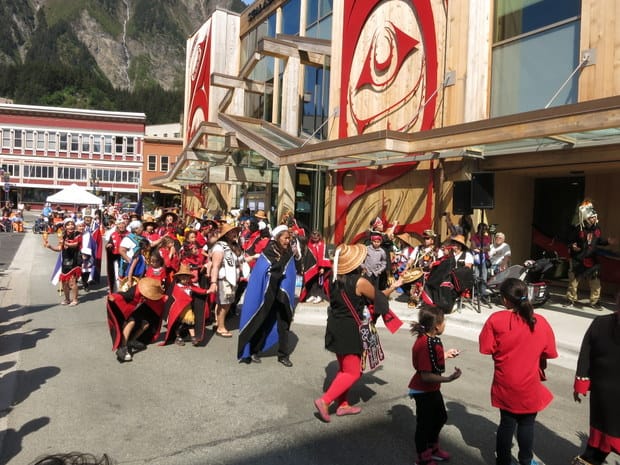 The Baranof Dream's operator, Alaskan Dream Cruises, has a rich history as a family business that listens to its guests, tailoring its cruises to fulfill expectations. As we all know, wildlife and weather cannot be controlled, and the staff on the Baranof Dream did an excellent job of making sure the things that could be were first-class. Stewards, deckhands, cooks and mates were all friendly and attentive. The National Park ranger, who came aboard as our guide while we were in Glacier Bay, said she liked giving her presentations on Alaskan Dream boats as she felt like she was in someone's living room. We were a happy bunch on the Baranof Dream. I already said the food was delicious. Combine that with excellent service and the dining room was always filled with smiling faces—though we were an easy crowd to please, what with all the wildlife and the weather.
All meals were plated on the Baranof Dream, except for the day we had a barbeque buffet. Expect to eat a lot of Alaskan seafood on this trip. We even ate a King salmon that some of us had kissed earlier that day (see photographic evidence below) just before Lee filleted it in front us.
There was always a meat or vegetarian option if you didn't want seafood, as well as soup, salad and dessert. All allergies and food requests were catered to. Bread was baked daily. There was even a baking class. And don't worry, you don't have to eat as much as I did.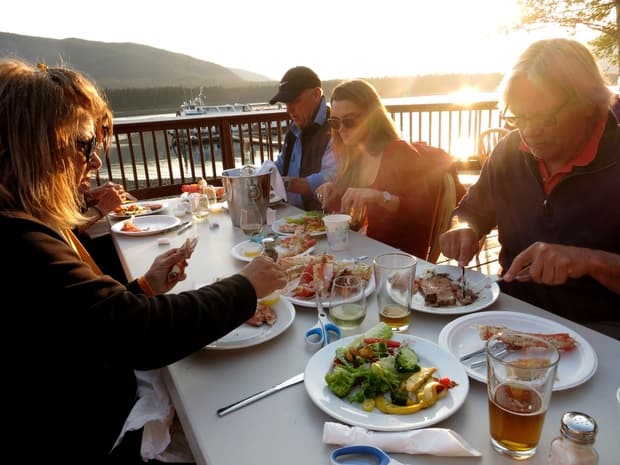 The Captain's Dinner started with Tom, a guest from San Jose, singing a song about our week, accompanied on guitar by Silka, one of the stewards. It culminated in a nineteen-dessert extravaganza and a slide show of our week. However, the buffet dinner at Orca Point Lodge was my favorite. It consisted of leg after claw, after leg of King crab, King salmon and prime rib, as well as salads and vegetables, all enjoyed on the deck overlooking glass-flat water that warmly reflected the pink-gold sunset. For dessert we had s'mores around a campfire. Hard to beat that.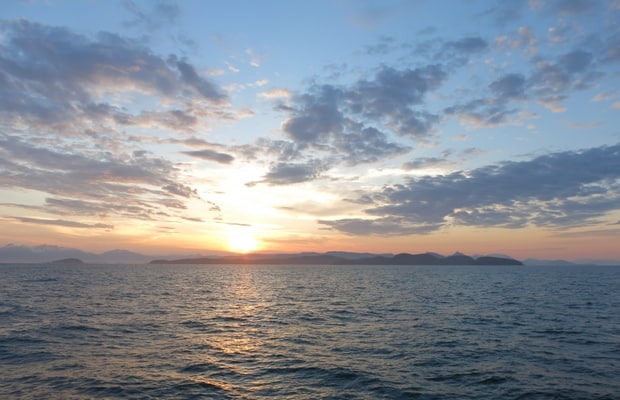 That's enough about food, for now anyway. There was a strong cultural element to this small ship Alaska cruise, and as the company is Alaskan, it felt authentic. The week started in Sitka with tours of the Bishop's House, the wonderful Sheldon Jackson Museum and the St. Michael's Russian Orthodox cathedral. Our day in Juneau coincided with the vibrant dedication ceremony of the new Walter Soboleff Building. We were treated to a performance of Norwegian folk dancing in the fishing port of Petersburg, by school children happy to be skipping a math test. At the Tlingit village of Kake, we learned about totem pole carving and basket weaving from local guides.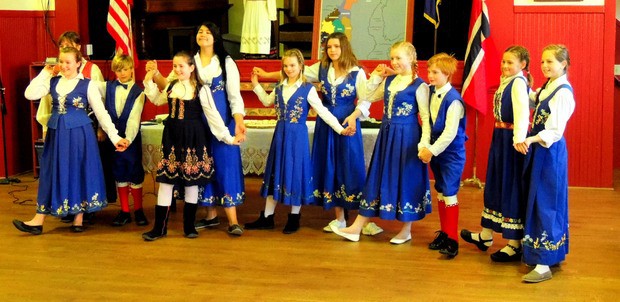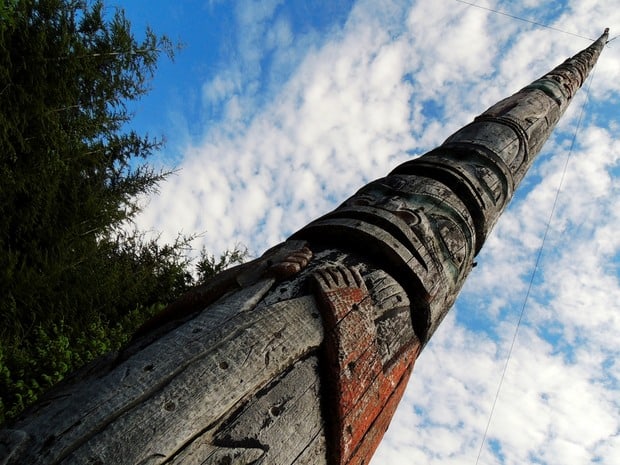 Lee, our cultural guide, was from Ketchikan and Tlingit. He was a talented storyteller, and every evening we would all easily suspend our disbelief and allow ourselves to get swept along as he told us folklore of the Tlingit people. His stories grounded our connection to the wilderness we were in, giving us glimpses into how early man lived in this beautiful and wild place. He told us how storytellers were singled out for that profession as young men and instilled with the tenet that stories must be recited word for word without deviation. To test their memory, they would recite stories in harsh conditions, such as while sitting in freezing water, to ensure the purity of the tale for generations to come.
Every five minutes or so an orca's head would pop up to see what those strange creatures on the boat were up to.
It was at the end of one of Lee's stories that we saw our first pod of orca. He was finishing an Alaskan legend he was taught as a boy and telling us of his surprise when he learned it matched a Hawaiian one. I was in my room, listening to the story over the in-room speakers, nodding my way toward a dreamland where men kayak across oceans, when an excited gasp from Lee's audience downstairs in the explorer's lounge caused me to jump to my feet.
We joined the orca pod for an hour or so. Steph, our scientific leader informed us we were following a well spread-out pod of about 20 to 30 orca. The bulls kept their distance, their giant triangular dorsal fins rising 6 feet out of the water. We got much closer to the cows and calves, with their smaller, curved fins. Mothers and calves stayed together, and the inquisitive nature of the younger orca brought them much closer.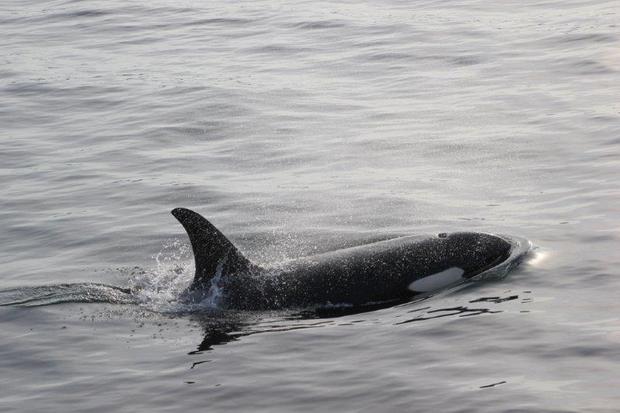 We gathered on the bow viewing area on the main deck, some on the bridge deck above, and joined the pod as it made its way south through Stephen's Passage. When the mothers and calves, in groups of three or four, came up to breathe, they were often all touching, rolling and swimming over each other. Every five minutes or so an orca's head would pop up to see what those strange creatures on the boat were up to. Steph lowered the hydrophone and we were able to hear them clicking and whistling for a few moments. A mother and calf came in for a breath and a look-see no more than 15 feet off the port bow and moments later, the same calf spy hopped about 20 yards in front of us. We saw orca on two more occasions. Each time was just as amazing as the first. Seeing orca so close was my personal highlight of the whole trip.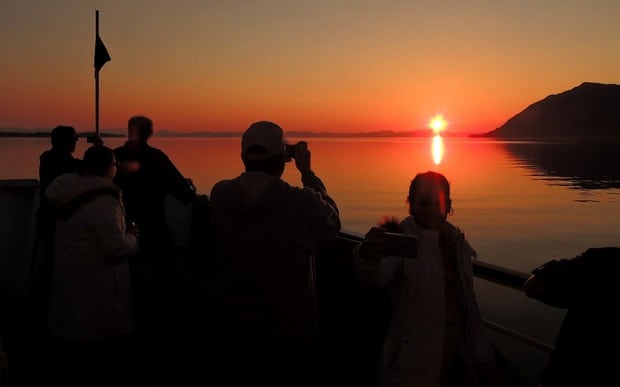 Meeting my fellow travelers was anther highlight I cannot overlook. Everyone was charged by Alaska and open to making new friends. We shared experiences we will never forget. We shared the feeling of wonder on a daily basis. The travelers were from all walks of life. The southern hemisphere was well represented. Traveling on a boat this size was a lot of fun. We were 40 guests, and the full bar that served itinerary-themed cocktails was always buzzing at social hour, when it wasn't being interrupted by wildlife. One of the reasons I love to travel is meeting new people and making new friends. An eight-day cruise the Baranof Dream proved to be a great way of doing this. I met interesting, like-minded people who were excited to be sharing an unforgettable time in Alaska. It was a real pleasure spending time with them. Small ship cruising is truly a wonderfully social way of traveling. The Baranof Dream had plenty of communal space, up on deck for wildlife viewing and for socializing and dining below. I also really enjoyed how there was no bag-packing all week and, as everything was planned, there was no time spent thinking about what to do tomorrow. Also, we didn't need to bring rain gear, boots or binoculars. Living the "Baranof dream," we had it all covered for us.
Here is bare-bones itinerary below, to show how my highlight reel pieces together. I found it to be a perfect blend of wilderness, wildlife, history and culture.
Day 1: Sitka
Day 2: Glacier Bay National Park
Day 3: Juneau & Orca Point Lodge
Day 4: Tracy Arm Fjord
Day 5: Windham Bay
Day 6: Petersburg
Day 7: Kake
Day 8: Disembark in Sitka
Many thanks to the staff and crew on the Baranof Dream and to my fellow travelers for such a sensational and unforgettable cruise.
For more photos, view my Glacier Bay and Island Adventure photo album on Facebook.
This Glacier Bay cruise review was written by an AdventureSmith Explorations crew member. This cruise aboard one of our small ships to Alaska is listed on our Best Alaska cruises for families. Read all Cruise Reviews for more trip reports, or contact one of our Adventure Specialists to learn more about our Alaska trips: 1-800-728-2875.