This Travel Journal submitted by Jane Schraceo details her Alaska Small Ship Cruise with AdventureSmith Explorations, aboard the Wilderness Discoverer. Read more about Janes time in Alaska and their 9-day itinerary.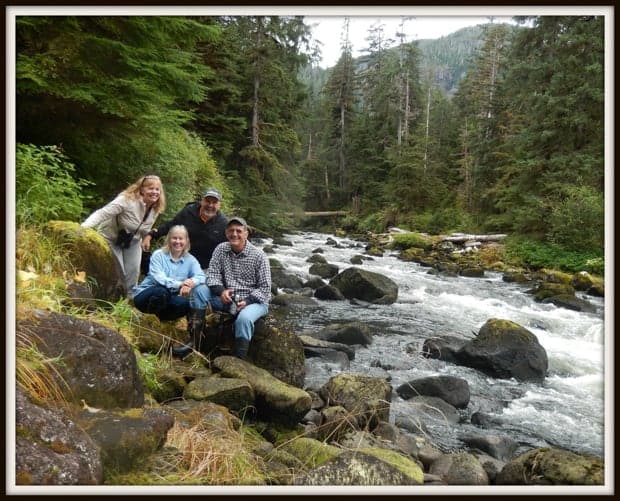 Day 1: Friday, August 21st
With much excitement, and just a little trepidation, we boarded our flight on Friday morning for Juneau and our long anticipated cruise down Alaska's Inner Passage. The excitement was, because, well, Alaska! The trepidation was, in part, due to our decision to buck the crowds and the Big Cruise liners and do something new, like get on a little ship… only 72 passengers, y'all, and sail into the wilds of Alaska… were we crazy?!
We have dreamed about this trip to Alaska for over 2 years!! Together with our good friends, Stacy and Tina, and the help of the travel experts at AdventureSmith Explorations, we were embarking on an amazing Alaskan Adventure. The plan? Cruising the Southeast Alaska Inner Passage on the small, but mighty Wilderness Discoverer with Un-Cruise! A week packed full of spectacular scenery, awesome wildlife and amazing fellowship… We'd do it again in a heartbeat!!! Alaska is a land made for adventure, and we adventured ourselves into blissful exhaustion each night!
We arrived in Juneau about 8:30 Friday evening. Note to self, prepare for the dip just before landing as the pilot squares off with the runway, just saying! But land safely we did, and were met by our shuttle driver who took us straightway to the Driftwood Lodge. The hotel was a little bit older, but worked well for our needs, and it was just a few blocks from the cruise dock.
We caught a few hours sleep, but excitement and nerves bubbled… morning couldn't come soon enough.
Day 2: Saturday, August 22nd
Woke up to soggy clouds and rain, but this time our excitement couldn't be damped… It was Embarkation Day for the Wilderness Discoverer!
We ate breakfast at the Sandpiper Café next to the hotel, then packed and walked our bags over to Centennial Hall in downtown Juneau (just 3 blocks from hotel). Un-Cruise had set up a hospitality room for us to leave our bags until time for boarding the ship. Colleen, the Un-Cruise representative, gave us some shopping tips for our time in Juneau with a walking map, and we set off to explore.
We had a beer (the guys did) at the Alaska Hotel and Bar, which has been designated one of the oldest buildings in Juneau, opening as a brothel in 1913. We also stopped and had some excellent truffles (the girls did) at the Alaska Fudge Shop. We wandered the downtown area enjoying some of the local flavor, browsing souvenir shops, checking out the Red Dog Saloon, and even seeing our first bald eagle soaring above the rooftops! We finally headed back to the hospitality room about 4pm to get ready for embarkation.
We were welcomed to Un-Cruise by the owner and president of the company, Dan Blanchard. His passion and enthusiasm for Alaska and the company was contagious and we couldn't wait to board! After a quick briefing by Sarah L, the expedition leader for our cruise, we headed over to the Wilderness Discoverer and boarded our ship! Dan and the Captain (Keith) welcomed each one of us personally, we had our picture taken and then a member of the crew (Che) showed us to our cabin (#207) and gave us a quick run-down of how things worked…
Our cabin was basically like one of those tiny homes, roughly 8×10, or 180 sq ft of perfectly designed comfort.
Our cabin was basically like one of those tiny homes, roughly 8×10, or 180 sq ft of perfectly designed comfort. The closet held a hanging rack and rows of shelves, and with the addition of an assortment of hooks around the cabin there was plenty of room to easily stow all our essential paraphernalia! The bathroom consisted of a shower and toilet, the sink was just outside in the main cabin. Our bed was more than comfy with a window right above it (that opened, truly! It was simply magical to have that window open as we cruised Alaska!). Binoculars and stainless steel water bottles were provided in every room and hung on the aforementioned hooks.
Our raingear and rain boots hung on hooks right outside our cabin door. Which reminds me… a big thank you to Aaron at AdventureSmith for his patience, wisdom and humor in getting us ready for this trip of a lifetime! He talked us off the ledge more than once and was spot on with every single bit of advice… like be sure to bring raingear and rain boots. So, just to echo a smart man, don't forget your raingear and rain boots, because you will one day be standing in the middle of this gorgeous rainforest in Alaska, surrounded by trees older than time, breathing in the glorious mountain air and the skies will open up and bless you good!
Once introduced to our cabin, Che left us to get settled. We unpacked quickly, shoved our empty suitcases under the bed, pinched ourselves one more time 😉 then headed to the forward lounge for our muster call, meet-the-crew and snacks.
We learned that the Wilderness Discoverer crew was as flexible as they were fantastic… our plans often changed, but always for the better!
We could already tell the Wilderness crew were a fun bunch, friendly and enthusiastic… ready to have a great cruise this week! As Sarah L gave us an overview of the week ahead, she repeatedly said that "this is only a plan from which to deviate." How true… we learned that the Wilderness Discoverer crew was as flexible as they were fantastic… our plans often changed, but always for the better!
We also learned that this was a cruise where everybody knows your name. The crew had already posted our welcome aboard pics on the Wilderness Discoverer "Facebook" page and laughter overflowed as guests and crew became instant friends.
Settling in to the dining area, we enjoyed the first of many fine meals… flatiron steak and salmon with a blueberry/peach crisp for dessert. Because the weather was so stormy the captain decided to wait until after dinner to pull out of the port. The seas were a little choppy thru the night, but a Dramamine worked wonders and we slept well.
Day 3: Sunday, August 23rd
Morning Wake-Up Call over the intercom at 6am – whales on the starboard side!!! Holy Cow! Humpback whales, about 15-20 feeding a short distance from boat… Amazing photo op! It was awe-inspiring to see these mammoth animals up close, and we all watched, hushed and smiling, as they fed and played under the early morning sun.
Breakfast at 7:30am, then mandatory excursion and safety talks. We got fitted with our personal flotation devises or pfd's (life-jackets) for kayaking and stored them in our lockers on Deck 3. All the kayaks are sea kayaks with a rudder at the back for steering… a little new to us, but the guides did an excellent job of explaining how it works. The person in back uses foot pedals to control the rudder. Leroy and I both took turns throughout the week steering, although Leroy preferred to be the one in control as I was too easily distracted by the beauty at every turnl!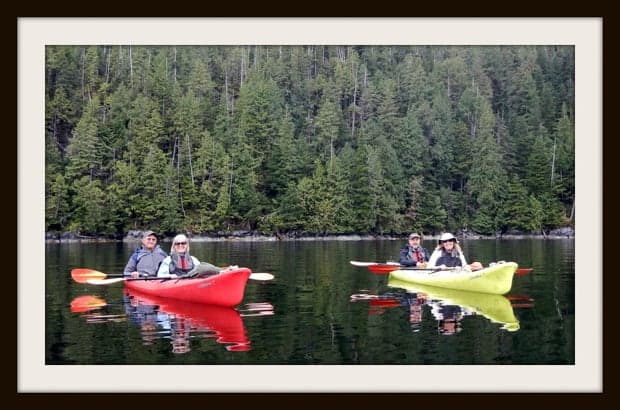 During our safety talk, the crew explained how the excursions would work for the week. Each day, the crew would plan on offering several different expeditions for the morning and afternoon. We could sign up for the excursions we wanted and get as active or as relaxed as we chose. A healthy bushwack up the mountain, a leisurely skiff tour to a glacier, a quiet kayak paddle or perhaps a restful afternoon in the hot tub… As we left the ship each time, we moved our peg board magnet to indicate we were "off" the boat and then moved it back "on" when we reboarded. It was a simple, fun way for the crew to keep up with who is on board or off. And if you forgot to move your peg back "on" you were sure to be called out later that evening to hoots and hollers.
After the safety briefing, the ship sailed in to Tracy Arm… we got up close and personal to Icy Falls, a gorgeous waterfall. We were all up on the Bridge (Captain has an open bridge policy, amazing, amazing, amazing!)… so neat to be up there and watch the action from the Bridge!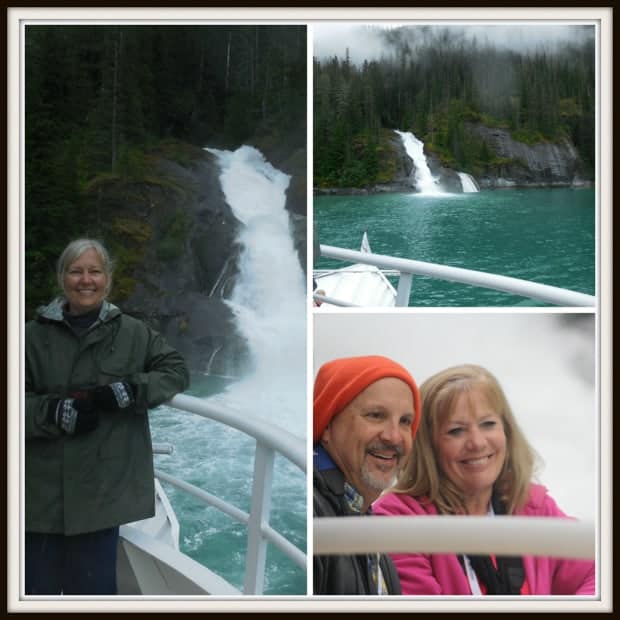 As we got closer to South Sawyer Glacier, the icebergs seemed to multiply and the Captain made the decision to turn back and head for the more accessible North Sawyer Glacier for afternoon skiff tours. Before we arrived there, Mareth gave a talk and video slideshow on glaciers – an excellent presentation and got us up to snuff on all things glacier.
After lunch we took a skiff tour out towards North Sawyer Glacier… chilly!!! Jessica was our boatswain (bosun – drove the skiff) and Mareth was our expedition leader. Amazing views of the glacier… even saw, and heard, a gigantic piece calve into the water with a thunderous roar. And, of course, we had the thrill of "tasting" an iceberg or burgy bit!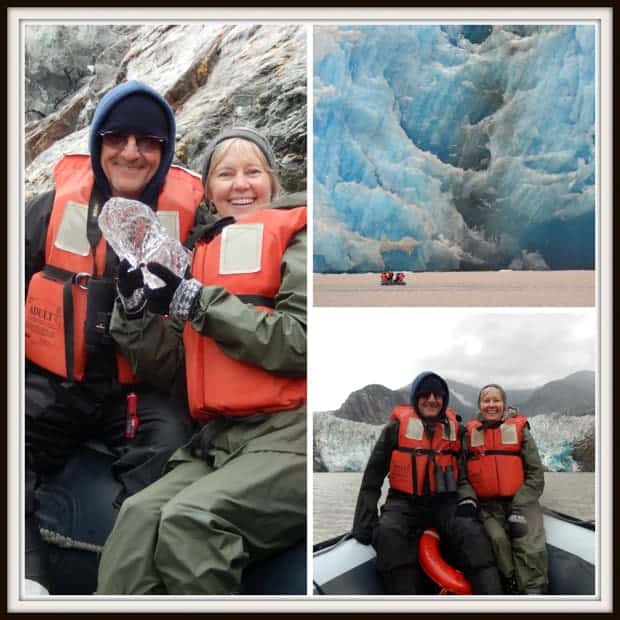 Back to the ship and dinner… Cod and Roast Duck. (How do they make such scrumptious fare in that tiny galley?!) Our after dinner lecture was a talk by Christian on photography and how best to use your camera on manual mode here in Alaska to capture the best pics! As if we could begin to do justice to the Majestic Beauty all around us with our little camera! More than grateful for all the breathtaking moments we have stored up in our hearts… these are the forever memories that make us smile even in the darkest of winters… no camera needed!
Day 4: Monday, August 24th
Morning Wake-Up Call at 5:45am – Humpbacks and Orcas!! Absolutely breath-taking. Calm waters, rain giving way to partly cloudy skies and a beautiful sunrise over the mountains. We were passing the Five Fingers Lighthouse as the whales put on their show.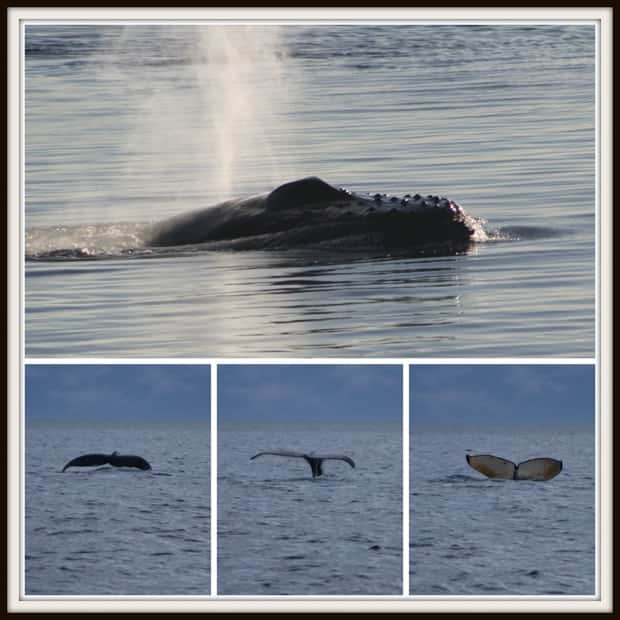 We had cruised down Stephens Passage during the night and had arrived at Cleveland Pass when the whales woke us up. After breakfast we did a guided Kayak excursion with Kati… beautiful clear water, we saw quite a few sea stars and had a gorgeous photo op of a Bald Eagle sitting high in the tree, regaling regarding us below… So. Much. Fun!!!
We have fondly started calling this trip our "Summer Camp for Adults run by Kids"… the best kind of kids!
By now, we were constantly pinching ourselves… Who gets to do this? Would we have had any of these moments on a Big Cruise ship? Not likely! We have fondly started calling this trip our "Summer Camp for Adults run by Kids"… the best kind of kids! So passionate and knowledgeable. What an amazing experience… and it's only Monday!
After lunch, we headed out for our first Bushwack with Sarah SW (as opposed to Sarah L, expedition leader). The weather had cleared and was beautiful and sunny (although we did get a few crazy rain showers while in the forest… it really lived up to its rainforest billing! Remember your raingear and rainboots!)
The bushwack was such an adventure. The skiff dropped us off on a beach, we ditched our pfd's, donned our backpacks and headed into the rainforest… No trail, no detailed map… Just us, a guide and the Alaskan wilderness! Hilarious amounts of fun as we traipsed up and down the lichen-rich mountain, under a green, green canopy of Hemlock and Spruce. We forded creeks, went over downed trees, and under downed trees and at times climbed straight up the mountain-side… until we came to the cliff and Sarah decided we should head down (back the way we came, not over the cliff!). Sarah found every kind of mushroom imaginable and gave us a good guideline for what was edible and what was not, plus a ton of stories, humorous and enlightening as we walked. We kissed banana slugs for good luck and saw 2 squirrels! She stopped dead in her tracks and shushed us all when she spied the first squirrel (we all thought for sure it was a bear!) Nope, a lowly ground squirrel, and we got some great pics!
Near the bottom of the mountain we came upon a creek and Sarah pointed out the salmon run… the stream was full of pink salmon. Sarah and Leroy both caught one for the camera. When Leroy was trying to catch his, Tina hollered out, "Get it Leroy!" That became our tagline for the week!!!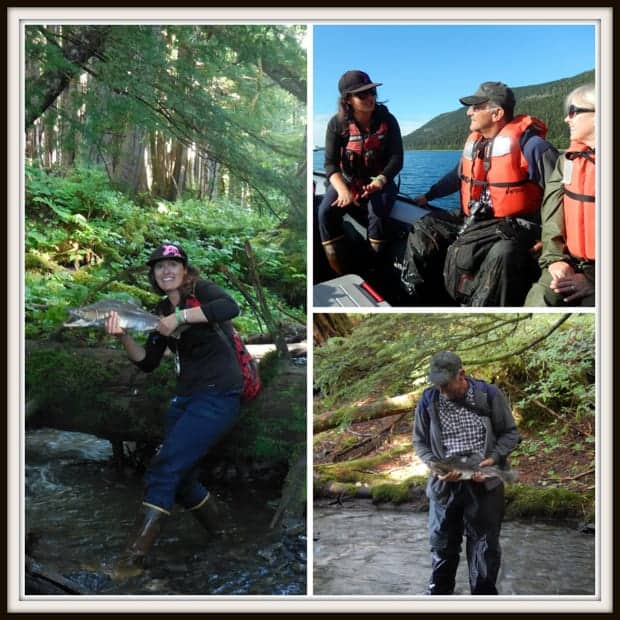 After dinner, we were treated to a lecture from Fred Sharpe, one of the founders of the Alaska Whale Foundation. They are researching the Humpback Whales and are camped at Five Fingers Lighthouse every summer. He shared some amazing video of the whales in Alaska feeding and a ton of information about these amazing creatures.
And then, as if not to be outdone by the morning whale wake-up calls, the Northern Lights made a splendid midnight appearance… so thankful that the Captain and First Mate are willing to wake us up! Can't imagine missing this amazing, otherworldly phenomenon in the night sky!
Day 5: Tuesday, August 25th
Beautiful, sunny day in Alaska. We have arrived at Ideal Cove.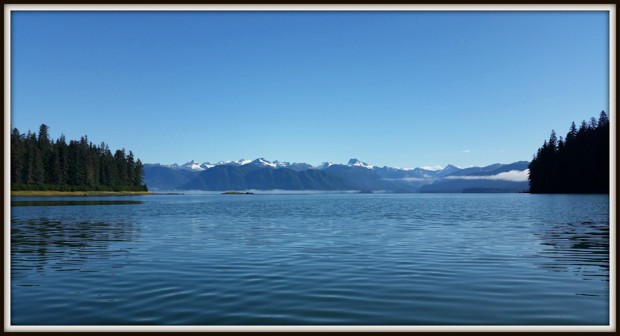 This morning after breakfast, we were given the opportunity for an open paddle. This is where we can head out on the kayaks and explore the area on our own. We were advised to keep within the sight of the boat, but allowed to meander as we liked. Gorgeous Day, Amazing Water, Majestic Mountains, not another boat, or town, or highway around… this is some real Alaska wilderness! Our heart couldn't keep up with the breath-taking moments… floating in stillness on the glassy water surrounded by the most pristine Alaskan mountain range, it just doesn't get much better!
When we pulled in from the kayak, I got my brave on and tried Paddle-boarding… I started out on my knees and before I lost my nerve I got to my feet… and I didn't fall in!!! Another great experience.
After lunch, the Captain's plan was to visit Le Conte Glacier and do a close up drive-by (or boat-by as it would be), but the mammoth Icebergs nixed the plan making passage to the glacier unsafe. So instead, the Captain set anchor a ways out and allowed us to either take a skiff in for a closer look or to kayak in… We choose the guided kayak trip with Mareth. What an adventure. The paddle out to the icebergs was a breeze. The paddle home was a marathon (wind and waves were conspiring against us!), but we made it and have amazing memories of kayaking in and amongst the icebergs.
Mareth warned us that if the iceberg stuck 10 feet out of water then we should stay back at least 20 feet from it as that much ice was below the surface and if the iceberg rolled or "calved" we could get caught in the danger zone. And as if on cue, one of the icebergs off a ways started to calve and created a thunderous roar as part of it crashed in to the sea and the other half rolled over… Amazing! We also heard the Rice Krispy "snap, crackle and pop" of the air bubbles expanding in the melting icebergs. Who knew?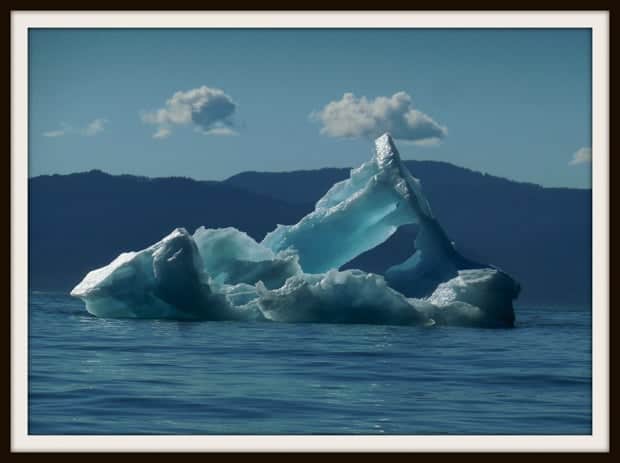 After dinner, we cruised through the Wrangell Narrows, watching the red and green buoy lights mark the way… then Kati spoke on plate tectonics and the 2 Big Alaskan Earthquakes: the Lituya Bay 7.8 quake of 1958 and the historical 9.2 quake in Anchorage in 1964. Her slideshow showed the absolute power and terrible destruction left in their wake. A very informative and eye-opening presentation.
In the wee hours of the morning, we were all awakened again by the whispering voice of our captain thru the intercom letting us know that the Northern Lights were on display… We were up and watching as the glowing lights shifted and waved across the dark sky… ethereal and mysterious… what a show!
Day 6: Wednesday, August 26th
Another sunny, glorious day! We sailed into Wrangell Pass this morning and hiked a fun Bushwack with Kati up Mills Creek. We thrashed thru huge stands of hemlock and spruce, covered in lichen and moss and down the hillside. Kati's favorite quote was "Leave a space, Save a face." Haha… after getting slapped in the face a few times from the bending branches of the person in front of us, we learned to "leave a space!"
Halfway through our bushwack, we stumbled upon a group of campers getting ready to hike up to Virginia Lake. They were from Wrangell and took youth out on extended camping adventures in the local wilderness, similar to an Outward Bound Program. They showed us the way to the hiking trail up to the lake and we set off behind them, enjoying the majestic beauty of this area. Mills Creek is an old abandoned mining/logging operation and there were several large pieces of equipment left behind when the mine burnt down in the mid 1960's… it was amazing to see how the forest had reclaimed the scars of man's intrusion. The machines and metal scraps were covered in moss and lichen and stood sentinel to the lost industry of a by-gone era. Eerily beautiful…
After lunch, we geared up for our trip to the Anan Creek Bear Observatory. When the sign-ups came out, there was a limit of 40 people, and we were only able to snag the last 3 spots, so Leroy graciously agreed to stay behind ;-( He was such a trooper, but leaving him at the dock was the saddest memory of our whole trip!
Tina, Stacy and I boarded jet boats at the Wrangell docks and took a 1 hour and 15 minute ride to the observatory. Once there, we were escorted in groups of 10 by an experienced guide over a rustic boardwalk thru the majestic woods, around the salt slough to the platforms set up above the Anan creek. Our guide, Bruce, gave a great safety lecture before we started… "stay together, bears do cross our trail, make noise, it's never good to surprise a bear" … and it helped that he carried a big can of Bear Mace and a huge rifle!
We arrived safely and were met by 2 forest service rangers who told us the area had been surprisingly quiet lately (as in no bears!). Oh no! Thankfully our first bear showed up 10 minutes later. We saw a total of 4 during our afternoon there. We were able to sign up for the coveted photo blind and were so lucky to get a 15-minute time slot where we saw, and photographed, 3 bears up close… An amazing experience!!!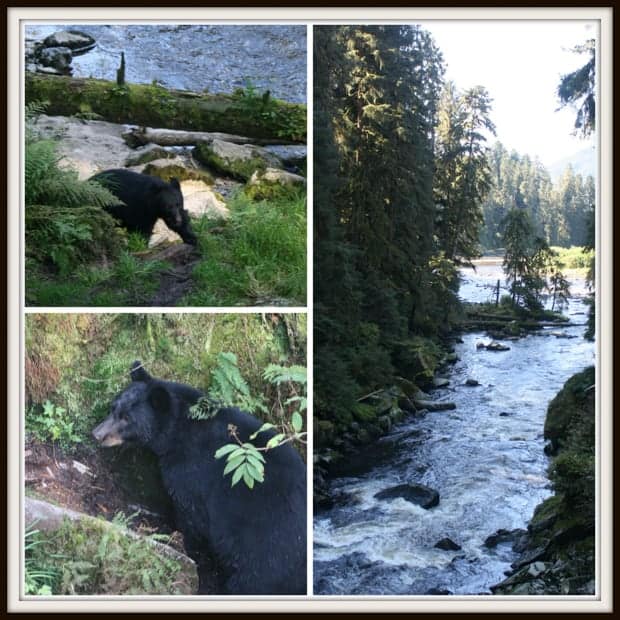 During our hike around the boardwalk we were treated to the antics of squirrels, bald eagles and stellar blue jays. We even got close to a juvenile bald eagle that was drying its wings out in the branches of a huge tree we were passing under… Got back to our boat at 7pm, ate dinner and crashed! Sarah SW was giving a lecture on the Changing Face of Alaska but we were bushed so we decided to head to our cabin and listen over the intercom system.
And then the Northern Lights came a-calling again! At 11pm we got our whispered intercom announcement… this time we just rolled up the blinds in our cabin and leaned out our window for the glorious display! Who gets to do this??? We did! Still pinching ourselves!
Day 7: Thursday, August 27th
Weather started clouding up, but that didn't stop us from adventuring out! We did the all-day Paddle-Nic in Bailey Bay with Sarah SW. Great fun…all 9.35 miles of it!!
We began by heading out from Bailey Bay to the edge of beautiful Behm Canal where Sarah pointed out this huge "floating" cedar tree in the middle of the canal. The odd thing about this floating tree was that it was "floating" upright, looking like a tree growing straight out of the water, although slightly canted and leaning, but a good 30-40 feet above us. As we paddled closer, we could see the massive branches waving below the surface… really eery! She called it a "deadhead" and said that it had probably had been growing close to the shoreline and as the rains had soaked its roots and lower trunk, the weight of the saturation caused it to slide off into the canal and float away… a very weird rainforest phenomenon!
We paddled back in to Bailey Bay and found a grassy/rocky shoreline to beach our kayaks on and set out our picnic… turkey wraps, chips and cookies… and mosquitos! Our first encounter with the pesky creatures! Thankfully one of the fellow kayakers let us borrow some of her mosquito spray! Lesson: never leave ship without your mosquito spray!
After lunch we hiked over to a beautiful waterfall and had a blast taking group pictures and selfies, with plenty of crazy photo bombs… great fun! What a great paddle! We saw curious harbor seals popping their heads up every now and then to watch our progress, black and white checkered loons floating just beyond camera range and soaring bald eagles all around…. Love these perfect Alaska days!
Just as we got back to the ship and settled in for dinner, the rains started in earnest… couldn't have been better timing. A dry paddle day and a cozy, rainy Alaskan night dining in fine style aboard the Wilderness Discoverer!
During our kayak paddle, Tina had mentioned to Sarah that someone should give a talk on the Northern Lights since we had such good viewing of them this week… and what do you know… shortly after we got back to the ship they had taken her comment to heart and Christian presented a quickly put-together, but very entertaining and informative slideshow presentation on the Lights. We learned that they are called the Aurora Borealis and Christian cut thru all the physics and made it beautifully simple … it's plasma, folks! His photos and videos of the lights were wonderful! Another great lecture!
But that wasn't the end of the fun… the talent show began right after dinner. The crew put on an amazing show for us! Not only are these kids passionate, knowledgeable guides, they are spectacularly gifted entertainers as well… Laura was the MC, but also played guitar and sang, choosing several pieces by Matis Yahu because of his message of hope and peace that spoke to her. Mareth played a beautiful violin piece, then sang Blue Suede Shoes with her guitar. Christian shared 2 slideshows… one of his solo sailing experience to Hawaii and a documentary on the animals along the western Mexican coast… both amazing pieces showcasing a brilliant adventurer. Nick, one of our stewards, played guitar and sang, he also writes music and shared one of his pieces that had us in stitches… "Eat People, Not Animals." You had to be there I think 😉 Che, one of the quieter deck hands probably surprised us the most… he brought out his mandolin and played several pieces with great talent, as well as playing guitar.
All in all, this cemented our respect and love for the crew of the Wilderness Discoverer, and as Tina said, it gives us hope for this next generation!
Day 8: Friday, August 28th
Our last day of the cruise and we woke to a misty rain that made traveling through Misty Fjords National Monument perfect! The fog and mists swirled up and around the towering mountains as gushing waterfalls tumbled down… postcard picture perfect…
We choose to do the hike up Winstanley Trail on Winstanley Island with Christian during the morning. We donned all our raingear and boots, then boarded the skiff to head to shore.
That's when the fun began… neither Christian nor Jessica could find the trailhead… Ha! But they found a narrow "deer" trail and off we went Bushwacking up the mountain! We survived near death at the sheer cliff overhang, precarious waterfall crossings, and treacherous animal hole booby traps covered with lichen… a perfectly good Bushwack!! We got back to the ship looking like drowned rats, but we had Alaska under our fingernails (and in our boots and smeared all over our raingear)! Memories to last a lifetime!
After cleaning up and refueling on lunch (and hot chocolate), we relaxed on board the ship as the Captain took us cruising through Shoal Water Pass in Misty Fjords. Often called the Yosemite of Alaska… with towering cliffs meeting the sky and reaching deep down to the waters, we were surrounded by beauty. We passed a neat geological feature called the New Eddystone Rock – a volcanic uprising of magma that froze and as years eroded the earth and the trees grew tall, it has become a mini mountain in the middle of the fjord. We also saw dozens of gorgeous waterfalls, harbor seals lounging on huge boulders and bald eagles soaring towards the mountaintops. Words can't begin to capture the majesty of God's creation. Misty Fjords was the perfect ending for our Alaskan Adventure… Thank you Captain Keith!
Then as the finishing touch to a week well done, the crew opened the back deck for a Polar Plunge! Seriously… Seriously! Who would be crazy enough to jump into the freezing Alaskan waters? A group of crazy Aussie's, that's who! We all leaned over the deck railings to get pictures of our shipmates, cheering on their bravery (or lack of common sense)!
Tonight was the Captain's Dinner, and after we dined on a scrumptious meal of filet mignon and coho salmon, the Captain thanked us all for joining him this week and cruising the magical Southeast Alaska's Inside Passage… and then he presented his crew to rounds of rowdy cheers and much applause. There were lots and lots of pictures taken!
This crew. Love them to pieces, we do. This crew has made the trip even more magical than we could have ever imagined. They are the best "kids." We'd pack them up and take them home with us if we could! The applause was so well deserved!
Once we settled back down, Kati presented a slideshow of our week on the Wilderness Discoverer… so many perfect moments! We laughed at our silly Alaskan antics and then oohed and aahed over the beauty captured on camera this week… the glaciers, the northern lights, the whales, the wildlife, the sunsets, the majestic mountains, all of it spectacular!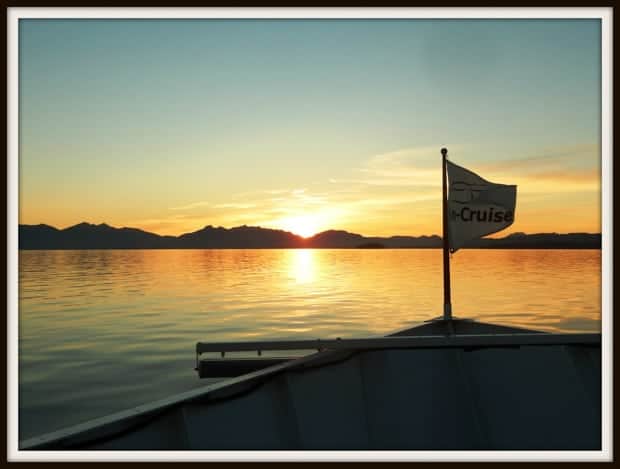 Just as the slideshow was finishing up, the waves began building and the huge swells gave us a bit of a wild ride! And just for the record, the sailing all week has been smooth as glass… absolutely have loved every minute on board… nothing like the crazy seas filmed on Alaska's Deadliest Catch, well, except maybe for tonight! Ha! As Leroy was settling the bar tab and gratuities with Brittah, I was in our cabin taking some Dramamine!
Off to bed, as the Captain sailed us safely in for an early docking in Ketchikan.
Day 9: Saturday, August 29th
Disembarkation Day… 🙁 We packed our suitcases and put them out in the hall before breakfast. As we were eating, the crew took the bags out to the truck, to be held until we would be shuttled over to the airport to catch our flight.
We were all called together one last time at 8:30 to disembark the ship, and as we walked off the gangway, the whole crew was lined up to say goodbye… there were hugs a plenty and more pics too!
We boarded buses and were taken to the Cape Fox Lodge where Un-Cruise had set up a hospitality room for us to use through-out the day. We picked up a Ketchikan walking map and headed out to explore. Walking in the rain has become a normal thing!
We visited the Totem Heritage Center and learned a little bit more about the Native American Tlingit Tribes and the history behind the totems… amazing stories. Then we walked on down to Historic Creek Street in downtown Ketchikan. It was the infamous red-light district up until the mid 1950's. Today it is a charming boardwalk filled with tons of souvenir gift shops… and, of course, we purchased a few trinkets to bring back a little bit of Alaska with us!!
We caught our plane in Ketchikan at 7pm and arrived back in Dallas early Sunday morning!
Our Alaska Adventure complete… we would not change one thing! Choosing to cruise with Un-Cruise and AdventureSmith to explore the wild beauty of Alaska was the best thing we ever did! If you are even thinking about it, our advice is to drop everything and book it now! You will never regret your decision, not for a single moment!
As for Leroy, myself and our good friends, we are spoiled forever by the wonderful crew, outstanding service, and unbelievably pristine ports of call this week past on the Wilderness Discoverer.
Are you surprised to know that we are already dreaming of our next Un-Cruise trip? Can't wait for new Adventures to begin…
MORE ALASKA RESOURCES:
Alaska Small Ship Cruises
Alaska Yacht Charters
Luxury Alaska Cruises
Alaska Cruise Guide
Alaska Cruise Deals
Small Ship Alaska Cruise Reviews
Best Alaska Cruises for Families
Small Alaskan Cruise Lines
Glacier Bay Cruises
Alaska Inside Passage Cruises
Alaska Whale Watching Cruises
Alaska Trips
Alaska Tours
Visiting Denali National Park
Alaska National Park Tours
Best Time to Visit Alaska
This Travel Journal submitted by Jane Schraceo details her Alaska Small Ship Cruise with AdventureSmith Explorations. Read more small ship cruise reviews for more insights from our alumni travelers and experts, or contact one of our Adventure Specialists to learn more: 1-877-620-2875