This Glacier Bay cruise Travel Journal submitted by AdventureSmith traveler Alison Gardner details her Alaska king crab feast at Orca Point Lodge aboard the Admiralty Dream's Glacier Bay and Island Adventure Alaska cruise.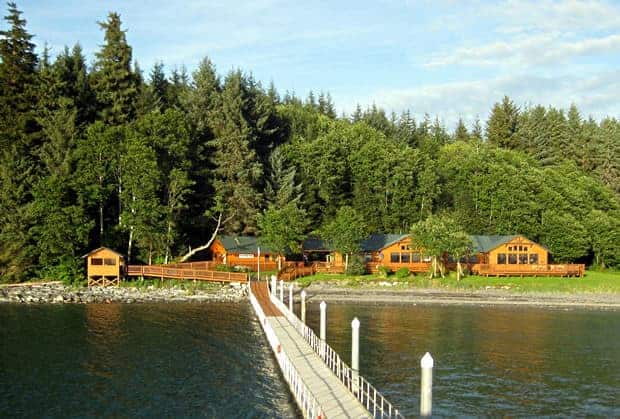 After a full day of activities around the Alaska state capitol, Juneau (population 32,000), our 55-passenger vessel, the Admiralty Dream, cruised down the narrow fjord of Gastineau Channel leaving behind five large cruise ships with more than 16,000 day-visitors still roaming the streets. Our small expeditionary ship made quite a contrast to those giants of the sea, or what the natives of southeast Alaska call "big blue canoes"!
We eagerly anticipated a special dinner on Colt Island about a 1.5-hour cruise out of Juneau, an exclusive all-you-can-eat Alaska king crab feast at the Orca Point Lodge, owned by the same company as our Admiralty Dream. Doubting it would be possible to top the delicious creative menus we had already experienced in the previous two days aboard ship, we disembarked at the modern dock to discover a feast in preparation as the sun moved ever-lower on the horizon. Drinks were served on sweeping wooden decks overlooking distant snow-laced mountains and much closer tree-covered islands. Meanwhile, giant pots out back of the lodge cooked dozens of crab legs, each one up to two feet in length. I could only imagine the size and impressive appearance of these sea creatures with a body and full complement of legs all round. No wonder they are called king crabs!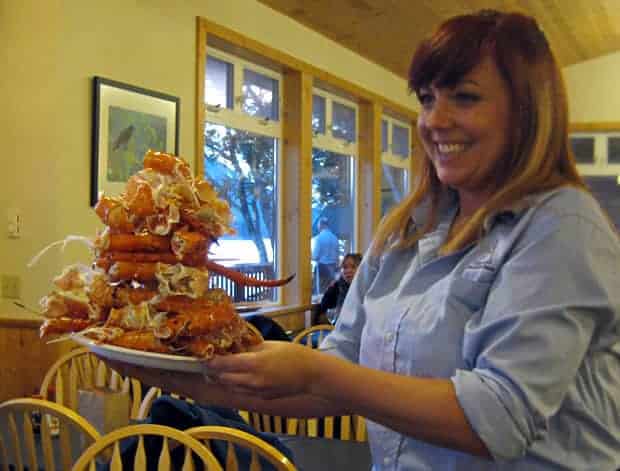 Empty shells piled up, some in creative mountains that threatened to come tumbling down.
Accompanied by salads, steamed vegetables and alternative meal options like shish kabobs of meat, giant shrimp or vegetarian treats, the king crab feast was a gourmet learning experience for most of us. With the tools of the trade in hand (scissors and shell crackers), cups of melted butter for dipping, and wet face clothes to keep the collateral damage to a minimum, most of us opted for the crab, which is a rare and expensive treat anywhere but in Alaska. Empty shells piled up, some in creative mountains that threatened to come tumbling down. Everyone was having a good time with the shell-cracking challenge.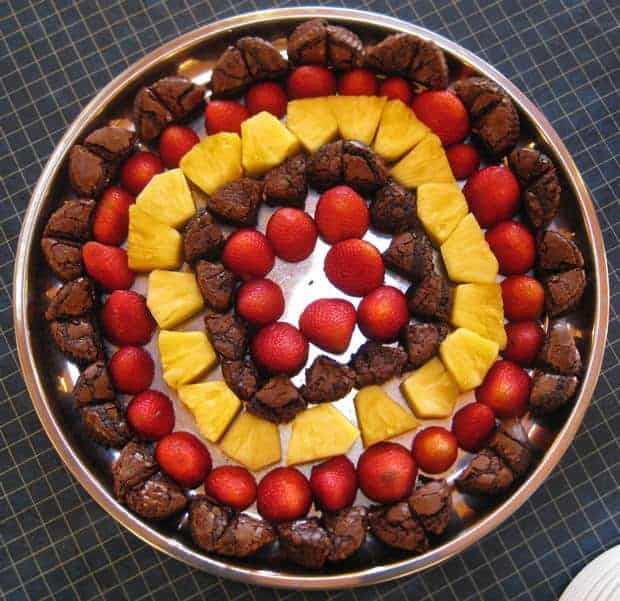 Could there be room for more delicious treats? No hesitation there! Trays of fresh strawberries and pineapple chunks together with small morsels of rich moist chocolate brownie begged to be dipped in pots of hot chocolate fondue … again, all-you-can-eat, which in our case proved to be quite a lot.
By now the summer sun has long set and there is a decision to be made … migrate a dozen yards to the beach where a large bonfire and marshmallows beckon or follow the boardwalk back to a well-earned rest aboard the Admiralty Dream, our home for 8 days/7 nights. Well, maybe a few more minutes to check out the fire since clearly half my shipmates are enjoying a lively time there and waving long metal forks in the air. Turns out they are participating in the camping ritual called s'mores, which involves melting two large marshmallows over the fire to just the right sticky consistency, then quickly squashing them and a square of chocolate bar between two graham crackers or other flat biscuits. For some this was a first-time initiation with uproarious coaching from s'mores veterans; for others it was a chance to recall family camping experiences or Scout and Girl Guide troop campfire circles.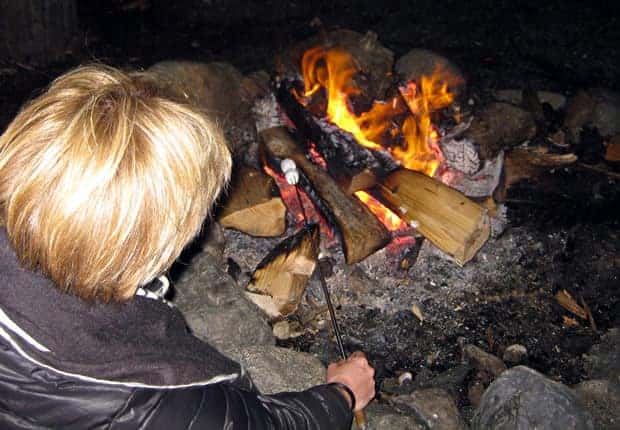 With the beautiful flavors of Alaska king crab dripping in butter and chocolate-coated fruit (and yes, I confess, a couple of chocolate-coated brownie morsels too) still preoccupying my taste buds, I could not convince myself to corrupt the more elegant taste sensations with a confusion of camping fare.
Editor/journalist Alison Gardner is a global expert on nature-based vacations and cultural/educational travel, and contributed this cruise review from her time traveling with AdventureSmith on an Alaska small ship cruise. View all our Alaska Cruise Reviews for more reviews from travelers and our expert staff. Her Travel with a Challenge web magazine, is a recognized source of new and established operators, accommodations and richly illustrated feature articles covering all types of senior-friendly alternative travel. All images copyright to Alison Gardner. View all our Alaska trips.