This Travel Journal submitted by Richard Weil details his Antarctica small ship cruise with AdventureSmith Explorations, on the Classic Antarctica cruise aboard the Ushuaia. Read his day-by-day account as he sails south on this 12-day itinerary!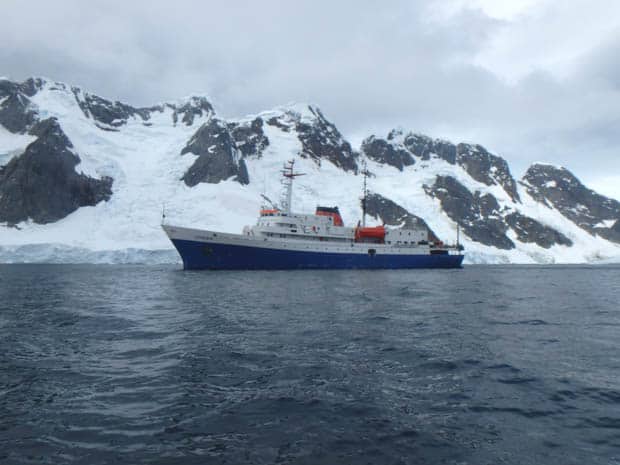 Day 1: January 8
Ushuaia! A city of 70,000 between the towering and snowcapped Andes and the Beagle Channel. I never expected to get to Tierra del Fuego, but made it, finding gift shops, Italian restaurants, and good hamburgers. Outside of the downtown tourist area the city is built on about a 30-degree slant. Some of the streets are just stairs. I had fun touring the very large prison, used from 1902-47, now a museum covering the history of the region. Some parts of it were left as it was when prisoners were here, and you can enter their cells. Like Alcatraz, maybe even worse.
Got my big wading boots at a supply store full of rental equipment for Antarctic trips. Guess this trip is really going to happen.
Day 2: January 9
Boarded the ship today; 88 passengers, 40 lecturers and crew, no stabilizers so she rolls. I'm sharing a cabin with a gentleman whose son bought him airfare for his first foreign trip, and an Irish fellow who has been backpacking for almost a year. The other people are of course all interested in seeing new places, average age probably around 50. A mix of Indians, Europeans, Chinese, maybe a dozen from the US, and a bunch of Australians. Some people have been hiking in the Patagonian mountains for weeks, most have traveled extensively, and a number took this trip before. Lectures are in English and Spanish, food is very good.
Right now, we're heading into the open ocean so will close and get some sleep. Good night from 55 degrees south.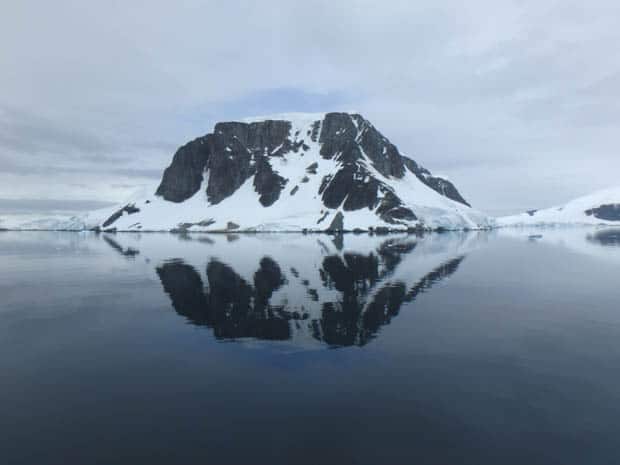 Day 3: January 10
Heading south, ship rolling 20-30 degrees each way, awakened last night by suitcases crashing around the cabin. Got mine sent to storage. Very strong wind, birds following ship under cloudy sky, and we are getting lectures on the destination. Very exciting and raw here. Ship's stairs are almost ladders and the doors quite heavy, so everyone is careful moving around them—they warned us to keep our fingers out of the frames! Getting colder as we keep going south.
Day 4: January 11
Very exciting and raw here… Getting colder as we keep going south.
Writing early because a big storm is coming, ship is safe but cannot launch Zodiacs due to 60 mph winds. So, we are going down the west coast of the Peninsula with a landing to be tried later in calmer waters. Meanwhile word is to secure everything in our cabins, use life preservers to prop mattresses at night so we roll towards the wall rather than over the railings, and stay inside till morning when conditions improve.
Day 5: January 12
We are through the Drake Strait! Last night was…interesting…as everything not nailed down rolled and crashed around. We are still on a 2-day roller coaster. I went on the bridge to watch and they said it was about 20-foot waves and gale force winds, gusting to hurricane level. But we are beyond the South Sandwich Islands and should be in the shelter of the Peninsula soon, so hopefully a landing tomorrow. Other than that, a quiet day trying not to play human pinball.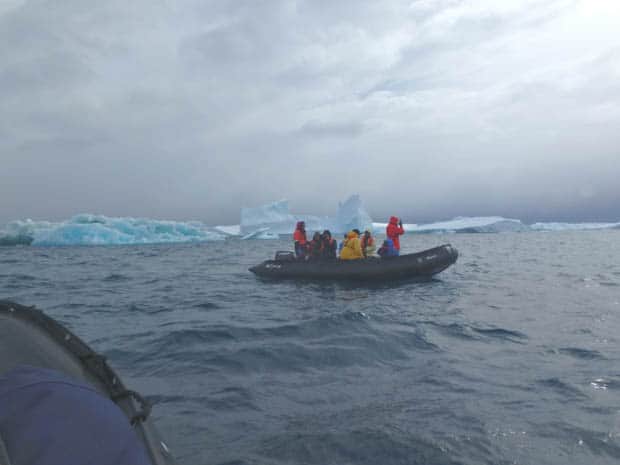 Day 6: January 13
Made it! We landed on Danco Island today, about 64 40 degrees south. The temperature was good, above freezing and the sky bright. All around the bay were white and blue icebergs and across the water huge snow-covered mountains that went as far as you could see in every direction. But the most fun were the penguins. Thousands of them nesting, gathering stones for nests, swimming, jumping on ice bits, and just walking around. We have to stay 16 feet from them but that didn´t stop some from walking right up to us. It was great. When we got out of the Zodiac about half of us walked to the top of the island, through snow and broken rock, and had a terrific view of the birds and a landscape where humans are completely absent. This was very impressive.
All around the bay were white and blue icebergs and across the water huge snow-covered mountains that went as far as you could see in every direction.
Will keep heading south tomorrow, though don´t know our schedule as it can change hourly. This morning was going to be a practice run around the bay in the Zodiacs, but the wind went from 0 to 40 in no time, so it was canceled. This is one part of the world where you have to be very flexible and resilient.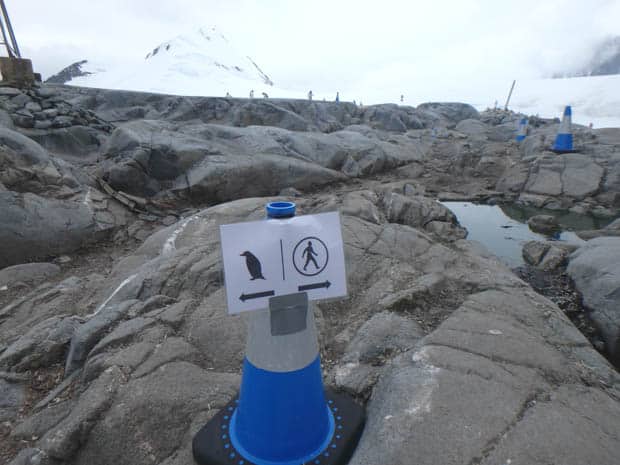 Day 7: January 14
Another busy day! This morning we made a landing on the actual continental mainland at the Argentine scientific Station Brown. It is a bunch of metal buildings, some repaired a few years ago after the station doctor was told he had to stay another year, following which he set the place on fire. We went around the bay and saw cormorants, one being eaten by a raptor, whales surfacing, and a seal sleeping on an iceberg. Then like a line of Sherpas we climbed the high snow-covered hill and stood on the rocky top overlooking the scene.
We went around the bay and saw cormorants, one being eaten by a raptor, whales surfacing, and a seal sleeping on an iceberg.
In the afternoon we went to Neko Bay and walked the headland visiting penguin rookeries. You could not stay on the beach as the glacier occasionally dropped big chunks of ice, making small tsunamis. At odd intervals you could hear the boom and crash of them. Meanwhile we gave way to penguins as they marched along the paths that intersected ours.
Tomorrow heading further south, then expect will turn for the Weddell Sea on the east side of the peninsula.
There is not much else to report. I figure about 15 countries are represented among the 88 passengers, whose ages range from 9 to 77. One group is 16 Indians who travel around the world on vacations, another are 8 Chinese in a club, 2 others are from the Canary Islands making travel shows. Interesting people indeed.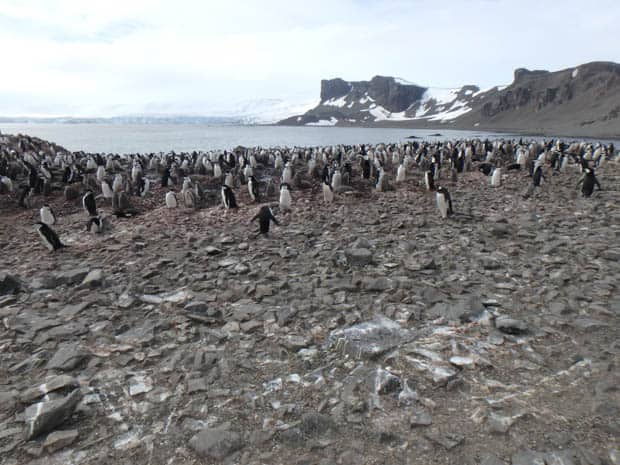 Day 8: January 15
Evening, and still very busy. It got cloudy and grey, but we had fun landing on a big Gentoo seal rookery and walking down the beach. They are hatching chicks now, so there were a lot of little ones in the nests. Then we took about an hour in the Zodiacs to boat around some huge icebergs, several with Weddell seals sleeping on them, and some Orcas surfaces and spouted nearby. In the afternoon a big pod of them kept pace with the ship.
The afternoon landing was at Port Lockroy. Begun as a secret British base to watch for German U-Boats, though apparently none ever came that far south, it was a research station until 1962. Abandoned for 34 years, it was rebuilt as a museum showing what it was like to live in Antarctica in the 1950s, and is seasonally run, right now by 3 women from Britain. It is on a tiny island and there is a penguin colony too, so signs on the path direct humans one way and, as usual, remind us to give way to the birds. Tomorrow we are going through the narrow Lemaire Channel to Iceberg Alley, and then will turn north. Fine, it has been getting chillier as we go south, though the low hanging clouds on the mountains are dramatic too.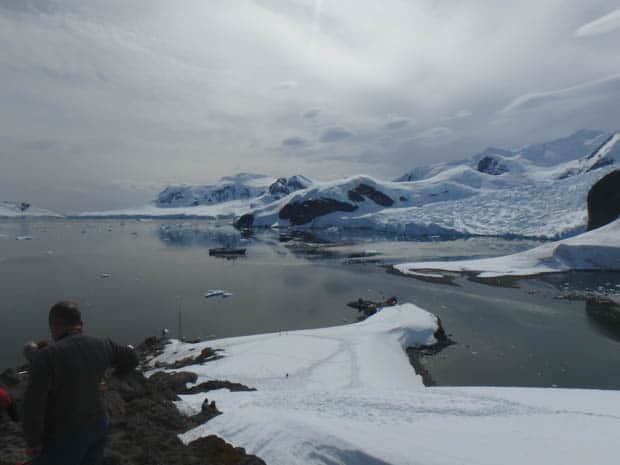 Day 9: January 16
Penguins leapt, seals slept, and we glided between them with a background of snow covered jagged mountains, with the light constantly changing the scene.
Every day is busy. The Lemaire Channel was narrow and chocked with icebergs, some with sleeping sea lions, after which we reached Petermann Island. Walking around we saw that Adelie penguins were mixed with the usual Gentoos, an indication we are going into colder lands. But at 65 10 South this is the end. The last point I walked to was a cross, erected by a hut where 3 British scientists were stranded in 1982. After a few weeks they chanced the thin ice…and vanished. This land is utterly unforgiving. The afternoon was an hour Zodiac ride around the bay. The icebergs aren´t just cubes and slabs, but are white and blue fairy castles, mountains, ski slopes, turrets, caves, ballrooms, and every other round and angular shape imaginable. Penguins leapt, seals slept, and we glided between them with a background of snow covered jagged mountains, with the light constantly changing the scene. One thing I´ve noticed over and over is how quiet everyone is. With such a setting there is little to say. Further north tomorrow, in time we´ll round the Peninsula and touch the Weddell Sea.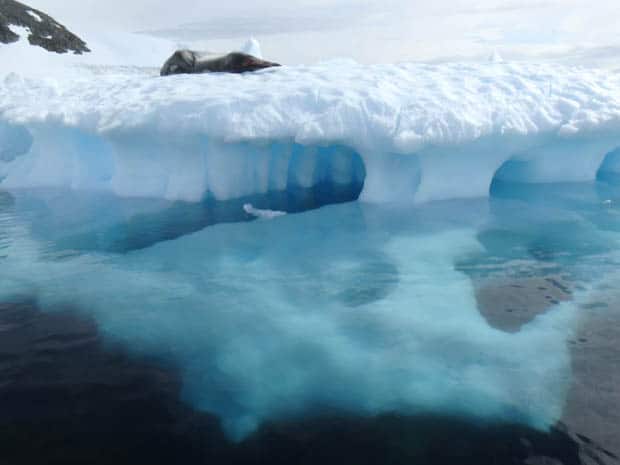 Day 10: January 17
Getting down towards the end now. Last night was a long run from Petermann to the Antarctic Sound at the tip of the peninsula. We tried to get into the Weddell Sea, but the ice was just too thick. It was fascinating being on the bridge for a couple of hours watching the captain try different routes through the pack, and we just about got to there, but eventually a white field was in front of us. To remind us this could happen, last night they showed a movie of Ernest Shackelton´s terrible expedition a century ago. In the Weddell his ship was trapped for a year, then crushed by the ice and the 28 men had to drag sleds across the pack, and when it melted they sailed tiny homemade boats to a remote island. Shackelton took one and with 5 men sailed it 18 days to South Georgia Island, then climbed an unscaled mountain range to reach a settlement on the other coast. Through sheer force of will he saved everybody.
It´s like going through a fleet of white aircraft carriers.
So instead we turned around and are sailing through a field of huge tabular bergs that broke off the Larsen Ice Shelf. It´s like going through a fleet of white aircraft carriers. Tomorrow is the South Shetland Islands, scene of whaling and seal hunting, then the Drake Passage again. Meanwhile we´re all doing what we usually do, sitting in the lounge, having tea and fruit, reading, talking, and watching the sea. A bit easier than Ernest and his crew had it.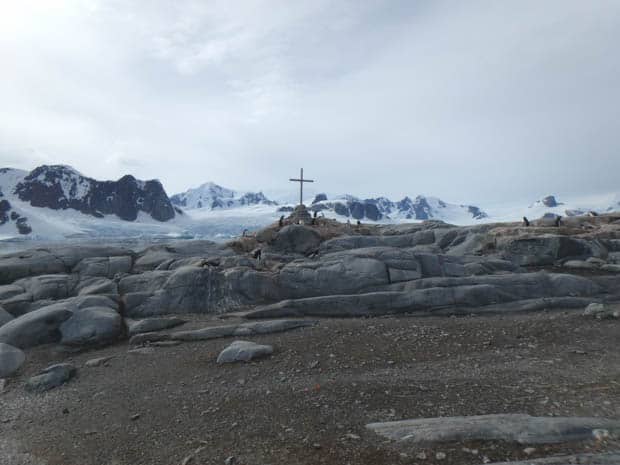 Day 11: January 18
Last stops today, both in the South Shetlands. The islands are rocky lands forming an arc north of the mainland and were accidentally discovered in 1819 by sealers and whalers. The peninsular was found the next year, though not properly charted till the 1930s.
Afternoon we were on a rugged beach on Livingston Island with about ten thousand Chinstrap penguins raising their young. It was fun to watch the little ones run around after their parents, who periodically threw their heads back and screeched. Walking over a hill we passed a mass of elephant seals, and then returned to the ship.
But the morning was the really big number. We landed on Deception Island, a collapsed volcanic cone forming a ring shape. There were ruins of a Norwegian whaling station, abandoned in 1931, and a British base, evacuated when the island had a modest eruption 40 years later. Along the beach, were whale bones and smoke came up, you could feel the hot sand, and the air had the odor of sulfur. All around the bay are rugged snow-covered hills and mountains. The air and water temperature were just above freezing. So I did the logical thing and took a swim.
All around the bay are rugged snow-covered hills and mountains.
About 20 of us did, though after undressing I was the only one wearing just a bathing suit. Everybody ran in, I ducked under and took a stroke, then ran out. Once. Brisk and invigorating!
Drake Passage tomorrow, looks like it will be easier than last time.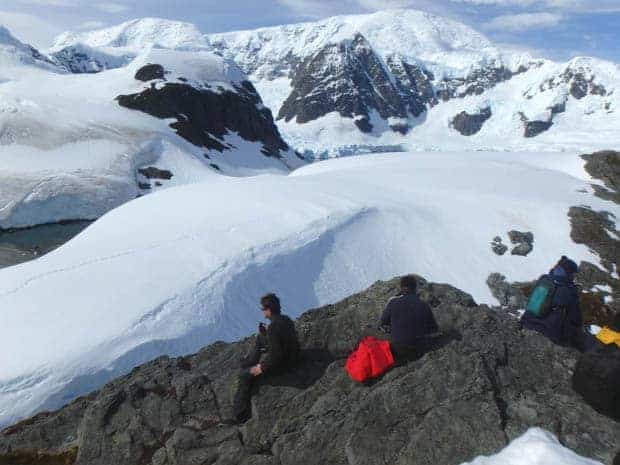 Day 12: January 19
Last message, as we're heading home. This time the Drake is indeed easier, only 3-6 foot swells and a gale force wind. So we're rocking and rolling, but without the extreme buffeting like last time when we ran before a big storm. Then we ended with 3 people hurt, including a dislocated shoulder and head stitches, the worst happening when a big rogue wave slapped the ship sideway and threw people around. This time it is just steady up and down, and with a patch for motion sickness, and an evening pill to help me sleep it isn't bad, though a lot of people are skipping meals.
Anyway, it's grey and cloudy as we pass the Antarctic treaty line of 60 South and enter the geographic convergence where wave and wind shift from the Southern Ocean to the Atlantic. The problem is that the winds around Antarctica, and thus the waves, usually come from the east, while ships go north-south. But early Monday we should be back in Ushuaia, and then it's just on to Buenos Aires for the day, Miami, and back to Minnesota. And with quite a lot of wash to carry, there being no laundry facilities on board. So, people are sleeping, reading, eating the good food, and we've listened to some lectures on whales. But there are no more icebergs! The sea looks empty.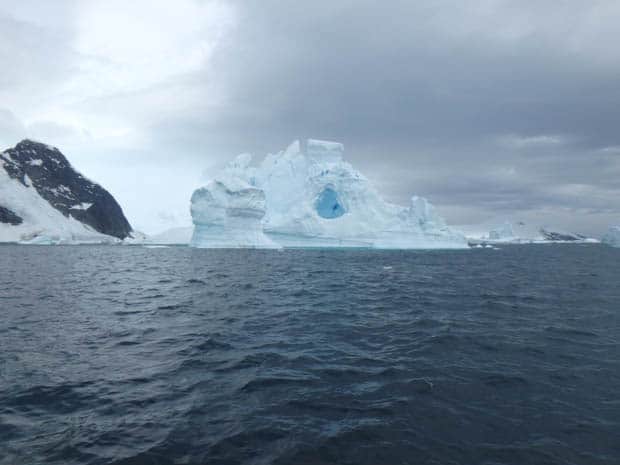 Day 13: Retrospect
So what did I find? That penguins are cute, but their colonies stink, that ice comes in many surprising colors and shapes, and that an endless landscape of varied mountains and seas ring this continent, far different from its interior ice sheet. But it's not a dead landscape; listening to the booms as a glacier across the bay calved off icebergs showed that on a big scale. On a tiny one, you see it when a male penguin offers his mate a pebble for their nest. This is a beautiful and largely unspoiled place that should be kept as clean as possible, safe from the damage that humans can do. Here on this wild and almost pure land people aren't even an afterthought. So it is worth protecting, and if we continue to do that then maybe there's hope we can do more for this beautiful world.
Postscript
Some people have asked me if it was cold there. No, being summer and on the northern edge of the continent the temperature rarely got below freezing. I wore three layers of clothing, plus 2 pairs of thick socks, and had no problems. The only weather issue was in Miami where I was forced to stay the night…because of a blizzard in Minnesota!
This Travel Journal submitted by Richard Weil details his Classic Antarctica cruise with AdventureSmith Explorations. Read all Antarctica Small Ship Cruise Reviews and worldwide cruise reviews for more insights from our alumni travelers and experts, or contact one of our Adventure Specialists to learn more about these small ship cruises and wilderness adventures: 1-877-620-2875